I received this ARC from Publisher for free in exchange for an honest review. This does not affect my opinion of the book or the content of my review.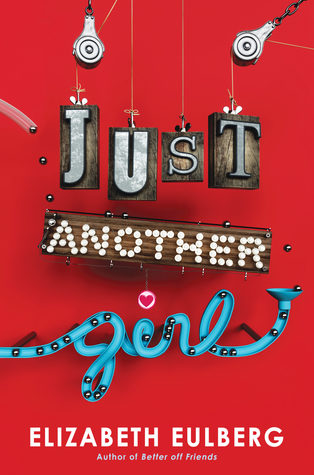 Just Another Girl

by Elizabeth Eulberg
Published by Scholastic Inc. on March 28th 2017
Pages: 256
Source: ARC from Publisher
Amazon-Indiebound
Goodreads

You resent her. You can't stand her. You might even hate her.

But you don't know her at all.

Hope knows there's only one thing coming between her and her longtime crush: his girlfriend, Parker. She has to sit on the sidelines and watch as the perfect girl gets the perfect boy . . . because that's how the universe works, even though it's so completely wrong.

Parker doesn't feel perfect. She knows if everyone knew the truth about her, they'd never be able to get past it. So she keeps quiet. She focuses on making it through the day with her secret safe . . . even as this becomes harder and harder to do. And Hope isn't making it any easier. . . .

In Just Another Girl, Elizabeth Eulberg astutely and affectingly shows us how battle lines get drawn between girls -- and how difficult it then becomes to see or understand the girl standing on the other side of the divide.

You think you have an enemy. But she's just another girl.
My Thoughts:
I've yet to read an Elizabeth Eulberg book I didn't like: The Lonely Hearts Club, Prom & Prejudice, Take a Bow, Revenge of the Girl with the Great Personality, Better Off Friends, We Can Work It Out. Just Another Girl can be added to the list! It has that humor and storytelling style that I so enjoy.
In Just Another Girl we meet Hope and Parker. Parker is dating Hope's best friend Brady… who Hope happens to think belongs with her! In Hope's eyes Parker gets everything. Not only does she have Brady, she's pretty and super thin and basically Hope just cannot stand her. However, when we get Parker's perspective we see that Hope might have it wrong. The girl she has turned into "the enemy" is… just another girl. Parker is dealing with some serious issues that Hope knows nothing about. I really liked the way this book shows the reader how dangerous making judgments about other people can be.
I have to admit, Hope drove me a little nuts! She is so fixated on Brady and blaming Parker for everything! However, that's not to say she was a bad character. Honestly, she totally reminded me of being in high school! Also, she has some major growth over the course of the book. The reader gets to see her find out she's been wrong about some things and learn from her mistakes. This is always good to see.
There were a lot of little things I loved as well: the Rube Goldberg machines,  Hope's and Parker's best female friends, the guys in the Rube Goldberg club, and Hope's parents.
Just Another Girl has a strong female focus. I appreciated the ways it explored the complicated issues of how girls treat each other while telling an interesting story.
Related Posts