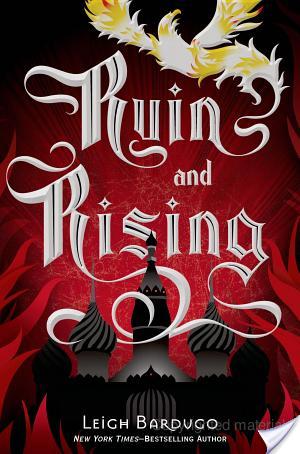 Ruin and Rising by Leigh Bardugo
Series: The Grisha Trilogy, book three
Published by Macmillan on 2014-06-17
Pages: 432
Source: Purchased
Amazon-Indiebound
Goodreads

The capital has fallen. The Darkling rules Ravka from his shadow throne. Now the nation's fate rests with a broken Sun Summoner, a disgraced tracker, and the shattered remnants of a once-great magical army. Deep in an ancient network of tunnels and caverns, a weakened Alina must submit to the dubious protection of the Apparat and the zealots who worship her as a Saint. Yet her plans lie elsewhere, with the hunt for the elusive firebird and the hope that an outlaw prince still survives. Alina will have to forge new alliances and put aside old rivalries as she and Mal race to find the last of Morozova's amplifiers. But as she begins to unravel the Darkling's secrets, she reveals a past that will forever alter her understanding of the bond they share and the power she wields. The firebird is the one thing that stands between Ravka and destruction—and claiming it could cost Alina the very future she's fighting for.  Ruin and Rising is the thrilling final installment in Leigh Bardugo's Grisha Trilogy.
First things first, when I say "spoiler free" I mean I won't spoil the final book…. there may be spoilers for books one and two. If you haven't read them yet, GET ON THAT!!! Honestly, one of my very favorite series, EVER!
My review of Shadow and Bone (book one)
My review of Siege and Storm (book two)
My Thoughts:
As I do with most final books, this isn't going to be a typical review. It's too hard to do without giving away ALL THE THINGS and I always end up feeling like I don't give the book or series justice. Instead, I prefer to just highlight some things I loved overall.
And, stars, do I love A LOT about these books! I've seen some reactions from people who really did not like Ruin and Rising.  I am not counted among that number. I loved it. I love Leigh Bardugo's storytelling style, I love the characters, I love the history of the world, I love it all! I mean, yes, things happened that I didn't want to happen… but they fit with the story and the events going on in the world. Honestly, I think they made the book stronger. Remember, Ravka is a war-torn country! Not everyone is going to get a happily ever after.
Okay, on to my favorite things about the books overall. Oh, where do I even start?
I mentioned above that I love Leigh's storytelling style. Each book begins with a "Before" and ends with an "After." I adore the way these are set up. They're written as if you are being told a fairy tale or story passed down through the generations. They really set the tone for the books. And the writing in the actual chapters is just as fabulous. In every book there are so many lines/sections I want to highlight. And the humor! I love the way Leigh works in witty banter 🙂
Another aspect of these books that I love is the stories. Ravka is a country with history. As a reader, we get glimpses of their cultural history. There are bonus Ravkan Folk Tales (like The Too-Clever Fox), stories of the events of Ravka's past, and stories of their Saints. And of course the tales of  Morozova and his amplifiers! I felt immersed in the world of The Grisha Trilogy and it made me so much more invested in it!
And the characters! Oy, was I invested there! I was really captivated by they ways in which the different characters grew and changed (or didn't, as the case may be!) Alina, Mal, The Darkling, Nikolai, Genya… heck, even Zoya! Often times in books there is a character or two who I just don't really care about. Like, I'll skim the scenes they're in. NOT the case in this series! Pretty sure I would read a spin-off about any of the characters!
Basically, I love the way The Grisha Trilogy just gets to my heart. I laugh and I get choked up. Once I turn the last page I continue to think about the characters and the events. I wonder how I would have acted if I were there. When people ask for recommendations it's one of the first books that comes to mind. I am an unashamed fangirl for all things Grisha. Can you tell?
Thank you Leigh, for Ravka and the world in which it exists, for the characters and their stories, for the Grisha and their magic, for creating and sharing such a fabulous tale. You are so talented. I can't wait to share your books with more and more students each new school year!
Related Posts