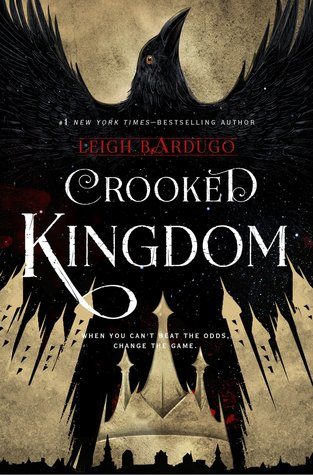 Crooked Kingdom

by Leigh Bardugo
Published by Macmillan on September 27th 2016
Pages: 480
Amazon-Indiebound
Goodreads

Kaz Brekker and his crew have just pulled off a heist so daring even they didn't think they'd survive. But instead of divvying up a fat reward, they're right back to fighting for their lives. Double-crossed and left crippled by the kidnapping of a valuable team member, the crew is low on resources, allies, and hope. As powerful forces from around the world descend on Ketterdam to root out the secrets of the dangerous drug known as jurda parem, old rivals and new enemies emerge to challenge Kaz's cunning and test the team's fragile loyalties. A war will be waged on the city's dark and twisting streets―a battle for revenge and redemption that will decide the fate of magic in the Grisha world.
My Thoughts:
Ha ha ha ha ha ha ha ha ha. Yeah, right. Like I can put my love for this book (and the Six of Crows duology in general) into coherent sentences. It's been over a month since I read it and I still can't stop thinking about it. All of my fangirling from Six of Crows remains true of Crooked Kingdom. The world building, the characters, the nuanced relationships, the con, everything is aces.
I'm still in awe of how totally and completely I fell for all six of the main characters in these books. I don't know how Leigh writes them each with such strong and distinct voices. I mean, she's brilliant, so that helps. Seriously, though. These characters. They just felt so real to me. I loved how my thoughts and feelings about them varied so much over these books. And, even when I didn't particularly like one of them, I was 100% invested in their story and seeing it play out.
Which brings me to my second main fangirl-y bit… the way the individual stories weave together with the overall plot. Stars. Masterful. I'm just thankful Leigh uses her powers for good. I honestly think she would make an excellent criminal mastermind.
I don't want to give any spoilers so I'm going to stop there. However, since I love this book so much I have a giveaway! Enter to win a signed copy of Crooked Kingdom! US only. Must be 13 or older to win. Enter using the rafflecopter below:
Related Posts