I received this ARC from Publisher for free in exchange for an honest review. This does not affect my opinion of the book or the content of my review.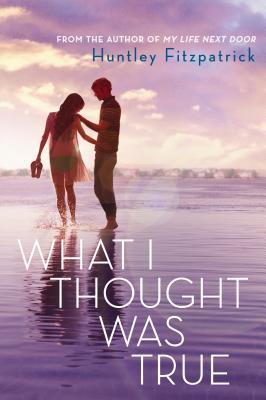 What I Thought Was True

by Huntley Fitzpatrick
Published by Penguin on April 15th 2014
Pages: 416
Source: ARC from Publisher
Amazon-Indiebound
Goodreads

From the acclaimed author of My Life Next Door comes a swoony summertime romance full of expectation and regret, humor and hard questions.

Gwen Castle has never so badly wanted to say good-bye to her island home till now: the summer her Biggest Mistake Ever, Cassidy Somers, takes a job there as the local yard boy. He's a rich kid from across the bridge in Stony Bay, and she hails from a family of fishermen and housecleaners who keep the island's summer people happy. Gwen worries a life of cleaning houses will be her fate too, but just when it looks like she'll never escape her past—or the island—Gwen's dad gives her some shocking advice. Sparks fly and secret histories unspool as Gwen spends a gorgeous, restless summer struggling to resolve what she thought was true—about the place she lives, the people she loves, and even herself—with what really is.

A magnetic, push-you-pull-me romance with depth, this is for fans of Sarah Dessen, Jenny Han, and Deb Caletti.
My Thoughts:
I adored My Life Next Door by Huntley Fitzpatrick and so I was super excited for this one. I heard mixed things about it and let it slip through the TBR cracks. That was really unfortunate because I loved it!
What I Thought Was True captivated my attention so much that I simply couldn't imagine putting it down. I even changed my plans for the night so I could read it straight through. It had so many things I love… beach town setting, second chances, complex relationships, romance! Gah, perfect recipe for an excellent summer read.
Gwen was a character I wanted to know more and more about. There are clearly some things in her past that she needs to deal with. It was interesting to see how this finally ends up happening and what comes of it. I also really loved her family. They are kind of crazy but totally there for each other. That's so great to see in a story.
This is just a really strong story that I kept thinking about long after I put the book down. So glad I finally picked it up.
Related Posts