Source: ARC from Publisher

I'm so thrilled to be the next stop for the Journey's End blog tour! Rachel Hawkins was one of the very first authors I ever met and I remember being so nervous because I loved her Hex Hall books so much 🙂 I've been following her on twitter and reading her books for years. Of course I jumped at the chance to be on this tour.
About the Book: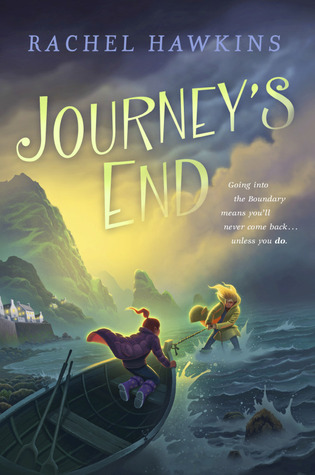 The town of Journey's End may not literally be at the end of the world, but it sure feels like it to Nolie Stanhope. Spending the summer with her scientist father in the tiny Scottish village isn't exactly Nolie's idea of a good time, but she soon finds a friend: native Journey's Ender Bel McKissick.

While Nolie's father came to Journey's End to study the Boundary–a mysterious fog bank offshore–Bel's family can't afford to consider it a threat. The McKissick's livelihood depends on the tourists drawn by legends of a curse. Still, whether you believe in magic or science, going into the Boundary means you'll never come back.

…Unless you do. Albert Etheridge, a boy who disappeared into the Boundary in 1914, suddenly returns–without having aged a day and with no memory of the past hundred years. Then the Boundary starts creeping closer to the town, threatening to consume everyone within.

While Nolie's father wants to have the village evacuated, Bel's parents lead the charge to stay in Journey's End. Meanwhile, Albert and the girls look for ways to stop the encroaching boundary, coming across an ancient Scottish spell that requires magic, a quest, and a sacrifice.
My Thoughts:
A middle grade about a mysterious fog off the coast of a small Scottish town? I am so here for that! And Rachel Hawkins is just the person I would want to write it. Journey's End was everything I hoped it'd be.
Now, normally I'm a huge baby when it comes to creepy books. However, this one was just the kind of creepy I like. Eery and atmospheric creepy. Not slasher/stabby creepy. I loved reading about the town and the mist and all the weird disappearances and such that went along with it. I also thought it was really interesting to think about how people living in a town bordered by a creepy fog would acclimate to it. The whole Boundary aspect was just perfect.
My favorite part about this book was the friendships. Nolie, Bel, and, Albert are just getting to know one another. I loved how this book showed their friendships forming. There are bumps along the way and each of the characters has to step out of their comfort zone at some point. It was both authentic and charming.
Journey's End is a delightfully creepy yet charming read. I enjoyed it from beginning to end. I didn't want it to be over!
Note: I listened to this one on audiobook. Check it out here.  Saskia Maarleveld's narration was perfection. I wasn't familiar with her before but I will be looking for other books she narrates. If you're an audiobook lover I highly recommend giving this one a listen!
About the Author: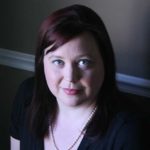 Rachel Hawkins is the author of Rebel Belle and the New York Timesbestselling series Hex Hall. Born in Virginia and raised in Alabama, Rachel taught high school English for three years before becoming a full-time writer. Follow her on twitter @LadyHawkins.
Tour Schedule:
Related Posts