I received this Finished Copy from Author for free in exchange for an honest review. This does not affect my opinion of the book or the content of my review.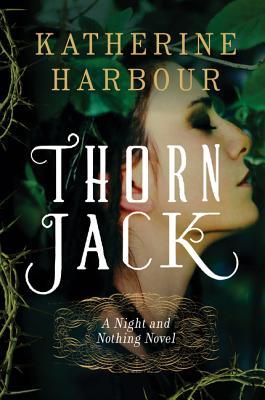 Thorn Jack

by Katherine Harbour
Series: Night and Nothing, book one
Published by Harper Collins on June 24th 2014
Pages: 352
Source: Finished Copy from Author
Amazon-Indiebound
Goodreads

Combining the sorcery of The Night Circus with the malefic suspense of A Secret History, Thorn Jack is a spectacular, modern retelling of the ancient Scottish ballad, Tam Lin--a beguiling fusion of love, fantasy, and myth that echoes the imaginative artistry of the works of Neil Gaiman, Cassandra Clare, and Melissa Marr.

In the wake of her older sister's suicide, Finn Sullivan and her father move to a quaint town in upstate New York. Populated with socialites, hippies, and dramatic artists, every corner of this new place holds bright possibilities--and dark enigmas, including the devastatingly attractive Jack Fata, scion of one of the town's most powerful families.

As she begins to settle in, Finn discovers that beneath its pretty, placid surface, the town and its denizens--especially the Fata family--wield an irresistible charm and dangerous power, a tempting and terrifying blend of good and evil, magic and mystery, that holds dangerous consequences for an innocent and curious girl like Finn.

To free herself and save her beloved Jack, Finn must confront the fearsome Fata family . . . a battle that will lead to shocking secrets about her sister's death.
My Thoughts:
A modern day retelling of Tam Lin? Fierce faeries? Mortals who won't give up? Yes, yes, and, yes! I would take any one of those things on its own. Added all together they create a story that shot to the top of my TBR pile.
I enjoyed how atmospheric Thorn Jack was. The descriptions and the settings really brought the story to life. It would have been easy to be distracted by the gorgeous sunny weather while I was reading, but I was totally absorbed by the tone and feel of the book.
The characters "caught" me as well. Finn was, of course, a favorite. I loved seeing how her story intertwined with her sister's. And then there's Jack Fata. Talk about dangerous!! But I even felt invested in the more minor characters… Finn's friends, the not entirely human population… they all held my attention.
Thorn Jack was an interesting and compelling faery story. If you like a story that's a bit of a wander through an atmospheric setting this one may be for you.
Related Posts