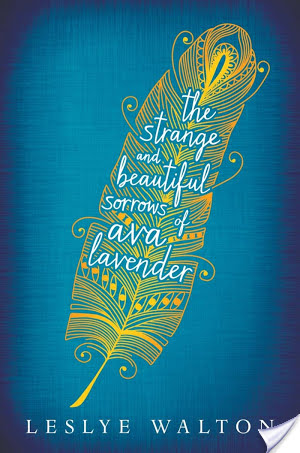 The Strange and Beautiful Sorrows of Ava Lavender

by Leslye Walton
Published by Candlewick Press on March 25, 2014
Pages: 301
Source: Library
Goodreads

Magical realism, lyrical prose, and the pain and passion of human love haunt this hypnotic generational saga.

Foolish love appears to be the Roux family birthright, an ominous forecast for its most recent progeny, Ava Lavender. Ava—in all other ways a normal girl—is born with the wings of a bird.

In a quest to understand her peculiar disposition and a growing desire to fit in with her peers, sixteen-year old Ava ventures into the wider world, ill-prepared for what she might discover and naïve to the twisted motives of others. Others like the pious Nathaniel Sorrows, who mistakes Ava for an angel and whose obsession with her grows until the night of the Summer Solstice celebration.

That night, the skies open up, rain and feathers fill the air, and Ava's quest and her family's saga build to a devastating crescendo.

First-time author Leslye Walton has constructed a layered and unforgettable mythology of what it means to be born with hearts that are tragically, exquisitely human.
My Thoughts:
I read this one before the Morris finalists were announced. It was the November pick for the Forever Young Adult Book Club, but I had been meaning to read it before that anyway. I started reading it via audiobook but ended up reading a physical copy instead. The narration was good; the problem was timing. I listen on my way to work and I just found myself starting my day off so sad! Much of the book is really heartbreaking and I couldn't handle it that early in the morning!
Having said that, The Strange and Beautiful Sorrows of Ava Lavender is one of the most beautifully written stories I've ever read. Leslye Walton's writing is simply lyrical. The structure and cadence of the story captured my attention and kept me reading (even when I was oh so very heartbroken!) I loved the magical realism. It really makes it so anything could happen! I also really enjoyed the various stories that we woven together to create Ava Lavender's tale.
Haunting and lyrical, it's no surprise to me that The Strange and Beautiful Sorrows of Ava Lavender by Lesley Walton is a Morris finalist!
About the Author:
Leslye Walton was born in the Pacific Northwest. Perhaps because of this, Leslye has developed a strange kinship with the daffodil–she too can only achieve beauty after a long, cold sulk in the rain. Her debut novel, The Strange and Beautiful Sorrows of Ava Lavender, was inspired by a particularly long sulk in a particularly cold rainstorm spent pondering the logic, or rather, lack thereof, in love.
Leslye has an MA in writing and lives in Seattle, Washington. When she's not writing, she teaches middle school students how to read and write, and most importantly, how to be kind to each other, even on days when they really don't feel like it. She is currently working on her next novel.
Website
Twitter
Goodreads
Facebook
Check out all stops on the Cinco Puntos Press Morris Finalist blog here!
Related Posts