I received this ARC from Publisher for free in exchange for an honest review. This does not affect my opinion of the book or the content of my review.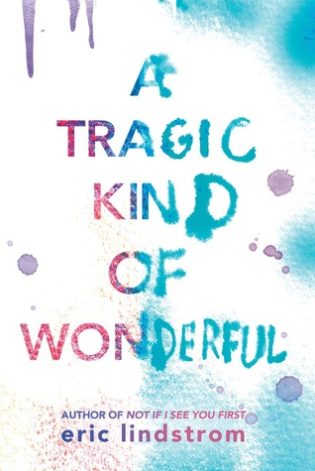 A Tragic Kind of Wonderful

by Eric Lindstrom
on February 7th 2017
Pages: 288
Source: ARC from Publisher
Amazon-Indiebound
Goodreads

In the vein of It's Kind of a Funny Story and All the Bright Places, comes a captivating, immersive exploration of life with mental illness.

For sixteen-year-old Mel Hannigan, bipolar disorder makes life unpredictable. Her latest struggle is balancing her growing feelings in a new relationship with her instinct to keep everyone at arm's length. And when a former friend confronts Mel with the truth about the way their relationship ended, deeply buried secrets threaten to come out and upend her shaky equilibrium.

As the walls of Mel's compartmentalized world crumble, she fears the worst--that her friends will abandon her if they learn the truth about what she's been hiding. Can Mel bring herself to risk everything to find out?

In A Tragic Kind of Wonderful, Eric Lindstrom, author of the critically acclaimed Not If I See You First, examines the fear that keeps us from exposing our true selves, and the courage it takes to be loved for who we really are.
My Thoughts:
I started A Tragic Kind of Wonderful by Eric Lindstrom not really knowing what to expect. I hadn't read anything by the author and I didn't know much about the book (aside from the summary.) So I was surprised by what a punch this book packed.
I don't have much personal experience with bipolar disorder. I know a bit about it from an academic standpoint, but that's it. Reading about Mel and her struggle (I don't know if that is the right/best word???) really touched me. She is a strong character and I was invested in the choices she was making. She has bipolar disorder but that isn't who she is. I liked that the focus was on her living her life with bipolar disorder, not about her being diagnosed and her life as she knew it being over. I felt like it was so much more reflective of real life. Being diagnosed with a disorder doesn't mean that you become your diagnosis.
There was so much more to this book that resonated with me. Mel's work at the nursing home, her relationships with friends and family, a new relationships that begins to develop, and past tragedy that still holds Mel… all of these things build a strong story. And the events at the end of the book… wow. Pretty sure I was crying all through it.
While there is humor, A Tragic Kind of Wonderful is certainly not a light, "fun" read. It's a powerful and thought provoking story with unforgettable characters. Well worth the tears.
Related Posts