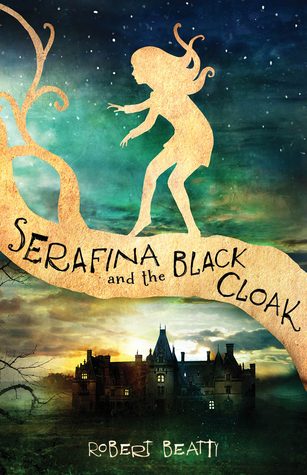 Serafina and the Black Cloak

by Robert Beatty
on July 14, 2015
Pages: 304
Source: Purchased
Amazon-Indiebound
Goodreads

"Never go into the deep parts of the forest, for there are many dangers there, and they will ensnare your soul." Serafina has never had a reason to disobey her pa and venture beyond the grounds of the Biltmore estate.There's plenty to explore in her grand home, although she must take care to never be seen. None of the rich folk upstairs know that Serafina exists; she and her pa, the estate's maintenance man, have secretly lived in the basement for as long as Serafina can remember. But when children at the estate start disappearing, only Serafina knows who the culprit is:a terrifying man in a black cloak who stalks Biltmore's corridors at night. Following her own harrowing escape, Serafina risks everything by joining forces with Braeden Vanderbilt, the young nephew of the Biltmore's owners. Braeden and Serafina must uncover the Man in the Black Cloak's true identity...before all of the children vanish one by one. Serafina's hunt leads her into the very forest that she has been taught to fear. There she discovers a forgotten legacy of magic, one that is bound to her own identity. In order to save the children of Biltmore, Serafina must seek the answers that will unlock the puzzle of her past.
My Thoughts:
I've been meaning to pick this one up ever since I visited the Biltmore Estate a few years ago. I finally got around to it because a student recommended it and the audiobook was on sale. Those two things were just the push I needed!
What a delightfully odd story! I can totally see why my students enjoy it. Serafina is a unique character. The circumstances of her life are intriguing and help to keep the reader invested. When you add in the missing children and other mysterious occurrences, you get a story that engages students, especially those who love the unexplainable.
I really enjoyed the setting in this one. Of course the Biltmore was fun to read about. Having been there made it so easy to picture the different rooms and grounds. But I also really loved the creepy forest and the places and things encountered within. It was just creepy enough to be enjoyable while not being too terrifying for my students (or me, since I'm the bigger scardy cat!)
A coworker of mine saw that I was reading this book. When I told her about it she checked it out immediately because of the Biltmore aspect. When we got back from Spring break she said she devoured the book in one sitting and was desperate for book two! If you're looking for a slightly creepy, odd little middle grade book, Serafina and the Black Cloak fits the bill.
Bonus: Here are a few photos I took while at Biltmore.
This slideshow requires JavaScript.
Related Posts