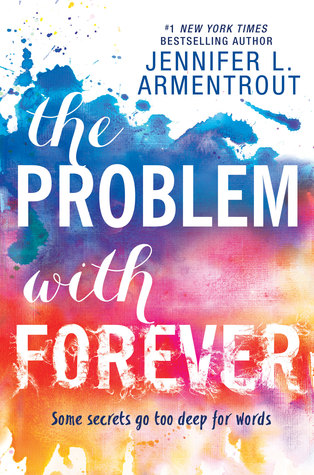 The Problem with Forever by Jennifer L. Armentrout
Published by Harlequin on June 1st 2016
Pages: 304
Goodreads

For some people, silence is a weapon. For Mallory "Mouse" Dodge, it's a shield. Growing up, she learned that the best way to survive was to say nothing. And even though it's been four years since her nightmare ended, she's beginning to worry that the fear that holds her back will last a lifetime.

Now, after years of homeschooling with loving adoptive parents, Mallory must face a new milestone—spending her senior year at public high school. But of all the terrifying and exhilarating scenarios she's imagined, there's one she never dreamed of—that she'd run into Rider Stark, the friend and protector she hasn't seen since childhood, on her very first day.

It doesn't take long for Mallory to realize that the connection she shared with Rider never really faded. Yet the deeper their bond grows, the more it becomes apparent that she's not the only one grappling with the lingering scars from the past. And as she watches Rider's life spiral out of control, Mallory faces a choice between staying silent and speaking out—for the people she loves, the life she wants, and the truths that need to be heard.
My Thoughts:
I am a sucker for Jennifer Armentrout's books! I've read most of her adult and new adult titles. Now I'm working my way through her YA backlist. I just really enjoy her stories! The Problem with Forever is my favorite of her YA that I've read so far.
Mallory is a girl who has been through a lot. Her early life is the kind I wouldn't wish upon anyone. Thankfully, she ended up in a really great place as a teen. However, being in a stable home doesn't fix everything. I appreciated that this book addressed the fact that you can't just "wish" yourself well. Mallory has emotional scars that run deep. Her adoptive parents love her and treat her well. But she still battles daily with her past. That isn't a reflection of her or them. It just is. It's a part of who she is but it doesn't define her.
I was really interested to see the ways that Mallory and Rider interacted. He was such a big part of her life during her darkest times. How would seeing him again affect her? How did he feel about the events of their shared past? There's so much history. I was really rooting for them to address it for their own good!
The Problem with Forever was exactly the kind of read I was anticipating from Jennifer Armentrout. I got exactly what I wanted out of the reading experience 🙂
Related Posts