I received this ARC from Publisher for free in exchange for an honest review. This does not affect my opinion of the book or the content of my review.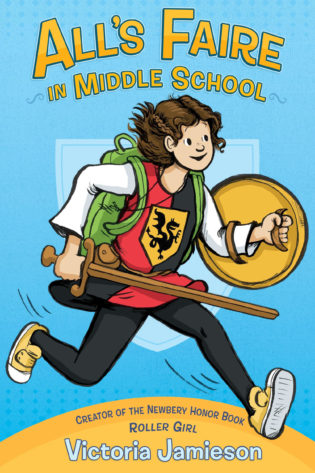 All's Faire in Middle School

by Victoria Jamieson
Published by Penguin on September 5th 2017
Pages: 248
Source: ARC from Publisher
Amazon-Indiebound
Goodreads

Calling all Raina Telgemeier fans! The Newbery Honor-winning author of Roller Girl is back with a heartwarming graphic novel about starting middle school, surviving your embarrassing family, and the Renaissance Faire.

Eleven-year-old Imogene (Impy) has grown up with two parents working at the Renaissance Faire, and she's eager to begin her own training as a squire. First, though, she'll need to prove her bravery. Luckily Impy has just the quest in mind—she'll go to public school after a life of being homeschooled! But it's not easy to act like a noble knight-in-training in middle school. Impy falls in with a group of girls who seem really nice (until they don't) and starts to be embarrassed of her thrift shop apparel, her family's unusual lifestyle, and their small, messy apartment. Impy has always thought of herself as a heroic knight, but when she does something really mean in order to fit in, she begins to wonder whether she might be more of a dragon after all.

As she did in Roller Girl, Victoria Jamieson perfectly—and authentically—captures the bittersweetness of middle school life with humor, warmth, and understanding.
I'm so excited to be sharing my thoughts on All's Faire in Middle School by Victoria Jamieson for the blog tour!
My Thoughts:
I was really excited to check out All's Faire in Middle School for two main reasons:
I love Victoria Jamieson's Roller Girl! Astrid is such a great character and Jamieson does such a great job of exploring the issues middle schoolers face.  
 The Renaissance faire aspect had me totally intrigued. I was interested in seeing how it fit in the story.
Both of these things ended up being excellent reasons!
Like Astrid, Imogene is a girl after my heart. She's spunky and fun and determined. Most of all, she's authentic. Imogene reminded me so much of my middle school students. She's starting public school for the first time in middle school. Watching her try to learn the ins and outs of the social aspect… it was just so spot on. She's growing and changing and it can be messy. I loved how real it all was. That goes for the secondary characters as well! What a great middle school story.
The Renaissance faire setting made for some gorgeous artwork! I loved how parts of the book looked like an illuminated manuscript. It was beautiful and also added to to the story structure. The reader really sees Imogene as someone who is on a grand quest. And isn't that what much of life is? That quest to find and become who you want to be. Plus, it was just fun to have all the ren faire characters!
Beautiful artwork and a touching story work together to make All's Faire in Middle School another great read from Victoria Jamieson. I cannot wait to share it with my middle school students.
Related Posts