I've been in a bit of a reading slump lately so I turned to graphic novels to help me out. I've read a number of really excellent ones recently but I haven't kept up with reviewing them! I'm highlighting nine of them today!
Ms. Marvel:
Kamala Khan is an ordinary girl from Jersey City — until she's suddenly empowered with extraordinary gifts. But who truly is the new Ms. Marvel? Teenager? Muslim? Inhuman? Find out as she takes the Marvel Universe by storm! When Kamala discovers the dangers of her newfound powers, she unlocks a secret behind them, as well. Is Kamala ready to wield these immense new gifts? Or will the weight of the legacy before her be too much to bear? Kamala has no idea, either. But she's comin' for you, Jersey!
I've read volumes 1-4 of this one and I am in love! I don't typically read many superhero comics. I've read a few but they never really seemed to capture me. This one is different. Kamala Khan is just a regular girl who acquires powers she's not even sure how to use. I love, love, love her! Her struggles to adapt to her "normal" life and her new abilities are so relatable. I cannot get enough of this one!
Lumberjanes: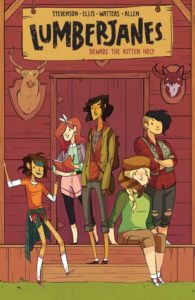 FRIENDSHIP TO THE MAX!

At Miss Qiunzilla Thiskwin Penniquiqul Thistle Crumpet's camp for hard-core lady-types, things are not what they seem. Three-eyed foxes. Secret caves. Anagrams. Luckily, Jo, April, Mal, Molly, and Ripley are five rad, butt-kicking best pals determined to have an awesome summer together… And they're not gonna let a magical quest or an array of supernatural critters get in their way! The mystery keeps getting bigger, and it all begins here.
I have only read volume one of this one but I cannot wait to get my hands on the rest! They're always checked out of my library so I'll have to wait until this summer 🙂 I just love these girls and the focus on friendship. Plus summer camp and danger and  adventure! How can you go wrong?!?
Nothing Can Possibly Go Wrong: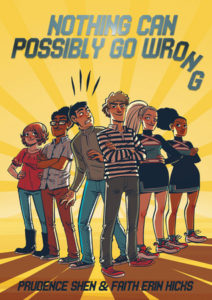 Charlie is the laid-back captain of the basketball team. Nate is the neurotic, scheming president of the robotics club. Their unlikely friendship nearly bites the dust when Nate declares war on the cheerleaders and the cheerleaders retaliate by making Charlie their figurehead in the ugliest class election campaign the school has ever seen. At stake? Student group funding that will either cover a robotics competition or new cheerleading uniforms–but not both.

Bad sportsmanship? Sure.

Chainsaws? Why not.

Running away from home on Thanksgiving? Nothing can possibly go wrong.
I mentioned in my review of The Nameless City that I am a fan of Faith Erin Hicks' work. Nothing Can Possibly Go Wrong is no exception. I love her style and the ways she shows expression. And this story is just super fun! I love the way two groups that were working against each other had to join up and work together. So much fun!
The Adventures of Superhero Girl:
What if you can leap tall buildings and defeat alien monsters with your bare hands, but you buy your capes at secondhand stores, and have a weakness for kittens, and a snarky comment from Skeptical Guy can ruin a whole afternoon? Cartoonist Faith Erin Hicks brings her skills in character design and sharp, charming humor to the trials and tribulations of a young, superhero battling monsters both supernatural and mundane in an all-too-ordinary world.
Another Faith Erin Hicks book! Can you tell I really like her work?!? This one started as an online comic. It was then collected an published. Remember how I said I don't normally like superhero comics? This is another exception! It's fun and lighthearted and really just focuses on Superhero Girl and her struggles to balance life and superhero-ing. I love, love, love it!
Sunny Side Up:
Sunny Lewin has been packed off to Florida to live with her grandfather for the summer.  At first she thought Florida might be fun — it is the home of Disney World, after all.  But the place where Gramps lives is no amusement park.  It's full of . . . old people.  Really old people.

Luckily, Sunny isn't the only kid around.  She meets Buzz, a boy who is completely obsessed with comic books, and soon they're having adventures of their own: facing off against golfball-eating alligators, runaway cats, and mysteriously disappearing neighbors.  But the question remains — why is Sunny down in Florida in the first place?  The answer lies in a family secret that won't be secret to Sunny much longer. . .
I somehow missed that this one was set in the 1970s. I really enjoyed that aspect! I think my students will find it an interesting addition to the story. Sunny herself is delightful. Clearly something went wrong at home but Sunny is trying not to think about it. There are flashbacks throughout the story that tell us how she ended up spending the summer with her grandpa in his retirement community. I loved all the residents and Buzz as well. A charming story with heart.
El Deafo: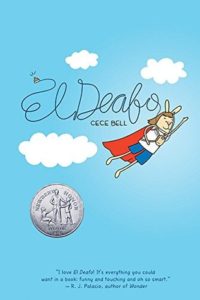 Starting at a new school is scary, even more so with a giant hearing aid strapped to your chest! At her old school, everyone in Cece's class was deaf. Here she is different. She is sure the kids are staring at the Phonic Ear, the powerful aid that will help her hear her teacher. Too bad it also seems certain to repel potential friends.

Then Cece makes a startling discovery. With the Phonic Ear she can hear her teacher not just in the classroom, but anywhere her teacher is in school–in the hallway…in the teacher's lounge…in the bathroom! This is power. Maybe even superpower! Cece is on her way to becoming El Deafo, Listener for All. But the funny thing about being a superhero is that it's just another way of feeling different… and lonely. Can Cece channel her powers into finding the thing she wants most, a true friend?

This funny perceptive graphic novel memoir about growing up hearing impaired is also an unforgettable book about growing up, and all the super and super embarrassing moments along the way.
What a darling story! I was captivated by the style – both in the art and the text. Cece may be "different" in a physical way, but her tale of growing up and trying to find a true friend is universal. This story is told with honesty and charm. My students and I have fallen for El Deafo.
Tomboy:
Growing up, Liz Prince wasn't a girly girl, dressing in pink tutus or playing pretty princess like the other girls in her neighborhood. But she wasn't exactly one of the guys, either. She was somewhere in between. But with the forces of middle school, high school, parents, friendship, and romance pulling her this way and that, "the middle" wasn't exactly an easy place to be.

Tomboy follows award-winning author and artist Liz Prince through her early years and explores–with humor, honesty, and poignancy–what it means to "be a girl."
Yes. This book. I so appreciated this look at growing up and gender stereotypes. If you're a girl but not into "girly" things are you automatically a "tomboy?" Who gets to decide? Why does it even matter? I want everyone to read this one! So much to love.
Gaijin: American Prisoner of War:
With a white mother and a Japanese father, Koji Miyamoto quickly realizes that his home in San Francisco is no longer a welcoming one after Pearl Harbor is attacked. And once he's sent to an internment camp, he learns that being half white at the camp is just as difficult as being half Japanese on the streets of an American city during WWII. Koji's story, based on true events, is brought to life by Matt Faulkner's cinematic illustrations that reveal Koji struggling to find his place in a tumultuous world-one where he is a prisoner of war in his own country.
What a powerful book. As you can see from the cover, the artwork is gorgeous. I really loved the colors and the style. But the story itself is such a powerful one that my students need to hear. I don't remember learning about the Japanese-American Relocation/Internment in school. Which really makes me angry. This is a part of history that we cannot just gloss over. Koji's story really personalizes it for the reader. I was drawn in immediately and could not wait to share this one.
Hidden: A Child's Story of the Holocaust:
In this gentle, poetic young graphic novel, Dounia, a grandmother, tells her granddaughter the story even her son has never heard: how, as a young Jewish girl in Paris, she was hidden away from the Nazis by a series of neighbors and friends who risked their lives to keep her alive when her parents had been taken to concentration camps.
Hidden ends on a tender note, with Dounia and her mother rediscovering each other as World War II ends . . . and a young girl in present-day France becoming closer to her grandmother, who can finally, after all those years, tell her story. With words by Loïc Dauvillier and art by Marc Lizano and Greg Salsedo, this picture book-style comic for young readers is a touching read.
What a beautiful, heartbreaking, hopeful book. I've read many accounts similar but to see it illustrated in such a way… so powerful. I loved the perspective of a grandmother telling her story to her granddaughter. A quick read, but a must read. I was totally tearing up!
As someone who is fairly new to reading graphic novels/comics, which ones do I need to try?
Related Posts