I received this ARC from Publisher for free in exchange for an honest review. This does not affect my opinion of the book or the content of my review.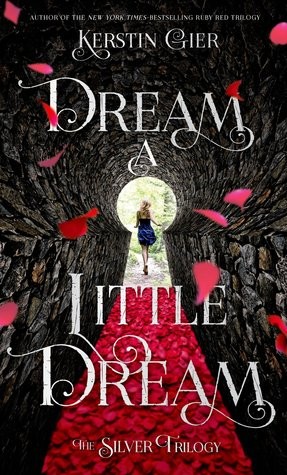 Dream a Little Dream

by Kerstin Gier
Published by Henry Holt & Company on April 14, 2015
Pages: 336
Source: ARC from Publisher
Amazon-Indiebound
Goodreads

Liv has been dealing with a lot lately. She and her family have just moved in with her mother's new boyfriend in London, and she's starting over (again) at a new school. But Liv isn't sure that explains her dreams, which have gone from odd to…well, bizarre. Lately, her nighttime hours have been filled with talking stone statues, mysterious corridors, and creepy rituals conducted by four boys in a graveyard. The strangest part is that Liv recognizes the boys. They're classmates from her new school, and they seem to know things about her that they couldn't possibly know…unless they actually are in her dreams? Luckily, Liv never could resist a good mystery, and all four of those boys are pretty cute...
My Thoughts:
I picked up Kerstin Gier's Ruby Red on a whim and was enchanted from page one. Sapphire Blue and Emerald Green cemented my love for the series. So, I was super excited to see that Gier had another series being published in the US (She is German.) Dream a Little Dream Kicks off the Silver trilogy. I can already tell this is going to be a series my students enjoy… contemporary with a little magic, a little romance, and a bit of a creepy vibe!
Here are a few of the things I enjoyed:
The cover change. I just really like this cover so much more than the original. I also see it as way more appealing to my students!
London!! Some day I will visit England. Until then I have to content myself with reading books set there.
Dreams spilling over to reality. I love books where dreams and reality collide. This one reminded me a bit of Dreamhunter. The story isn't necessarily the same but they had similar vibes!
Doors… I know this seems kind of odd but I really love the idea of hallways with many different doors as a portal of sorts between the "real" world and the magical element. And when you have doors of course you have locks and keys! I think this is the element reminded me of The Archived.
Humor. I love the sass and humor that Gier's main characters have.
Secret Societies! Kind of. A group meeting in secret if not an actual "society."
Magic!! Of course this is my favorite part!!!!
So, yeah… there are quite a few elements that drew me in to this story. I'm hoping to see some more development as the series continues. I'd love to know more about the characters and the magical bits! A fun read that I see my middle schoolers gobbling up.
Related Posts