I received this ARC from Publisher for free in exchange for an honest review. This does not affect my opinion of the book or the content of my review.

Source: ARC from Publisher

I read and absolutely loved The Young Elites. I held off on reading The Rose Society until recently because I knew I'd need The Midnight Star right away. I was so right! So, I am thrilled to be a stop on this blog tour. Read on to see my non-spoilery thoughts on The Midnight Star.
About the Book: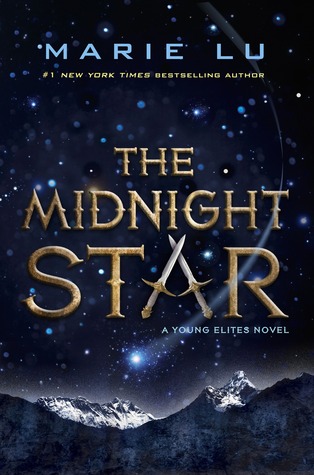 The thrilling finale to the New York Times bestselling Young Elites series from "hit factory" Marie Lu.

There was once a time when darkness shrouded the world, and the darkness had a queen.

Adelina Amouteru is done suffering. She's turned her back on those who have betrayed her and achieved the ultimate revenge: victory. Her reign as the White Wolf has been a triumphant one, but with each conquest her cruelty only grows. The darkness within her has begun to spiral out of control, threatening to destroy all that she's achieved.

Adelina's forced to revisit old wounds when a new danger appears, putting not only Adelina at risk, but every Elite and the very world they live in. In order to save herself and preserve her empire, Adelina and her Roses must join the Daggers on a perilous quest—though this uneasy alliance may prove to be the real danger.

Bestselling author Marie Lu concludes Adelina's story with this haunting and hypnotizing final installment to the Young Elites series.
My Thoughts:
I have to admit, after The Rose Society I wasn't sure how Marie Lu was going to bring this series to a close in a way that both fit with the story and was satisfying for the reader. After reading it I'm still not sure how she did it… but she sure did! As it says in the book description, The Midnight Star is a haunting and hypnotizing end to Adelina's journey.
Okay. So, Adelina. At the end of The Rose Society she is in a dark, dark place. The Midnight Star picks up a year later and things have not really improved. Like, she is still set in revenge hardcore. I was really amazed by how much I still cared for her. This is a character who is pretty ruthless. I'm so impressed with the ways Marie Lu connected the reader to her so that you still root for her (well, more like her redemption but still!)
As with the other books in the series, I loved getting the story from multiple perspectives. Each character brings different experiences and talents to the telling of the story. It felt like a bonus to see the events through so many distinct eyes. I loved each and every one of them.
Obviously I don't want to spoil the events of this book. I'll just say that I loved the journeys (both literal and metaphorical) that the characters embark on. And the events of the end… oh man. I was riveted.
This was one of those trilogies where I was invested in each of the books. I couldn't wait to see how it all came together. Marie Lu did not disappoint.
Favorite Quotes:
There were a number of quotations that really stuck out to me while reading The Midnight Star. Three of my four favorite were already turned into graphics:
I also really liked this one:
You cannot harden your heart to the future just because of your past. You cannot use cruelty against yourself to justify cruelty to others.
About the Author:
I write young adult novels, and have a special love for dystopian books. Ironically, I was born in 1984. Before becoming a full-time writer, I was an Art Director at a video game company. Now I shuffle around at home and talk to myself a lot. 🙂

I graduated from the University of Southern California in '06 and currently live in LA, where I spend my time stuck on the freeways.
Tour Schedule:
Related Posts