I received this Audiobook from publisher for free in exchange for an honest review. This does not affect my opinion of the book or the content of my review.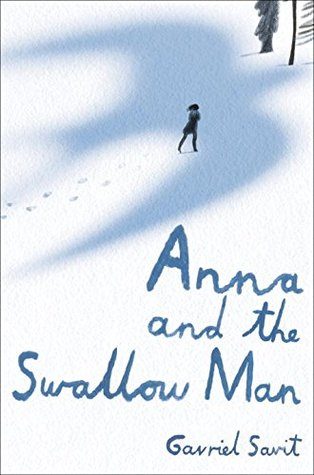 Anna and the Swallow Man

by Gavriel Savit
Published by Random House Children's Books on March 14th 2017
Pages: 256
Source: Audiobook from publisher
Amazon-Indiebound
Goodreads

Kraków, 1939. A million marching soldiers and a thousand barking dogs. This is no place to grow up. Anna Łania is just seven years old when the Germans take her father, a linguistics professor, during their purge of intellectuals in Poland. She's alone.

And then Anna meets the Swallow Man. He is a mystery, strange and tall, a skilled deceiver with more than a little magic up his sleeve. And when the soldiers in the streets look at him, they see what he wants them to see.

The Swallow Man is not Anna's father—she knows that very well—but she also knows that, like her father, he's in danger of being taken, and like her father, he has a gift for languages: Polish, Russian, German, Yiddish, even Bird. When he summons a bright, beautiful swallow down to his hand to stop her from crying, Anna is entranced. She follows him into the wilderness.

Over the course of their travels together, Anna and the Swallow Man will dodge bombs, tame soldiers, and even, despite their better judgment, make a friend. But in a world gone mad, everything can prove dangerous. Even the Swallow Man.
My Thoughts:
I'm still not sure what exactly I think about this book. It was interesting and I was invested in Anna and her plight. I wanted to keep listening to find out more about her and "The Swallow Man." It was a very different reading experience, to be sure. A few thoughts:
Reading this book felt almost like reading a collection of stories about Anna and The Swallow Man. I wasn't always sure where they fell on the timeline of Anna's life. Aside from the very beginning, I was never quite sure of her age. (This makes sense considering the circumstances and isn't meant as a criticism.) We learn something new about the characters through each new circumstance. It was interesting to see the ways Anna becomes more aware of the world around her yet remains naive in many ways.
Anna relies so completely on the Swallow Man without question. As she grows this changes a bit, but not drastically. It's understandable in her situation but I still kept wanting her to find her own voice. We glimpse this at the end of the book and I wanted more of it!
There were a few scenes that made me profoundly uncomfortable. This book is set in a horrifying time of history. There were good and honest people, certainly. However, it was much easier for evil to go unpunished. These scenes were not out of place at all. It was just very hard to listen to in a few places. My heart just broke.
Much of the book progresses at a slower rate. The majority of Anna's life is spent walking and avoiding any detection. It is a fight for survival, but not fast paced at all. However, the ending seems to rush by in a blink. After years of isolation I'm sure all the activity seemed rushed to Anna as well. As a reader, it left me reeling a bit. I wish I would have had a physical copy of the book on hand so that I could have read it at my own pace (and went back to re-read certain parts easier.)
I hesitate to say I enjoyed this book, considering the subject manner. However, I am certainly glad I listened to it.
Audiobook Notes:
Excellent narration. Pacing and tone fit the book and it's seriousness perfectly.
Related Posts