I have been obsessed with Leigh Bardugo's books ever since I read Shadow and Bone back in Spring of 2012. All of my reviews are just paragraphs of my fangirling. I can't help it! Not only is Leigh a lovely person, she's such an incredibly talented writer and masterful storyteller.
I've always loved how the books in the Shadow and Bone trilogy have "Before" and "After" sections that are reminiscent of tales told again and again. They have that folklore vibe. Since The Witch of Duva was originally released, I have been wanting a full book of Ravkan folktales. The Language of Thorns is even better! It contains three Ravkan tales, as well as one Zemeni, one Kerch, and one Fjerdan. Here's more about the book: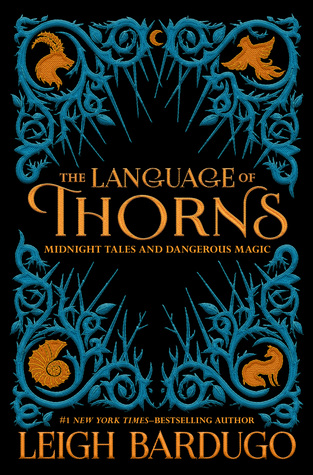 Love speaks in flowers. Truth requires thorns.

Travel to a world of dark bargains struck by moonlight, of haunted towns and hungry woods, of talking beasts and gingerbread golems, where a young mermaid's voice can summon deadly storms and where a river might do a lovestruck boy's bidding but only for a terrible price.

Inspired by myth, fairy tale, and folklore, #1 New York Times–bestselling author Leigh Bardugo has crafted a deliciously atmospheric collection of short stories filled with betrayals, revenge, sacrifice, and love.

Perfect for new readers and dedicated fans, these tales will transport you to lands both familiar and strange—to a fully realized world of dangerous magic that millions have visited through the novels of the Grishaverse.

This collection of six stories includes three brand-new tales, all of them lavishly illustrated with art that changes with each turn of the page, culminating in six stunning full-spread illustrations as rich in detail as the stories themselves.
Goodreads * Amazon * Indiebound * Target (Special Edition) * Barnes & Noble (Special Edition)
Mini Review: I loved each and every story in this book. I could recognize the bones of tales I grew up with. However, each is fresh and new. Leigh sets the reader up for amazing moments that take the familiar and twist it into something new and thought-provoking. Seriously. Each and every one!  I also loved how diverse the tales were and how they reflected their place of origin. Ugh. Leigh's so brilliant!
Midnight Tales Tour: To celebrate the release of this treasure of a book, Macmillan invited fans of the Grishaverse to share a post today that connects to the idea of Midnight Tales. I thought about revisiting stories from my childhood. However, most were not fairy tales or folk tales. Plus, I've been in love with The Witch of Duva since the first time I read it. I decided to focus on the first "Midnight Tale" we got from the Grishaverse.
When reading The Witch Of Duva you'll likely make some connections to Hansel and Gretel. One of those connections is the food! Sweet and savory dishes alike. Early in the story we read about some of these foods:
Some wondered if the girls might have just walked into the wood, lured by their hunger. There were smells that wafted off the trees when the wind blew a certain way, impossible scents of lamb dumplings or sour-cherry babka. Nadya had almost given in to them herself, sitting on the porch beside her mother, trying to get her to take another spoonful of broth. She would smell roasting pumpkin, walnuts, brown sugar, and find her feet carrying her down the stairs toward the waiting shadows, where the trees shuffled and sighed as if ready to part for her.
The bit about the pumpkin, walnuts, and brown sugar (emphasis mine) had my mouth watering. I decided I wanted to make something inspired by the scent that so nearly drew Nadya into the woods. I love a good pumpkin pie but only at Thanksgiving, so that was out. Instead, I looked up pumpkin cookie recipes. I found this one, which was about perfect! I just added some crushed walnuts on top and it had all the flavors I was looking for. Plus, they taste amazing!! Here are a few photos of the process. Note: I am 100% NOT a food photographer! 🙂
And here's my The Witch of Duva inspired photograph:
The frame in the background is something I made from cutting up a sampler of The Language of Thorns. Many thanks to the generous people at Macmillan for also sending those of us participating in the Midnight Tales blog tour this amazing book box:
Don't forget to see if Leigh is coming to a bookstore near you!
Related Posts