I am so pleased to be a part of the blog tour for Amy Talkington's Liv, Forever. Boarding schools, secret societies, mysterious deaths… all kinds of interesting things in this one! 
About the Book: 
When Liv Bloom lands an art scholarship at Wickham Hall, it's her ticket out of the foster system. Liv isn't sure what to make of the school's weird traditions and rituals, but she couldn't be happier. For the first time ever, she has her own studio, her own supply of paints. Everything she could want.
Then she meets Malcolm Astor, a legacy student, a fellow artist, and the one person who's ever been able to melt her defenses. Liv's only friend at Wickham, fellow scholarship kid Gabe Nichols, warns her not to get involved, but life is finally going Liv's way, and all she wants to do is enjoy the ride. 
But Liv's bliss is doomed. Weeks after arriving, she is viciously murdered and, in death, she discovers that she's the latest victim of a dark conspiracy that has claimed many lives. Cursed with the ability to see the many ghosts on Wickham's campus, Gabe is now Liv's only link to the world of the living. To Malcolm.
Together, Liv, Gabe, and Malcolm fight to expose the terrible truth that haunts the halls of Wickham. But Liv must fight alone to come to grips with the ultimate star-crossed
love.
For the tour I was able to ask Amy a few interview questions. Check out what she had to say!
1.  I saw in your biography that you're a screenwriter and director. Did this influence your writing? How is writing a novel different/similar to screenwriting?
Writing a novel is quite different from writing a screenplay. Screenplays have very strict structure and format. I felt incredibly liberated writing Liv, Forever. To be able to go into Liv's head?! To be able to describe a room in detail!? To be able to write multiple first person "ghost statements"!? It was thrilling and invigorating! That said, I think my screenwriting past did influence the novel's style. The writing is still pretty lean and to the point. And the story is very plot driven.
 2. I love a book set at a boarding school. I noticed that you, like Liv, attended a boarding school on the East Coast. How similar is Wickham Hall to your school? Are there other similarities between you and Liv?
I went to Choate Rosemary Hall in Connecticut. Choate is nothing like Wickham Hall—Choate is a diverse and tolerant environment.The only similarity between Wickham and Choate is the Art Center. I definitely had Choate's wonderful Art Center in mind as I wrote the art scenes.
As for similarities to Liv, what I have most in common with her (aside from being obsessed with art) is the emotional armor that I wore. If I'd met Malcolm Astor in high school, I wouldn't have been able to tell him I loved him either. So, I wrote all that from a very honest place.
3. While Liv, Forever is predominantly Liv's story we do get glimpses into the lives of girls who attended the school before her. Can you tell us a bit more about writing in those characters? Why include glimpses of their narrative?
I call those the "Ghost Death Statements." For those who haven't read Liv yet, let me explain. Throughout the book, in between chapters, there's a series of first-person statements in which each of the ghosts tells the story of her death. I had so much fun writing them—researching the time periods, developing each girl's distinct voice. And I think they serve an important purpose in the book—each statement provides clues (and sometimes red herrings) to help the reader (and eventually Liv) solve the mystery of Liv's death.
4. Liv stumbles upon aspects of spiritualism at Wickham Hall. What kind of research did you do for that aspect of the story? Where did your interest in it stem from?
I have to be careful not to give anything away here. But I can say that I did a lot of research to create a history and mythology for both the school and its secret rituals. I spent a lot of time thinking about the Wickhams—who they were, what they cared about, why they founded the school—as well as their son Elijah. They were all intellectuals so I tried to make all their interests plausible and historically accurate.
5. In Liv, Forever there are numerous references to art, music, and poetry from across the decades. Are these topics  you are interested? How did they find their way into the story?
Yes, many of my interests made their way into the book. Like Liv, I was an artist, obsessed with art. And I also loved the Romantic period (though Modern was more my thing).
6. And of course I can't interview an author without being curious… what are you reading or what have you read recently that you've enjoyed?
At the moment, I've got a giant stack on my nightstand. Pamela Ribon's hilarous Notes To Boys (and Other Things I Shouldn't Share in Public); Lynda Obst's insightful Sleepless in Hollywood about the shifting business of Hollywood, and Eve Epstein and Leonora Epstein's sharp, funny, and moving X vs. Y: A Culture War a Love Story. I'm reading them all! Next up is the amazing E. Lockhart's We Were Liars (yes, I got my hands on an ARC! And, PS she gave Liv, Forever an awesome blurb!)
Thanks so much to Amy Talkington for answering my questions! Liv, Forever is a strong debut perfect for those who like a little mystery.
About the Author: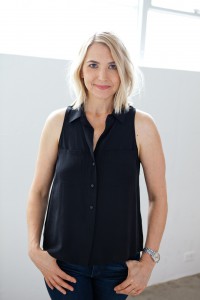 Amy Talkington is an award-winning screenwriter and director living in Los Angeles. Before all that she wrote about music for magazines like Spin, Ray Gun, Interview, and Seventeen (mostly just as a way to get to hang out with rock stars). As a teenager in Dallas, Texas, Amy painted lots of angsty self-portraits, listened to The Velvet Underground and was difficult enough that her parents finally let her go to boarding school on the East Coast. Liv, Forever is her first novel.
Related Posts