I really loved Tochi Onybuchi's Beasts Made of Night so of course I jumped at the chance to be on the Crown of Thunder blog tour. For my stop on the Beasts Made of Night blog tour Tochi shared his top five fantastical worlds. This time around I'm sharing a list! Taj and the other sin-eaters slay sin-beasts. These beasts come in all shapes and sizes. I'll be sharing the beasts I would be most terrified to have to face!
About the Book:
In the sequel to the acclaimed Beasts Made of Night, Taj has escaped Kos, but Queen Karima will go to any means necessary–including using the most deadly magic–to track him down.

Taj is headed west, but the consequences of leaving Kos behind confront him at every turn. Innocent civilians flee to refugee camps as Karima's dark magic continues to descend on the city. Taj must return, but first he needs a plan.

With Arzu's help, Taj and Aliya make it to the village of her ancestors, home of the tastahlik–sin-eaters with Taj's same ability to both battle and call forth sins. As Taj comes to terms with his new magic, he realizes there are two very different groups of tastahlik–one using their powers for good, the other for more selfish ends.

Aliya is struggling with her own unique capabilities. She's immersed in her work to uncover the secret to Karima's magic, but her health begins to mysteriously deteriorate. With the help of a local western mage, Aliya uncovers her true destiny–a future she's not sure she wants.

As Taj and Aliya explore their feelings for each other and Arzu connects with her homeland, the local westerners begin to question Taj's true identity. Karima is on his heels, sending dark warnings to the little village where he's hiding. Taj will have to go back and face her before she sends her most deadly weapon–Taj's former best friend, Bo.
Goodreads * Indiebound * Amazon
About the Author: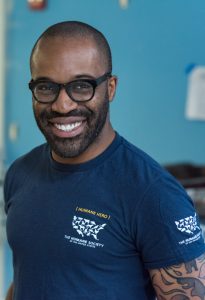 Tochi Onyebuchi holds a BA from Yale, an MFA in screenwriting from Tisch, a master's degree in global economic law from L'institut d'études politiques, and a JD from Columbia Law School. His writing has appeared in Asimov's Science Fiction and Ideomancer, among other places. Tochi resides in Connecticut, where he works in the tech industry.
Listicle:
Early on in Beasts Made of Night Taj fights a lion sin-beast. I 100% would not want to face that! I mean, I wouldn't make it a day as a sin-eater since I can't even handle having a mouse in my house. So a lion is a hard pass! This got me to thinking… what would be the worst sin-beasts for me personally to face? What would terrify me the most? My first thought was anything that lives in the ocean! Thankfully those are ruled out or this post would be REALLY LONG as I couldn't pick! But here are the top five creatures I would not want to face as sin-beasts!
Giant Scorpion: Thankfully I have never seen a scorpion in real life. I don't know if I read about them as a kid or what but I have had a lifelong fear of them. I think I would pass out if I saw one outside of a zoo. Having to face a giant one as a sin-beast? I would not walk away from that fight!
Crocodile: I mean, these are basically dinosaurs! WAY too many teeth. I want absolutely nothing to do with them!
Bird of Prey: Yeah. I couldn't pick just one. Birds are dirty and gross and I cannot even begin to imagine how freaked out I would be if one attacked me. I'd be curled in a ball on the floor at the first dive it took!
Wendigo: I know these are a mythological creature but I looked them up on the internet and that was a BIG MISTAKE. Talk about Creepy McCreeperson!
Giant Rat: They scurry and have gross tails. Even thinking about them makes me shudder! No thank you!
What about you? What creature would you be most terrified to face?
Blog Tour Schedule:
WEEK ONE
October 8 – Pop the Butterfly Reads
October 9 – A Gingerly Review
October 10 – Here's to Happy Endings
October 11 – YA Bibliophile
October 12 – Moonlight Rendezvous
WEEK TWO
October 15 – @wizardylibrary
October 16 – A Court of Crowns and Quills
October 17 – Book Fidelity
October 18 – A Dream within a Dream
October 19 – The Fandom
WEEK THREE
October 22 – Margie's Must Reads
October 23 – Just Add a Word
October 24 – Jellys Book Bliss
October 25 – Rheya_Reads
October 26 – Allison in Bookland
Related Posts