So, this post is a month late. Which is super embarrassing. But, it is what it is! I considered not posting but I really loved this event, the authors, and the books so I wanted to share about them all. I should probably tell you what the heck I'm talking about, huh?!?
Months ago I got an incredibly exciting email. It looked something like this: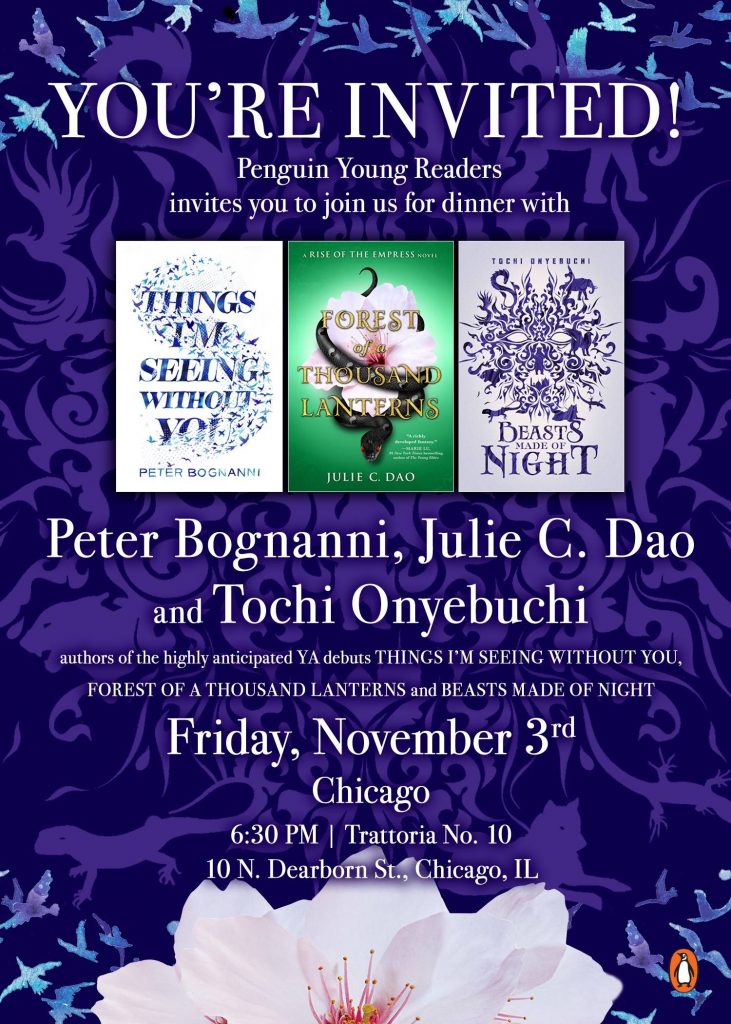 Obviously I freaked out and replied YES as fast as I could! I was looking forward to all three books and was thrilled to get a chance to meet the authors. (Plus, free food!)
I am so grateful that I got to attend this dinner. Everything was delightful. It was so great to get to spend the night with fellow book nerds and these three amazing authors. I so enjoyed talking with Peter, Julie, and Tochi. I loved hearing more about the stories behind their books and just getting to know them as people. These kinds of events are my very favorite! Here are some (not very good because I'm terrible at taking them) photos from the night:
Before the dinner we had the chance to mingle and talk with the other attendees and the authors. Once we sat down to dinner the authors rotated tables with each course. The food was amazing and the conversation even better.
I read and enjoyed each of the books before the event. Here are my quick thoughts on them:
Things I'm Seeing Without You by Peter Bognanni: Heartbreaking. Relatable. Hopeful. This exploration of grief and relationships felt so real. I especially loved the way it looked at how well we really know people -particularly those who we know mostly through online interactions. Also interested in the familial relationships.
Forest of a Thousand Lanterns by Julie C. Dao: Dark. Lush. Captivating.  This is a Snow White retelling set in a Chinese inspired fantasy world. It's a back story to the evil queen. It's always so interesting to have a main character who we know is not a hero! I really loved the world in this one. Looking forward to the follow-up.
Beasts Made of Night by Tochi Onyebuchi: Engaging. Magical. Gritty.  This Nigerian influenced fantasy world had me from page one. I loved the worldbuilding and everything surrounding the magic and how it affected a person's place in society. The characters were great and I cannot wait to see where the author takes us next.
And now, a giveaway!
I have one of each of the goodies from the event (the tattoos, mirror, and art print) up for grabs. PLUS!!! I will buy you one of the books: Things I'm Seeing Without You OR Forest of a Thousand Lanterns OR Beasts Made of Night. Simply fill out the rafflecopter below:
Must be 13 or older to win. US only.
Related Posts