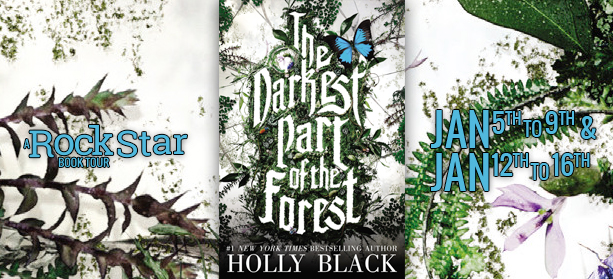 I am so thrilled to be on the tour for one of my most anticipated books of 2015, The Darkest Part of the Forest by Holly Black! It's such an incredible book! I cannot wait for everyone to read it. For the tour I have my review and the tour giveaway. There are 10 blogs on the tour so make sure to check out the other tour hosts for guest posts and reviews!

The Darkest Part of the Forest
by: Holly Black
Pub. Date: January 13, 2015
Publisher: Little, Brown Books for Young Readers
Pages: 336
Formats: Hardcover, eBook
Find it: Amazon, Barnes & Noble, Goodreads
Pre-order from one of these indie bookstores and get a limited edition posted and a signed bookplate!
Children can have a cruel, absolute sense of justice. Children can kill a monster and feel quite proud of themselves. A girl can look at her brother and believe they're destined to be a knight and a bard who battle evil. She can believe she's found the thing she's been made for.

Hazel lives with her brother, Ben, in the strange town of Fairfold where humans and fae exist side by side. The faeries' seemingly harmless magic attracts tourists, but Hazel knows how dangerous they can be, and she knows how to stop them. Or she did, once.

At the center of it all, there is a glass coffin in the woods. It rests right on the ground and in it sleeps a boy with horns on his head and ears as pointed as knives. Hazel and Ben were both in love with him as children. The boy has slept there for generations, never waking.

Until one day, he does…

As the world turns upside down, Hazel tries to remember her years pretending to be a knight. But swept up in new love, shifting loyalties, and the fresh sting of betrayal, will it be enough?
About Holly:
Holly Black is the author of bestselling contemporary fantasy books for kids and teens. Some of her titles include The Spiderwick Chronicles (with Tony DiTerlizzi), The Modern Faerie Tale series, the Curse Workers series, Doll Bones, and The Coldest Girl in Coldtown. She has been a finalist for the Mythopoeic Award and for an Eisner Award, and the recipient of both an Andre Norton Award and a Newbery Honor. Her new books are The Darkest Part of the Forest, a return to faerie fiction, and The Iron Trial, the first book in a middle grade fantasy series, Magisterium, co-authored by Cassandra Clare. Holly currently lives in New England with her husband and son in a house with a secret door.
Website/Twitter/Facebook/Goodreads/Pinterest/Tumblr
My Thoughts:
If you follow me on twitter or are a regular reader of my blog you probably know that I am a Holly Black fangirl. I simply adore her books! It all started with her Modern Faerie Tale books so I was thrilled when Holly said she was working on another faerie story. The Darkest Part of the Forest was everything I hoped it'd be and more. Holly Black is simply amazing!
I was so impressed with the way Holly was able to go back to writing about faeries yet do it in a new way. Much of the standard faerie lore is the same but the story is incredibly unique. I was caught up in the world and the characters of The Darkest Part of the Forest. I was as enchanted with learning about the humans and their histories as I was with the fae. The entire story is magical.
Holly crafts fascinating worlds that are so easy to get lost in. I never want her books to end but I can never seem to put them down. Fairfold is a mysterious place full of mysterious people and happenings. I had to know what happened next as I tried to piece together all the clues about Hazel and the other characters. No matter how much I wanted to savor The Darkest Part of the Forest, I found myself flying through it.
And the characters! I have no idea how Holly Black creates such intriguing and developed characters. They seem to come to life as you read the story. Hazel and Ben and Jack and every new character we meet! I loved how each changed as more and more of the story was revealed.
Basically, I stand by my goodreads review. The Darkest Part of the Forest is further proof that Holly Black is the most amazing ever.
Giveaway:
10 winners will receive a hardcover of The Darkest Part of the Forest. US only.
Tour Schedule:
1/5/2015- Me, My Shelf and I– Review
1/6/2015- Chapter by Chapter– Guest Post
1/7/2015- Reading YA Rocks– Review
1/8/2015- Mundie Moms– Guest Post
1/9/2015- YA Bibliophile– Review
Week Two:
1/12/2015- Page Turners Blog– Guest Post
1/13/2015- Fictitious Delicious– Review
1/14/2015- Magical Urban Fantasy Reads– Guest Post
1/15/2015- Novel Novice– Review
1/16/2015- Alice Marvels– Guest Post
Related Posts