I received this for free in exchange for an honest review. This does not affect my opinion of the book or the content of my review.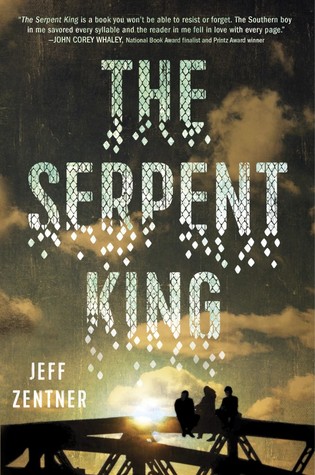 The Serpent King by Jeff Zentner
Published by Crown Books for Young Readers on March 8th 2016
Pages: 288
Amazon-Indiebound
Goodreads

Dill has had to wrestle with vipers his whole life—at home, as the only son of a Pentecostal minister who urges him to handle poisonous rattlesnakes, and at school, where he faces down bullies who target him for his father's extreme faith and very public fall from grace.

He and his fellow outcast friends must try to make it through their senior year of high school without letting the small-town culture destroy their creative spirits and sense of self. Graduation will lead to new beginnings for Lydia, whose edgy fashion blog is her ticket out of their rural Tennessee town. And Travis is content where he is thanks to his obsession with an epic book series and the fangirl turning his reality into real-life fantasy.

Their diverging paths could mean the end of their friendship. But not before Dill confronts his dark legacy to attempt to find a way into the light of a future worth living.
My Thoughts:
A friend of mine sent me this book because she loved it. I'm kicking myself for waiting until January to read it! I should have started it immediately. As you can see from my quick review on goodreads, I fell head over heels for this story.
I don't even know where to begin. As I mentioned, the characters went straight to my heart. The story follows three best friends: Dill, Lydia, and Travis. I absolutely loved getting to know each one. Learning more about them as individuals, seeing how they interacted, seeing how they viewed themselves versus how the others view them… I loved all of it. I just cared so much about them in a such short period of time. And it didn't stop when the book ended. Just the other day I saw something that reminded me of one of the characters and I was back in the story all over again. It's just that good.
As for the story itself… there was so much that drew me in. First and foremost, the pacing was excellent. Sometimes when there are multiple narrators this suffers. Not so with The Serpent King. The story didn't lose momentum when going from character to character. Each switch builds on the last to keep the story moving while giving it more depth. I was so impressed with the impact this made.
The last thing I want to touch on (because I'll go on and on and on if I don't limit myself!) is the authenticity. I mean this in relation to the characters, but also all the things they experience. They are learning so much about life and themselves… what it means to be honest (with yourself and others), what it means to truly be a friend, how all the little choices add up to make you who you are, learning to not define yourself based on your family, what others think, or things you have no control over… this all worked together to create a story that I was 100% invested in.
Basically, you need to read this book. I read it in January and my heart still hasn't recovered. I just can't stop thinking about it. The Serpent King is truly something special.
Related Posts