I received this ARC from Publisher for free in exchange for an honest review. This does not affect my opinion of the book or the content of my review.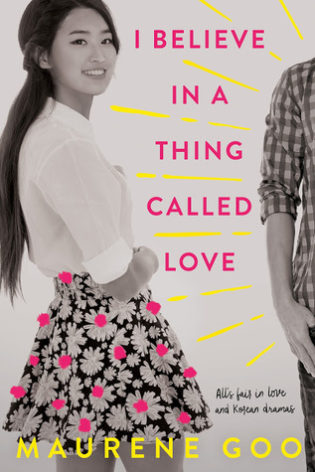 I Believe in a Thing Called Love

by Maurene Goo
on May 30th 2017
Pages: 336
Source: ARC from Publisher
Amazon-Indiebound
Goodreads

A funny young adult novel about a Korean-American girl who uses K-Drama techniques to snag the boyfriend of her dreams.
Desi Lee knows how carburetors work. She learned CPR at the age of five. As a high school senior, she has never missed a day of school and never had a B. But in her charmed school life, there's one thing missing—she's never had a boyfriend. In fact, she's a known disaster in romance, a clumsy, stammering humiliation magnet. When the hottest human specimen to have ever lived walks into her life one day, Desi decides it's time to tackle her flirting failures. She finds her answer in the Korean dramas her father has watched obsessively for years—in which the hapless heroine always seems to end up in the arms of her true love by episode ten. Armed with her "K Drama Rules for True Love," Desi goes after the moody, elusive artist Luca Drakos. All's fair in love and Korean dramas, right? But when the fun and games turn to feelings, Desi finds out that real-life love is about way more than just drama. Maurene Goo's I BELIEVE IN A THING CALLED LOVE is a fun, heartwarming story of falling in love—for real.
My Thoughts:
When I first heard about this book I knew I had to add it to my list. The title, the synopsis, the cover!!! It all just screamed "fun summer read" to me. These things did not lie. This book was a delight to read.
First things first… if, like me, you get easily embarrassed for fictional characters you will likely be closing this book frequently and just shaking your head. So much second hand embarrassment! Pretty sure my cheeks were red the entire book! But Desi is just so earnest and has no idea how truly terrible some of the things she's doing could turn out. She's actually quite endearing.
And Luca! I can see why Desi was so into trying to find a way to overcome her flirting failures for him. I liked seeing him go from this ideal (handsome, mysterious, etc…) to an actual person in Desi's eyes. As she gets to know him she sees him for who he is, including faults. Plus, Desi's friends! Loved all the secondary characters as well.
Finally, I loved Desi's relationship with her dad. Although not perfect, it's clear they care about and respect one another. They're both doing the best they can for the other person and that's important to see. I especially liked how Luca was able to see their relationship and work on his own relationship with his father.
All around a sweet read for summer. Totally has me wanting to start some of the K-Drama's listed in the back!
Related Posts