I received this ARC from Publisher for free in exchange for an honest review. This does not affect my opinion of the book or the content of my review.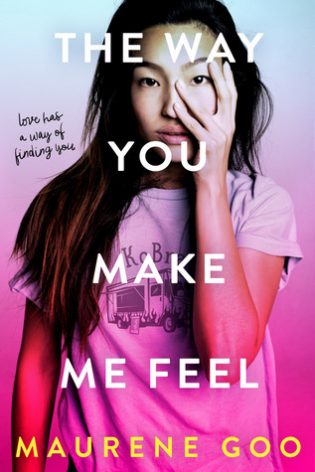 The Way You Make Me Feel

by Maurene Goo
on May 8, 2018
Pages: 288
Source: ARC from Publisher
Amazon-Indiebound
Goodreads

An NPR Best Book of 2018A Boston Globe Best Children's Book of 2018A We Need Diverse Books 2018 Must-ReadA TAYSHAS 2019 Reading List Book

From the author of I Believe in a Thing Called Love, a laugh-out-loud story of love, new friendships, and one unique food truck.

Clara Shin lives for pranks and disruption. When she takes one joke too far, her dad sentences her to a summer working on his food truck, the KoBra, alongside her uptight classmate Rose Carver. Not the carefree summer Clara had imagined. But maybe Rose isn't so bad. Maybe the boy named Hamlet (yes, Hamlet) crushing on her is pretty cute. Maybe Clara actually feels invested in her dad's business. What if taking this summer seriously means that Clara has to leave her old self behind?

With Maurene Goo's signature warmth and humor, The Way You Make Me Feel is a relatable story of falling in love and finding yourself in the places you'd never thought to look.
My Thoughts:
I read and adored this one last Spring. I was even on the blog tour. I cannot believe that I never reviewed it! Ugh. Slacker.
Here's an example of how much I love this one: I immediately hugged it to my chest upon finishing it. I then put it in my bag to take to school the next day. Once I got to school, I marched into the classroom of a friend who teaches literature. I was still hugging the book. I walked up to her desk and, without words, put the book in her bag to go home. She looked at the book, looked at me, and said something along the lines of, "So I should move this one to the top of my TBR, right?" I didn't even have words to tell her how much I loved it. Probably why I never wrote a review. I'll try to explain now.
I think the relationships were what really drew me in to this one. I liked seeing Clara and Rose's friendship develop. More than that, I really loved Clara's relationships with her parents. I appreciated that her dad was the steady presence in her life. Clara learns so much about him and their life throughout the events of the book. I loved seeing how she grew and changed from this.
I really just loved Clara. Seeing her interact with the other characters was so interesting. She's clever and interesting and fun. She grows so much throughout to book. As a reader, it was so satisfying to see this. And, although teens might not have parents that run a food truck or are social media influencers, I really think they can relate to Clara and her journey.
This one makes me so excited for Maurene Goo's upcoming Somewhere Only We Know.
Related Posts