I received this ARC from Publisher for free in exchange for an honest review. This does not affect my opinion of the book or the content of my review.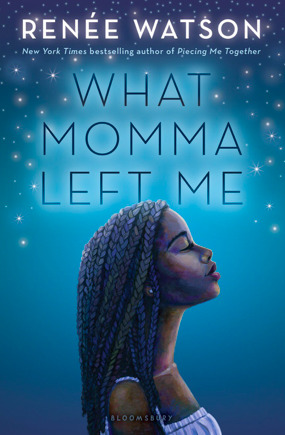 What Momma Left Me

by Renée Watson
on Jan. 8, 2019
Source: ARC from Publisher
Amazon-Indiebound
Goodreads

Rediscover Newbery Honor- and Coretta Scott King Author Award-winner Renée Watson's heart-rending debut, about one girl's journey to reconnect to joy.

Serenity is good at keeping secrets, and she's got a whole lifetime's worth of them. Her mother is dead, her father is gone, and starting life over at her grandparents' house is strange. Luckily, certain things seem to hold promise: a new friend who makes her feel connected, and a boy who makes her feel seen. But when her brother starts making poor choices, her friend is keeping her own dangerous secret, and her grandparents put all of their trust in a faith that Serenity isn't sure she understands, it is the power of love that will repair her heart and keep her sure of just who she is.

Renée Watson's stunning writing shines in this powerful and ultimately uplifting novel.
My Thoughts:
This is a reissue of Renee Watson's debut middle grade novel. (The new packaging definitely has more YA appeal! The story will, too.) Her novel Piecing Me Together was my favorite book of 2017 (and one of my all time favorites!) so you know I was excited to go back and check this one out. As expected, it's incredible.
Watson just has such a way with storytelling. Her books engage you from the beginning, the words wrapping around the reader and drawing them in. Her background in poetry shines through. There's a flow to her books that makes them so hard to put down.
I feel such a connection to Watson's stories and characters, even though our lives and experiences are very different. In this book we meet Serenity. Her mother has recently died and her father is gone. Serenity and her brother go to live with their mother's parents. Her whole life has been shaken up. She's dealing with her grief, confusion, and everything that goes with a new home and a new school. My heart broke for her. But she is strong. And she has people in her life who love her and help her to find her way. Seeing her move forward and learn and grow was a pleasure.
Watson does an excellent job portraying the many relationships between the characters. The different family relationships, friendships, and romantic relationships are so authentic. The reader really becomes involved in them and the characters lives. This makes the story so vivid and engaging!
As with Piecing Me Together, I simply cannot say enough good things about this story. Yes, it deals with grief and sadness. However, it is ultimately uplifting and full of characters you won't want to leave.  Highly recommend.
Related Posts