I received this ARC from Publisher for free in exchange for an honest review. This does not affect my opinion of the book or the content of my review.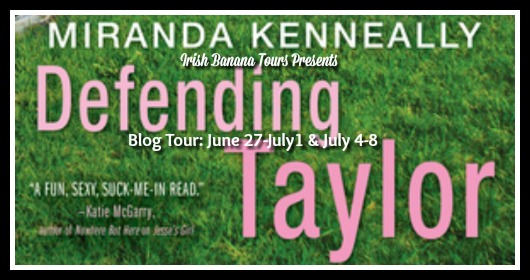 So pleased to be the next stop on the blog tour for Miranda Kenneally's next Hundred Oaks book, Defending Taylor. I just love these books! They are perfect for Summer/Fall reading 🙂
About the Book:

Captain of the soccer team, president of the Debate Club, contender for valedictorian: Taylor's always pushed herself to be perfect. After all, that's what is expected of a senator's daughter. But one impulsive decision—one lie to cover for her boyfriend—and Taylor's kicked out of private school. Everything she's worked so hard for is gone, and now she's starting over at Hundred Oaks High.

Soccer has always been Taylor's escape from the pressures of school and family, but it's hard to fit in and play on a team that used to be her rival. The only person who seems to understand all that she's going through is her older brother's best friend, Ezra. Taylor's had a crush on him for as long as she can remember. But it's hard to trust after having been betrayed. Will Taylor repeat her past mistakes or can she score a fresh start?
Goodreads * Amazon * Barnes & Noble * Indiebound * Books A Million * iTunes * !ndigo
About the Author:
Growing up in Tennessee, MIRANDA KENNEALLY dreamed of becoming an Atlanta Brave, a country singer (cliché!), or a UN interpreter. Instead she writes and works for the State Department in Washington, D.C., where George W. Bush once used her shoulder as an armrest. Miranda loves Twitter, Star Trek and her husband. Visit mirandakenneally.com
My Thoughts:
I have so enjoyed each one of the Hundred Oaks books. (Catching Jordan, Stealing Parker, Things I can't forget, Racing Savannah, Breathe, Annie, Breathe, Jesse's Girl) I just adore the way they each tell their own story, but also let the reader catch up with characters they've loved from previous books. It's meeting new friends and spending time with old ones all in one 🙂
In Defending Taylor we meet high school senior, Taylor. The daughter of a state senator, Taylor has lived her life on the straight and narrow. At the beginning of her senior year she makes a poor decision that changes everything. I loved that the book started with one chapter that happened before everything went down. The rest of the book is the after. We get a glimpse of Taylor's life before all the changes occurred but we really get to know her as she tries to deal with everything. I found this to be really compelling. She was a really interesting character and I wanted to know more about her, how she got where she was, and how she was going to overcome the obstacles in her path.
I really loved the way this book looked at the stresses that go along with senior year of high school and the choices many students face. Taylor has always been a high achieving student. She has studied and worked towards the goal of going to Yale. When she realizes her recent choices have put that all in jeopardy, she has to reevaluate. I so wanted her to just take some time for herself! She focuses so much on what is expected of her and what her future will look like. I think it's easy to let that overtake everything else, especially as a senior. Defending Taylor is a good reminder to not let tomorrow steal away today.
And of course I have to mention the romance! I loved, loved, loved that aspect! Ezra and Taylor are totally swoon-worthy together. Without giving too much away, I'll just say I loved the way their relationship played out. They had history together and I loved seeing them interact.
Defending Taylor is a great addition to the Hundred Oaks books. They're a contemporary romance lovers dream come true 🙂
Tour Schedule:
Check out all the stops on the tour!
Giveaway:
Enter to win 1 of 3 Finished Copies of Defending Taylor (US/Canada Only)
Related Posts