I received this ARC from Publisher for free in exchange for an honest review. This does not affect my opinion of the book or the content of my review.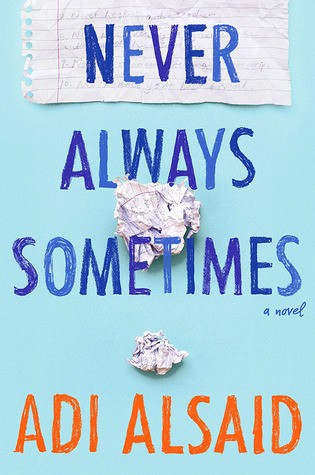 Never Always Sometimes

by Adi Alsaid
Published by Harlequin on August 4th 2015
Pages: 320
Source: ARC from Publisher
Amazon-Indiebound
Goodreads

Never date your best friend

Always be original

Sometimes rules are meant to be broken

Best friends Dave and Julia were determined to never be cliché high school kids—the ones who sit at the same lunch table every day, dissecting the drama from homeroom and plotting their campaigns for prom king and queen. They even wrote their own Never List of everything they vowed they'd never, ever do in high school.

Some of the rules have been easy to follow, like #5, never die your hair a color of the rainbow, or #7, never hook up with a teacher. But Dave has a secret: he's broken rule #8, never pine silently after someone for the entirety of high school. It's either that or break rule #10, never date your best friend. Dave has loved Julia for as long as he can remember.

Julia is beautiful, wild and impetuous. So when she suggests they do every Never on the list, Dave is happy to play along. He even dyes his hair an unfortunate shade of green. It starts as a joke, but then a funny thing happens: Dave and Julia discover that by skipping the clichés, they've actually been missing out on high school. And maybe even on love.
My Thoughts:
Never Always Sometimes is a quick and enjoyable read overall. There were a couple things that bothered me at the beginning/middle but by the end they had been handled in a way that left me feeling satisfied. (NOTE: These things were more personal preference issues rather than plot/writing issues!)
I really loved the idea of making a list of things to never do in high school and then going back and trying some of these things. Everyone's high school experience is different and I thought it was natural to look back senior year and wonder what else "could have been."
This story is told through the perspectives of best friends Dave and Julia. Dave tells more of the story and I preferred seeing things through his eyes. It wasn't that Julia's part was bad… I just liked Dave more. It honestly may have been that I had already spent the first part of the book getting to know him. Familiarity and all that!
For fans of stories about best friends and longing, Never Always Sometimes hits the spot. It wasn't exactly the book for me but I did enjoy reading it.
Related Posts