I received this for free in exchange for an honest review. This does not affect my opinion of the book or the content of my review.
Welcome to the next stop on the blog tour for 5 to 1 by Holly Bodger. Today I have a review and a giveaway for you. But first, a bit about the book and the author!
About the Book: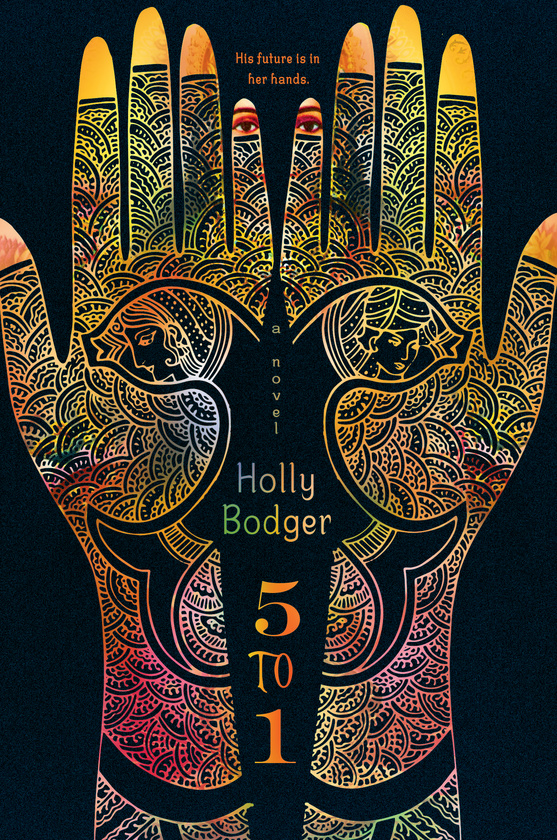 In the year 2054, after decades of gender selection, India now has a ratio of five boys for every girl, making women an incredibly valuable commodity. Tired of marrying off their daughters to the highest bidder and determined to finally make marriage fair, the women who form the country of Koyanagar have instituted a series of tests so that every boy has the chance to win a wife.
Sudasa, though, doesn't want to be a wife, and Kiran, a boy forced to compete in the test to become her husband, has other plans as well. As the tests advance, Sudasa and Kiran thwart each other at every turn until they slowly realize that they just might want the same thing.
This beautiful, unique novel is told from alternating points of view-Sudasa's in verse and Kiran's in prose-allowing readers to experience both characters' pain and their brave struggle for hope.
About the Author:
Holly Bodger has a BA in English Literature and has spent her entire career in publishing. She is an active member of RWA and is a 2013 Golden Heart finalist in the Young Adult category. She lives in Ottawa, Canada.
My Thoughts:
I don't know what I expected going into this book but it wasn't what I got. Instead I got more, so much more!
First things first, I totally didn't realize alternating chapters were in verse… even though it says so right in the description! Sometimes, I am not so bright. Anyway, I always forget how much I love novels in verse until I'm reading one. 5 to 1 was no exception. And the way verse and prose were used to enhance the alternating view points? So well done! I really loved the intent behind the use of verse in this story (for even more reasons than I mentioned here… you will know what I mean if you read it!)
As for the story itself, I was fascinated. Both characters held my attention and made me want to know more about their lives. The two main characters come from very different walks of life. Seeing the world through both their eyes really gives the reader a more complete view of the society they live in. I liked how this affected my understanding of the world. I would learn something from one character and then see a completely different side from the other. So cool.
I'm always impressed with how an author can convey so much with verse. Each word matters. Every line adds to the story. When done well (as is the case in 5 to 1), this makes for a quick but intense read.
Beautiful cover, interesting concept, engaging story… a win all around!
Giveaway:
Thanks to the publisher, I have a copy of 5 to 1 for one lucky winner! US only. Must be 13 or older to win. Use the rafflecopter below.
Tour Schedule:
REVIEW TOUR & GIVEAWAY:
Week 1:
5/4 – Addicted 2 Novels
5/5 – YA Bibliophile
5/6 – Good Books & Good Wine
5/7 – Fiction Fare
5/8 – The Quiet Concert
Week 2:
5/11 – WhoRUBlog
5/12 – The Book Cellar
5/13 – Swoony Boys Podcast
5/14 – Resch Reads & Reviews
5/15 – Chapter by Chapter
POSTING TOUR:
Week 1:
5/4 – Bookiemoji – Guest Post
5/5 – The Book Swarm – Character Dossier
5/6 – Alice Marvels – Q&A
5/7 – Two Chicks on Books – Guest Post
5/8 – Reading W/ABC – Q&A
Week 2:
5/11 – Pivot Book Reviews – Guest Post
5/12 – The Irish Banana Review – Author and Cover Designer Interview
5/13 – No BS Book Reviews – Q&A
5/14 – My Friends Are Fiction– Guest Post
5/15 – Seeing Double in Neverland – Q&A
Related Posts