Welcome to the next stop on the blog tour for Truly, Madly, Famously! Today I have a review and giveaway for you! Warning: Spoilers for book one in the summary and my review!!
About the Book: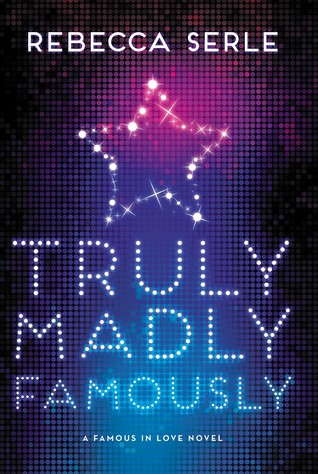 In this romantic sequel to Famous in Love, new Hollywood "It Girl" Paige must navigate love with her co-stars, both on and off screen and all in the public eye.

Lights, camera, love!

After being plucked from obscurity, Hollywood's newest starlet, Paige Townsen, has a hit film to her name and Rainer Devon on her arm. But being half of the world's most famous couple comes with a price, and soon Paige finds herself dodging photographers; hiding her feelings for her other costar, Jordan Wilder; and navigating tabloid scandals that threaten to tear her and Rainer apart-and end her career as quickly as it began.

Rebecca Serle's sequel to Famous in Love is filled with the kind of celebrity drama and swoon-worthy romance fit for the silver screen.
My Thoughts:
In my review for the first book, Famous in Love, I mentioned that I liked it but had some concerns. I was hoping that Truly, Madly, Famously would address these. And, boy howdy, did it ever!! While I liked book one I was so much more invested in Truly, Madly, Famously! I just flew through it. (At this point I would like to steer you to Fiction Fare's review because the first paragraph says almost word for word what I have in my notes!)
Now, as I mentioned in my review of Famous in Love, if you don't like love triangles this is not the series for you! Paige is playing a character caught up in a love triangle and life is imitating art. She is torn between the guys playing her two love interests. At the start of Truly, Madly, Famously Paige and Rainer are together and it's everything Paige hoped it'd be. However, she simply cannot stop thinking about Jordan. She chose Rainer but that doesn't mean her feelings for Jordan went away. I really appreciated the ways this was explored.
Actually, what I really loved was seeing Paige grow and become more sure of herself. Most of the concerns I had at the end of book one dealt with Paige not seeming to have a sense of agency. Her life changed drastically and I was worried about some of the choices she was making. In this book she really starts to find her voice and her strength. Everything is still new and crazy but Paige begins to see that she has something to offer. She starts to make friends and to speak up for herself. This was so good to see!
While I was on the fence at the end of book one I am all in with these books now!
Giveaway:
Thanks to the publisher we have TEN copies of the book to giveaway on this blog tour. US only.
Related Posts