This is basically just an appreciation post for the incredible Queen's Thief  books by Megan Whalen Turner. The first book in the series, The Thief, was published in 1996 and was a Newbery Honor book. I didn't discover it until I began working as a middle school librarian. I was looking at weeding some books. I remember finding the book on the shelf and thinking that the cover looked quite dated.
However, it sounded so good! I decided to read it to see if I wanted to reorder it. This would have been some time around 2007 or 2008. I was immediately hooked! I flew through The Thief, The Queen of Attolia, and The King of Attolia (the three that were out at the time) one right after the other. A Conspiracy of Kings came out in 2010. Thick as Thieves (my review) followed in 2017. Each was eagerly anticipated and quickly devoured by me. This is one of the rare series that I actually keep up on!
When I heard we were getting Return of the Thief  (the conclusion!) this summer I decided to re-read the series. Books one through five were released on audio when Thick as Thieves came out. They're read by Steve West, my favorite audiobook narrator. Of course I decided I had to do my reread via audio. This was an excellent life choice! The audiobooks are incredible and I loved going back to this world. There were so many details I forgot or never noticed the first time! I thought my reread would take until this summer but I listened to all five books (about 45 hours!) in under a month!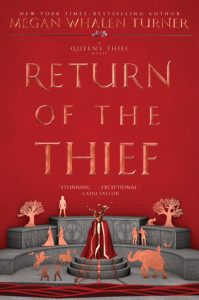 These books are some of the most incredibly well crafted stories I've ever read. The world building, the character development, the relationships, the mythology… just everything! There are stories within stories within stories and I will never know how Megan Whalen Turner does it! I have rarely seen twists in a story carried out so flawlessly. Obviously I don't want to say too much for fear of spoilers.
tl;dr: If you are a lover of exquisitely well done, thought-provoking fantasy with memorable characters and a dose of mythology, you cannot miss The Queen's Thief books!
Related Posts