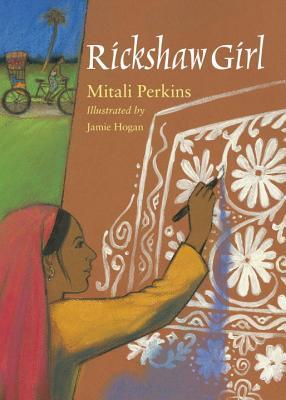 Rickshaw Girl by Mitali Perkins
Published by Charlesbridge Publishing on June 17, 2011
Pages: 96
Source: Audiobook from publisher
Amazon-Indiebound
Goodreads

This acclaimed, award-winning novel by Mitali Perkins will soon be a movie!

Naima is a talented painter of traditional alpana patterns, which Bangladeshi women and girls paint on their houses for special celebrations. But Naima is not satisfied just painting alpana. She wants to help earn money for her family, like her best friend, Saleem, does for his family. When Naima's rash effort to help puts her family deeper in debt, she draws on her resourceful nature and her talents to bravely save the day.

Includes a glossary of Bangla words and an author's note about a changing Bangladesh and microfinance.
My Thoughts:
So, this book isn't YA. It's geared more towards intermediate readers (about 4th – 6th grade.) I don't normally cover books that young. However, Mitali Perkins mentioned it when she was on tour for her newest YA, You Bring the Distant Near, and I knew I had to read it. When it was on offer for audiobook review, I snatched it up!
This book is not a big time commitment. It's about a hundred pages and the audiobook is just over an hour. It was one of those stories where the return you get from reading is so much more than the time investment you put in!
Naima is a really wonderful character. She's smart and caring and resourceful. I just loved her spark. She wants so desperately to help her family in any way she can. I really appreciated how this desire showcased the struggles of women and girls to help their families and earn a wage. The authors note at the end gave practical ways the reader can help in this.
Rickshaw Girl is a really powerful and empowering read. Give it to the young people in your life (and read it for yourself!)
Audiobook Notes: A super quick listen! I loved the narration. Zehra Naqvi did an excellent job. It really helped me to hear the Bangla words pronounced. I would 100% use this book and audio in a classroom setting. Listen to a sample here.
Related Posts