I received this ARC from Publisher for free in exchange for an honest review. This does not affect my opinion of the book or the content of my review.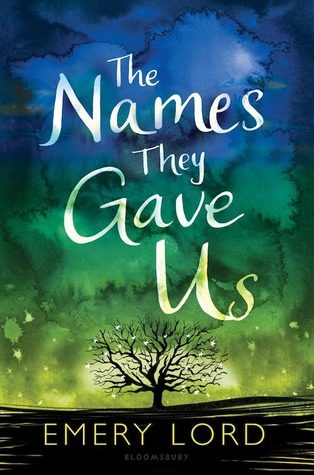 The Names They Gave Us

by Emery Lord
Published by Bloomsbury Publishing USA on May 16th 2017
Pages: 304
Source: ARC from Publisher
Amazon-Indiebound
Goodreads

Lucy Hansson was ready for a perfect summer with her boyfriend, working at her childhood Bible camp on the lake. But when her mom's cancer reappears, Lucy falters—in faith, in love, and in her ability to cope. When her boyfriend "pauses" their relationship and her summer job switches to a different camp—one for troubled kids—Lucy isn't sure how much more she can handle. Attempting to accept a new normal, Lucy slowly regains footing among her vibrant, diverse coworkers, Sundays with her mom, and a crush on a fellow counselor. But when long-hidden family secrets emerge, can Lucy set aside her problems and discover what grace really means?
My Thoughts:
Emery Lord is basically amazing. I loved her previous books (Open Road Summer, The Start of Me & You, When We Collided.) When We Collided was one of my top books of last year. It had such an impact on my life. So, you could say I had some high expectations for The Names They Gave Us. This book was everything I hoped it'd be and more. Here's my quick review on goodreads after finishing it (and staying up way too late to do so!):
Seriously. How does she do it? Every time I read one of her books there are so many moments when I think, "Yes! This! This exactly!" She just captures so many thoughts and feelings that I remember going through and puts them out there in the perfect way. Each of her books have spoken to me as the reader in different, yet equally important, ways.
I fell for Lucy and the other camp counselors so quickly. Lucy is the new girl and the other four have known each other for what seems like forever. I loved seeing their interactions and the ways that Lucy became part of the group. It reminded me so much of the nerves I felt when I started hanging out with a new group of people in high school. Actually, let's be real… it reminded me of the way I felt as an adult whenever I got a job at a new place.
That's what I love so much about Emery's books. They're such authentic portrayals of emotions and experiences we go through as a teen, but which we can still relate to as an adult. We are experiencing things for the first time as a teen. That doesn't mean it's the only time. The teen experience is still relevant to adults. Emery Lord gets that and I adore her for it.
Yeah. I cannot recommend this book enough. Must read for teens and adults alike.
Related Posts