I received this for free in exchange for an honest review. This does not affect my opinion of the book or the content of my review.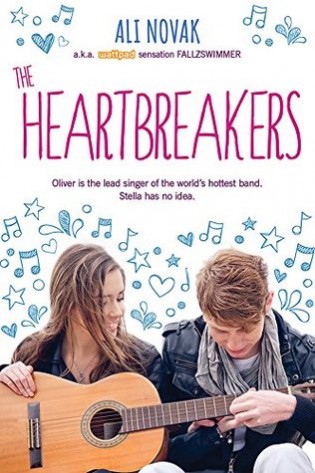 The Heartbreakers by Ali Novak
on August 4th 2015
Pages: 336
Goodreads

"When I met Oliver Perry, I had no clue he was the lead singer for The Heartbreakers. And he had no idea that I was the only girl in the world who hated his music."

Stella will do anything for her sick sister, Cara—even stand in line for an autographed Heartbreakers CD...for four hours. She's totally winning best birthday gift this year. At least she met a cute boy with soft brown hair and gorgeous blue eyes while getting her caffeine fix. Too bad she'll never see him again.

Except, Stella's life has suddenly turned into a cheesy love song. Because Starbucks Boy is Oliver Perry – lead singer for the Heartbreakers. And even after she calls his music crap, Oliver still gives Stella his phone number. And whispers quotes from her favorite Disney movie in her ear. OMG, what is her life?

But how can Stella even think about being with Oliver — dating and laughing and pulling pranks with the band — when her sister could be dying of cancer?

Ali Novak wrote her debut novel My Life with the Walter Boys when she was just 15 years old, and has since penned her next book, The Heartbreakers. First a hit on the online community Wattpad, her second novel has over 38 million reads and is loved by readers around the world.
About the Book:
When I first heard about this book I thought it sounded cute, but I wasn't sure if this would be my thing. I was never one to really get into boy bands or obsess about rockstars in general. That totally did not matter! The Heartbreakers captured my attention and I didn't want to put it down. It was such a fun read.
Okay, first things first… Stella. I have to admit, I didn't care for her at first. Like, she was fine at the very beginning of the book but then she was super snobby and rude about The Heartbreakers music. I totally get not liking certain music but I hate it when other people judge people for what they like. Thankfully, Stella gets so much better as the story goes on. I ended up really, really liking her. I especially loved seeing her interactions with her siblings. She and her brother have such a fun give and take.
And then there are the members of The Heartbreakers. Oliver was the focus of this book but the reader gets to know a bit more about each of the guys. I'm really looking forward to seeing where their stories take them! I certainly hope we get glimpses of Oliver, Stella, and company in the future stories.
There are certainly some heavier moments in the book. Stella and Oliver make mistakes and learn a lot about themselves throughout the story. Still, if you're looking for a contemporary story that will leave you with a smile be sure to check this one out.
Related Posts