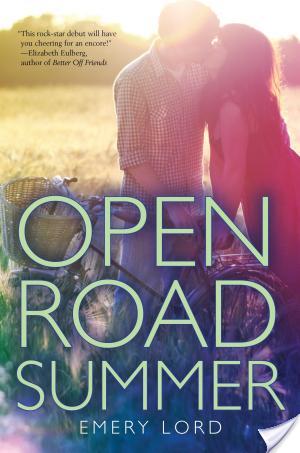 Open Road Summer by Emery Lord
Published by Bloomsbury Publishing USA on 2014-04-15
Pages: 352
Amazon-Indiebound
Goodreads

After breaking up with her bad-news boyfriend, Reagan O'Neill is ready to leave her rebellious ways behind. . . and her best friend, country superstar Lilah Montgomery, is nursing a broken heart of her own. Fortunately, Lilah's 24-city tour is about to kick off, offering a perfect opportunity for a girls-only summer of break-up ballads and healing hearts. But when Matt Finch joins the tour as its opening act, his boy-next-door charm proves difficult for Reagan to resist, despite her vow to live a drama-free existence. This summer, Reagan and Lilah will navigate the ups and downs of fame and friendship as they come to see that giving your heart to the right person is always a risk worth taking. A fresh new voice in contemporary romance, Emery Lord's gorgeous writing hits all the right notes.
My Thoughts:
I read this book this summer and felt like I was so late to the game! It came out in April and I read it in June but my friends had been raving about it since before it was out. Once I started it, I could totally see why!
Open Road Summer by Emery Lord contains so many things I love… strong female friendship, supportive families, music, fame, a road trip, a bit of scandal, and, of course, a good looking guy! All those elements worked together so well to make a great story.
My very favorite part of the story is the friendship between Reagan and Lilah. These girls are there for each other and support each other in such important ways. Reagan is working to overcome some issues from her past. In a way, Lilah is too. Like any friendship, the girls have their ups and downs. However, they are true to each other when it really matters.
And of course, there's Matt Finch. If you've talked to anyone who has read this book, they've probably mentioned him. Not only is he good looking and a good love interest… he's an all around good guy! Bad boy love interests can be fun now and then but I love a story that shows "good" doesn't always equal "boring!"
Like Sarah Dessen, Emery Lord finds the perfect blend of romance and drama. This made Open Road Summer a quintessential summer read.
Related Posts