I received this for free in exchange for an honest review. This does not affect my opinion of the book or the content of my review.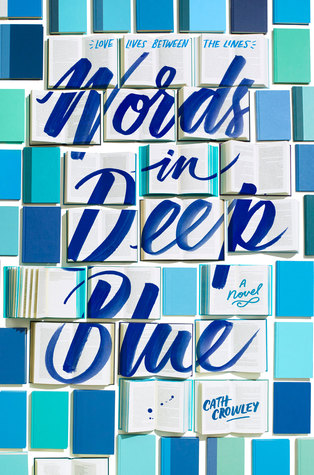 Words in Deep Blue by Cath Crowley
Published by Knopf Books for Young Readers on 06/06/17
Pages: 288
Amazon-Indiebound
Goodreads

Years ago, Rachel had a crush on Henry Jones. The day before she moved away, she tucked a love letter into his favorite book in his family's bookshop. She waited. But Henry never came.

Now Rachel has returned to the city—and to the bookshop—to work alongside the boy she'd rather not see, if at all possible, for the rest of her life. But Rachel needs the distraction. Her brother drowned months ago, and she can't feel anything anymore.

As Henry and Rachel work side by side—surrounded by books, watching love stories unfold, exchanging letters between the pages—they find hope in each other. Because life may be uncontrollable, even unbearable sometimes. But it's possible that words, and love, and second chances are enough.
My Thoughts:
I finally read Cath Crowley's Graffiti Moon back in 2015 and was completely blown away by it. It became an instant favorite. To say I was excited for Words in Deep Blue would be quite the understatement. My Goodreads quick review gives you an idea of how much I loved this one:
Just thinking about this book makes me want to go back and reread it. I enjoyed the experience so much! I loved the characters, the narration, the importance of books, and the issues addressed. It had that whole friends becoming estranged due to a miscommunication and then maybe love thing I adore so, so, much. (Yes. That is a totally awkward sentence. I've tried to rewrite it about ten times. That's as good as it gets.)
Rachel and Henry are wonderful characters. Each had such powerful stories and it was a treat to see them from both perspectives. My heart just went out to them both for different reasons. I was rooting for their happiness and completely invested in how things would turn out.
Words in Deep Blue is one of those books that leaves you feeling like you've spent time with close friends. The reader shares in the joys and sorrows of the characters, making the reading experience something to treasure.
Related Posts