I am utterly obsessed with The Illuminae Files by Amie Kaufman and Jay Kristoff. My reviews for both Illuminae and Gemina were basically just me gushing about the books. I cannot stop talking about them. If you haven't read them yet now is the perfect time to get started! Illuminae has just been released in paperback!
Of course I jumped at the chance to be on the blog tour and talk more about this amazing book! Today I have an interview with the authors and a giveaway! Read on…
About the Book: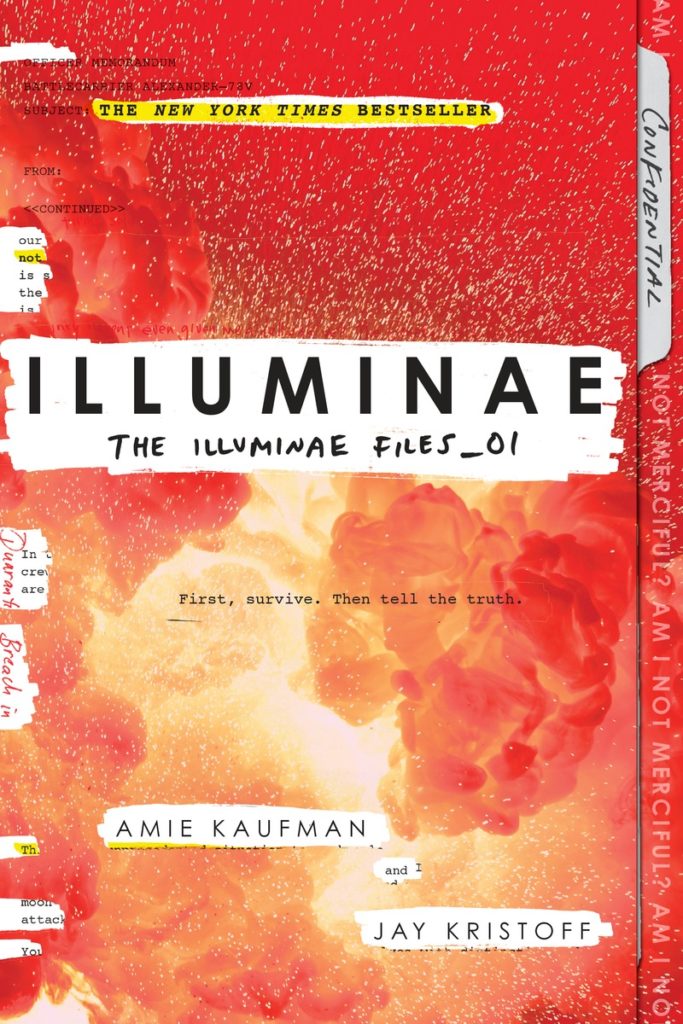 Author: Amie Kaufman & Jay Kristoff
Pub. Date: April 25, 2017
Publisher: Ember
Pages: 624
Formats: Paperback
Find it: Amazon, Barnes & Noble, Goodreads

It certainly filled the Battlestar Galactica-shaped hole in my heart.- –Victoria Aveyard, bestselling author of The Red Queen

Read the New York Times bestselling blockbuster that critics are calling -out-of-this-world awesome.- The first in an epic sci-fi series unlike anything else out there.

Kady thought breaking up with Ezra was the worst thing she'd ever been through. That was before her planet was invaded. Now, with enemy fire raining down on them, Kady and Ezra are forced to fight their way onto one of the evacuating craft, with an enemy warship in hot pursuit.

But the warship could be the least of their problems. A deadly plague has broken out and is mutating, with terrifying results; the fleet's AI, which should be protecting them, may actually be their biggest threat; and nobody in charge will say what's really going on. As Kady plunges into a web of data hacking to get to the truth, it's clear only one person can help her bring it all to light: Ezra.

Told through a fascinating dossier of hacked documents–including emails, schematics, military files, IMs, medical reports, interviews, and more–Illuminae is the first book in a heart-stopping, high-octane trilogy about lives interrupted, the price of truth, and the courage of everyday heroes.
Praise:
Brace yourself, because you're about to be immersed in a mindscape that you'll never want to leave.– –Marie Lu, author of the bestselling Legend series


Prepare yourselves for Illuminae.– –EW.com


You're not in for an ordinary novel experience. . . .– –Bustle.com


A truly interactive experience. . . . A fantastically fun ride.– –MTV.com
Don't miss the rest of the series!
The Illuminae Files_02: GEMINA
The Illuminae Files_03 : OBSIDIO
About Amie & Jay: 
Amie Kaufman is the New York Times bestselling co-author of These Broken Stars and This Shattered World, and Illuminae, the first in a new series starting in 2015. She writes science fiction and fantasy for teens, and her favourite procrastination techniques involve chocolate, baking, sailing, excellent books and TV, plotting and executing overseas travel, and napping.

She lives in Melbourne, Australia with her husband, their rescue dog, and her considerable library. She is represented by Tracey Adams of Adams Literary.

Website | Facebook | Twitter | Instagram | Goodreads

Jay Kristoff is the award-winning author of THE LOTUS WAR trilogy, a Japanese-inspired steampunk fantasy. Part 3, ENDSINGER, is out now. He's also co-author of the upcoming ILLUMINAE (with Amie Kaufman), a YA Sci-Fi… thing, to be released by Knopf/Random House in 2015, and NEVERNIGHT, the first part of a new fantasy trilogy kicking off in 2016.


Jay is 6'7 and has approximately 13380 days to live. He abides in Melbourne with his secret agent kung-fu assassin wife, and the world's laziest Jack Russell.

He does not believe in happy endings.
Author Interview:
This tour is celebrating the paperback release of Illuminae. It's been about a year and a half since the book originally came out. What has been the best or most surprising thing about the publication journey for the Illuminae Files books?
Probably how excited all our readers get about the possibility of dying in them. We ran a competition where people could die in GEMINA and the response was huge. We're running another pre-order competition for book 3, which is open now actually. So if you fancy the idea of dying in the cold void of space, head over to jaykristoff.com for the details.
Our readers are the best kind of weird! ☺
I listened to both Illuminae and Gemina on audiobook, as well as reading them. I was so impressed with how such a visual book was translated to an amazing audiobook. Did you have any say in the making of the audiobooks? Did you consider how the story would be adapted when writing it?
We had some say in the casting, but mostly, the audiobooks are entirely the product of the geniuses over at Listening Library. We're very lucky to be working with such a dedicated and talented team. We didn't consider how the Ab's would be produced in audio, we just knew it'd be a challenge! But fortunately, we got teamed up with the best in the business, and the end product was just amazing.
There is a lot of great YA literature coming from Australian authors. Not all of it is published in the US as well.  Are there any challenges to living in Australia and publishing in the US? Are the YA community or the publishing expectations different between the countries?
With the internet, there's no real impediment to living in another country and publishing in the US, though we do wish we could get to more of the amazing festivals over there. Having a population of 23 million, the Australian YA community is naturally smaller than the US, but it's no less passionate and devoted and amazing. Our Australian readers are, like all our readers, just incredible.
What's the best part of writing a novel with a cowriter?
There are so many, it's very hard to narrow down to one. You have two brains working on any given plotpoint, two perspectives on any situation, two insights into any situation. But probably the best part is having a friend there to share all the cool stuff with.
Both Illuminae and Gemina include so many interesting (and often creepy!) space/science related topics. What kind of research have you had to do for the series?
This is SciFi, so a lot of the technology we're playing with is purely speculative. But for research, we devoured anything we could find about space. We actually thanked Hank Green and the team at SciShow Space in the back of the book, because their work is incredible (and incredibly funny). Commander Chris Hadfield's videos from the ISS were also a huge inspiration, although we forgot to thank him in the acknowledgments. ☹
We had a whole team of consultants read through the text and call us on anywhere we'd done boo boo. We talked to doctors and psychologists, computer hackers (who we can't name for legal reasons) police officers, military people, astrophysicists, you name it. So even though we were writing this horror romance thriller with insane AIs and explosions in spaaaaaaaace, all the science is 100% legit.
I cannot even imagine writing a linear novel from one perspective. I'm in awe of your ability to tell this story through so many different document types and from so many perspectives. How do you decide what/who to include? Are there formats you've tried that ultimately didn't work or that you've had to switch? (Basically, I want to know anything about the magic you work to tell these amazing and compelling stories!)
We were making all this up as we went along, so we tried a few formats and ideas that didn't work. But the process was just incredibly fun, and in the early days, we honestly thought the book was too weird to ever get published. So we just adopted a policy of "no idea too strange" and worked from there. As for deciding what works and what doesn't, when all else fails, consult your editor! ☺
I was excited for the title reveal of book three! I cannot wait to read Obsidio. Is there anything you can tell us about it?
Yes we can! Here's the official synopsis:

Kady, Ezra, Hanna and Nik narrowly escaped with their lives from the attacks on Heimdall station and now find themselves crammed with 2,000 refugees on the container ship, Mao. With the jump station destroyed and their resources scarce, the only option is to return to Kerenza–but who knows what they'll find seven months after the invasion?

Meanwhile, Kady's cousin, Asha, survived the initial BeiTech assault and has joined Kerenza's ragtag underground resistance. When Rhys–an old flame from Asha's past–reappears on Kerenza, the two find themselves on opposite sides of the conflict.

With time running out, a final battle will be waged on land and in space, heros will fall, and hearts will be broken.
If you could visit the world of any other story, where would you want to go and why?
Amie: Pern, because she's always wanted a dragon.
Jay: Middle-Earth, because he is the son of the One True King.
What books have you been reading or recommending lately?
Marie Lu's amazing WARCROSS. It's basically like a teen, female James Bond playing virtual reality Quidditch. It's coming September and you're going to looooove it.
Giveaway:
3 winners will receive a paperback of ILLUMINAE, US Only.
Tour Schedule:
Week One:
4/24/2017- A Gingerly Review
4/25/2017- Adventures of a Book Junkie
4/26/2017- Mary Had a Little Book Blog
4/27/2017- YA and Wine
4/28/2017-Such a Novel Idea
Week Two:
5/1/2017- YA Bibliophile
5/2/2017- Owl Always Be Reading
5/3/2017- Book Briefs
5/4/2017- BookHounds YA
5/5/2017- Novel Novice
Week Three:
5/8/2017- Page Turners Blog
5/9/2017- YA Books Central
5/10/2017- Lisa Loves Literature
5/11/2017- Two Chicks on Books
5/12/2017- Tales of the Ravenous Reader
Related Posts