I received this Finished Copy from Publisher for free in exchange for an honest review. This does not affect my opinion of the book or the content of my review.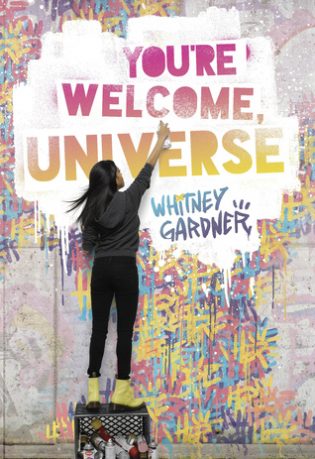 You're Welcome, Universe

by Whitney Gardner
Published by Alfred A. Knopf Books for Young Readers on March 7th 2017
Pages: 304
Source: Finished Copy from Publisher
Amazon-Indiebound
Goodreads

A vibrant, edgy, fresh new YA voice for fans of More Happy Than Not and Simon vs. the Homo Sapiens Agenda, packed with interior graffiti.

When Julia finds a slur about her best friend scrawled across the back of the Kingston School for the Deaf, she covers it up with a beautiful (albeit illegal) graffiti mural.

Her supposed best friend snitches, the principal expels her, and her two mothers set Julia up with a one-way ticket to a "mainstream" school in the suburbs, where she's treated like an outcast as the only deaf student. The last thing she has left is her art, and not even Banksy himself could convince her to give that up.

Out in the 'burbs, Julia paints anywhere she can, eager to claim some turf of her own. But Julia soon learns that she might not be the only vandal in town. Someone is adding to her tags, making them better, showing off—and showing Julia up in the process. She expected her art might get painted over by cops. But she never imagined getting dragged into a full-blown graffiti war.

Told with wit and grit by debut author Whitney Gardner, who also provides gorgeous interior illustrations of Julia's graffiti tags, You're Welcome, Universe introduces audiences to a one-of-a-kind protagonist who is unabashedly herself no matter what life throws in her way.
My Thoughts:
I'm so glad that I got an email about You're Welcome, Universe by Whitney Gardner. I don't know that I would have picked it up otherwise. That would have been a shame. There is so much to love in this book. Here is a brief list:
Julia: I just really loved her as a character. I didn't always agree with her choices (I would hope I have started to make better choices as an adult!) but seeing the world through her eyes made for a compelling story.
Deaf Culture: When I was in college we watched Sound and Fury (a documentary from 2000 about cochlear implants and the impact on Deaf identity/culture) for a class. That documentary and the discussion we had about it make up the entirety of my knowledge base about Deaf culture. I loved reading more about it in You're Welcome, Universe. Especially getting it from Julia's perspective. (Read this review from Disability in Kidlit for a more knowledgable take on how Deaf Culture was handled in this book.)
Graffiti: Street art is another thing I am not very familiar with. I mean, obviously I see it when I'm out and about. It was really interesting to learn some of the terms and tricks of the trade. And I loved seeing "Julia's" work in the book!
Friendship: Julia really struggles here. Like, really struggles. She has a hard time trusting people, especially after the person who was supposed to be her best friend betrays her trust. This was the hardest part for me to watch. My heart just broke for her. I loved seeing her open up.
Family: Loved Julia's moms. I do wish we would have seen more of them. I know it's Julia's story but they were great and I would have liked a bit more development on that front.
The Cover: Julia is Indian-American and I'm glad they have a POC on the cover. It would have been easy to just show her from the back since she's painting a wall. I appreciate that she is turned to the side and wearing a shirt without long sleeves.
You're Welcome, Universe by Whitney Gardner is really a great story. Recommended.
Related Posts