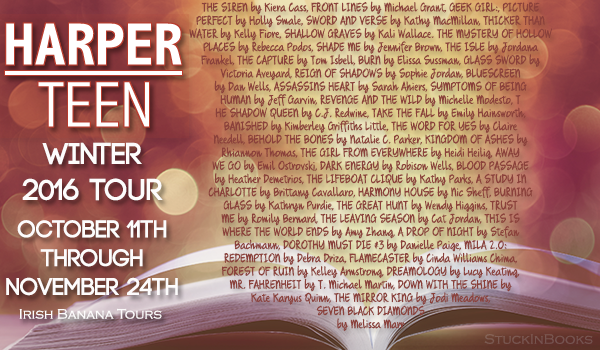 I am so excited to be a part the Harper Teen Winter 2016 Tour! Harper Teen has so many amazing books coming out! I am doubly excited that I get to feature Behold the Bones by Natalie C. Parker! It's a companion to Beware the Wild, which I adored. I cannot wait to read the new one!
About the Book:
Candace "Candy" Pickens has been obsessed with the swamp lore of her tiny Louisiana town for . . . forever. Name any ghostly swamp figure and Candy will recite the entire tale in a way that will curl your toes and send chills up your spine.

That doesn't mean Candy's a believer, however. Even though she and her friends entered the swamp at the start of summer and left it changed, Candy's the only one who can't see or feel the magical swamp Shine. She's also the only one who can't see the ghosts that have been showing up and spooking everyone in town ever since. So Candy concentrates on other things—real things. Like fighting with her mother and plotting her escape from her crazy town.

But ghosts aren't the only newcomers in Sticks, Louisiana. The King family arrives like a hurricane: in a blur and unwanted—at least by Candy. Mr. King is intent on filming the rumored ghostly activity for his hit TV show, Local Haunts. And while Candy can't ignore how attracted she is to eighteen-year-old Gage King and how much his sister, Nova, wants to be friends, she's still suspicious of the King family.

As Candy tries to figure out why the Kings are really in town and why the swamp that had previously cast her aside now seems to be invading every crack in her logical, cynical mind, she stumbles across the one piece of swamp lore she didn't know. It's a tale that's more truth than myth, and may have all the answers . . . and its roots are in Candy's own family tree.
Goodreads | Amazon | B&N | Indiebound | The Book Depository
Giveaway:
#1 – A Harper Teen Winter 2016 Catalog prizepack of 40+ books*.
*All YA titles in the winter2016 catalog with the exception of The Siren by Kiera Cass, Yellow Brick War by Danielle Paige and Glass Sword by Victoria Aveyard.*
#2 – 5 Finished Copies from the Harper Teen Fall 2015 Catalog
5 books are: The Lies About Truth, Walk on Earth A Stranger, Dreamland, Dumplin', and Da Vinci's Tiger
How to enter:
Collect the daily word from each blog stop during the Harper Winter 2016 Tour (a total of 45). Once you've collected them all, email the complete saying to: HarperTeenTour@gmail.com
Prize Rules:
1.)    Winner must have a valid US mailing address to receive the prize
2.)    Winner must be over 13
3.)    Only one (1) entry per person for Prize #2 – duplicates will be deleted.
4.)    Only a completed phrase will be accepted as an entry – do not email each word/phrase daily. Wait until you have the complete saying and then email in.
5.)    All email submissions must be received by 11:59 PM EST 11/30/2015.
6.)    Winners will be selected 12/1/2015 and will have 48 hours to claim their prize before another is selected.
7.)    Participating blogs and bloggers are not responsible for unsent, damaged, and/or stolen prizes offered by the publisher.
Today's word is to.
Tour Schedule:
Related Posts