So, the lovely Felicity Disco has recently been talking about a web series called Classic Alice (not, as I at first thought, a retelling of Alice in Wonderland!) I like many of the things Felicity likes so I wanted to give it a try. I finally got around to it last week and it was love! Romance, humor, strong ladies, literary references… what more could I ask for?!?!? I mean, look at this adorableness:
I invited Felicity to guest post about the web series because I figured my lovely readers would also be interested in this awesomeness! Check out her (very convincing, if I do say so!) reasons to watch Classic Alice.
7 Reasons YA Readers Should Watch Classic Alice
Are you in a place currently covered in snow and/or very very cold, and trying to avoid leaving your warm nest of blankets? Or maybe you'd just like to unwind and forget about your own problems for a few hours? Sounds like you need a distraction or, better, a compelling narrative to consume you. Allow me to introduce you to your next binge watch: unconventional literary web series Classic Alice.
Classic Alice is about a girl taking control of her own life. When lit major Alice Rackham gets a bad grade because her professor thinks she's not connecting to the material emotionally, she decides to prove him wrong by making life decisions according to the actions of characters in classic literature. (Her film major friend Andrew decides to make a documentary about her project, and his footage becomes the show.) This experiment has a lot of big, sometimes not-so-great consequences, but Alice keeps going on her own terms, resisting interference even from well-meaning people in her life, making her own mistakes and celebrating her own victories.
Alice is a bookworm. If you're reading this site, you probably are too. I immediately felt a kinship with Alice, from her worries about grades most people would find more than adequate to her inclination to stay home and read rather than go out and party. And Classic Alice pays more than just lip service to its love of literature: since Alice is deliberately living out books (rather than unknowingly acting as a character in an adaptation), she spends a lot of time thinking and talking about their themes in interesting and unconventional ways, and she'll make you want to read more, too.
It's got a great love story to root for. That friend Andrew I mentioned, the film student making a documentary about Alice's project? Yeah, you're going to ship them. (And occasionally want to shake them in frustration.) Alice and Andrew have one of my favorite kinds of fictional relationships: close friends who clearly should be something more, with a long, tantalizing slow burn and satisfying, well-written payoff. (Also, their ship name? A+. Like the grade. Adorable, huh?)
But it's not just about the romance. Alice spends much more time worrying about academics and her future writing career than her love life, and one of the themes of the show's first season is about learning to balance ambition and a personal life, but both of these parts of Alice's life remain important to her. And it's looking like that will continue next season: creator Kate Hackett tweeted that "relationships should not be the end of a story," and she's described the show going forward as "the adventures of a new writer dancing between some literary success and her academic safety-zone."
Classic Alice has LGBT representation. And I don't just mean a gay character in the background. I don't want to spoil anything, but there's a storyline that deals with a character's sexuality in a way that's very different from the typical coming out story usually seen in books and on TV. And most importantly, sexuality is not used as a sole defining characteristic: it's just one aspect of fully fleshed out, real-feeling characters. As it should be.
Alice's world is immersive, and goes way beyond the show itself. You live a lot of your life online, so why shouldn't your favorite characters? With this show, they do. You can talk to them on Twitter and reblog them on Tumblr. Keep up with what Alice is reading on Goodreads, listen to the podcasts that she and her friends create, and read her university's student newspaper. (And don't worry if that sounds overwhelming: there's a central page where you can keep up with it all easily.)
The show was created by a young woman with a predominantly female team. I don't know about you, but I love when I get the chance to enjoy and support projects made by women – especially when they're making them independently and on their own terms, without institutional support or corporate backing to fall back on. We need more successful projects like this.
Oh, and did I mention it's all free to watch, and you can catch up in just a few hours? Start right here – there are two quick prequels that introduce Alice and Andrew, and then the story gets going. (Or see how the episodes and social media all fit together here.)
Learn more about Classic Alice in the show's FAQ, and if you like what you see, help support the show on Indiegogo!
 Felicity Disco is the assistant to YA author Maureen Johnson and works for GeekyCon Lit. She spends her free time reading, making lists, and taking pictures of snow. Tweet her at @felicitydisco.
As Felicity mentioned, the creators of Classic Alice are fundraising to film more episodes of the show. I just wanted to throw my two cents in. If you check it out and love it (which I really think you will!) consider helping to fund the Indiegogo campaign. Every dollar helps. I'd love to see more Alice!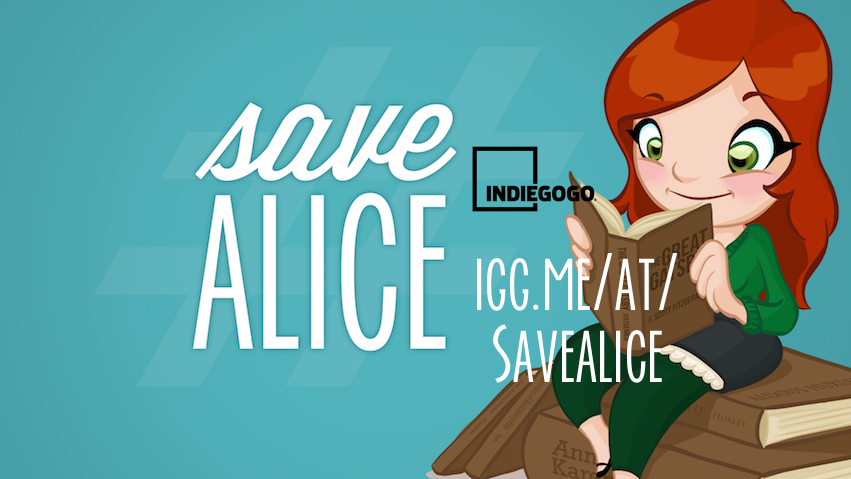 Related Posts