So, I know BookExpo and BookCon were well over a month ago. The start to my summer has been chaos and I am just now finally getting around to posting about it. This years BookExpo felt really different from the ones I've been to previously. Still, I had a great time! In this post (which will be long!) I'm sharing some of my highlights as well as a round up of all the books I sent home.
I was up early in the morning on Wednesday, May 30th to head to NYC. Here's me all excited and ready to go! This is the only picture in which I am well rested 🙂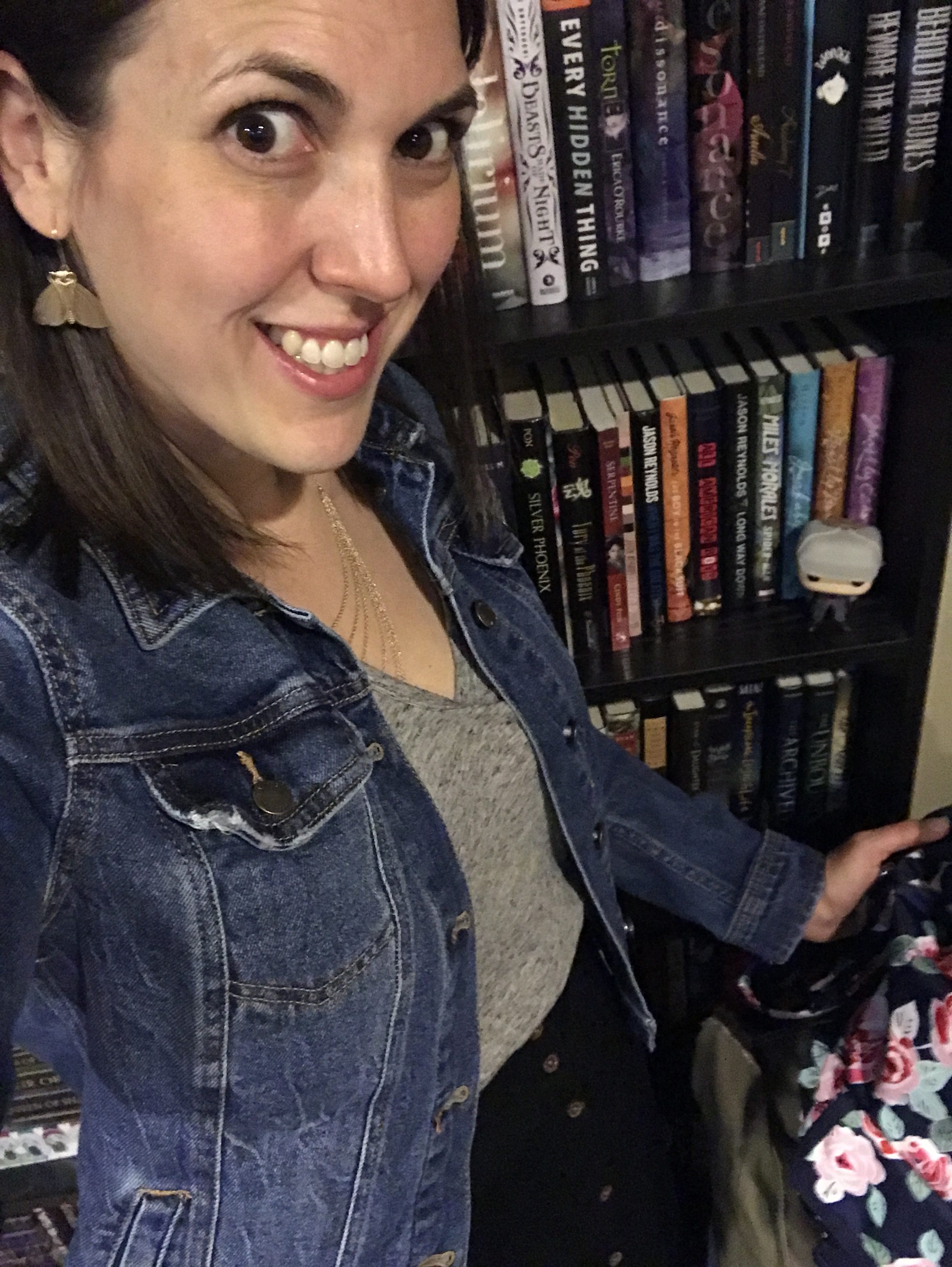 On Wednesday NOVL (Little, Brown) hosted a tea that I was invited to. We got to hear about some of their exciting upcoming titles from some of the editors who worked on them. We also got to hear from Elly Blake and Laini Taylor about their upcoming titles. PLUS, we got to put together our own NOVL boxes. Basically it was the best.
Thursday was day one of BookExpo for me! I mainly just walked around and checked out the booths. I was thrilled to snag and ARC of A Curse so Dark and Lonely by Brigid Kemmerer because I'm blurbed in it!
It was interesting to see how this year's BookExpo was different from the ones I'd attended previously. I like to browse the booths and check out the books they have on display to learn about upcoming titles I didn't know about. This year many of the booths had few to no books on display. The only books there (or pictured) were the bigger titles I already knew about. It also felt like there were fewer people available at the booths to talk to about what they have coming up. Basically, the focus just seemed a bit different. A few Thursday photos:
Friday was the busiest day! I started the day waiting in line to see Kiersten White and get a signed copy of The Dark Descent of Elizabeth Frankenstein. I also got to meet Ngozi Ukazu and get a signed ARC of Check, Please! But then something EVEN MORE exciting happened. I got to go to the audiobook tea and meet STEVE WEST.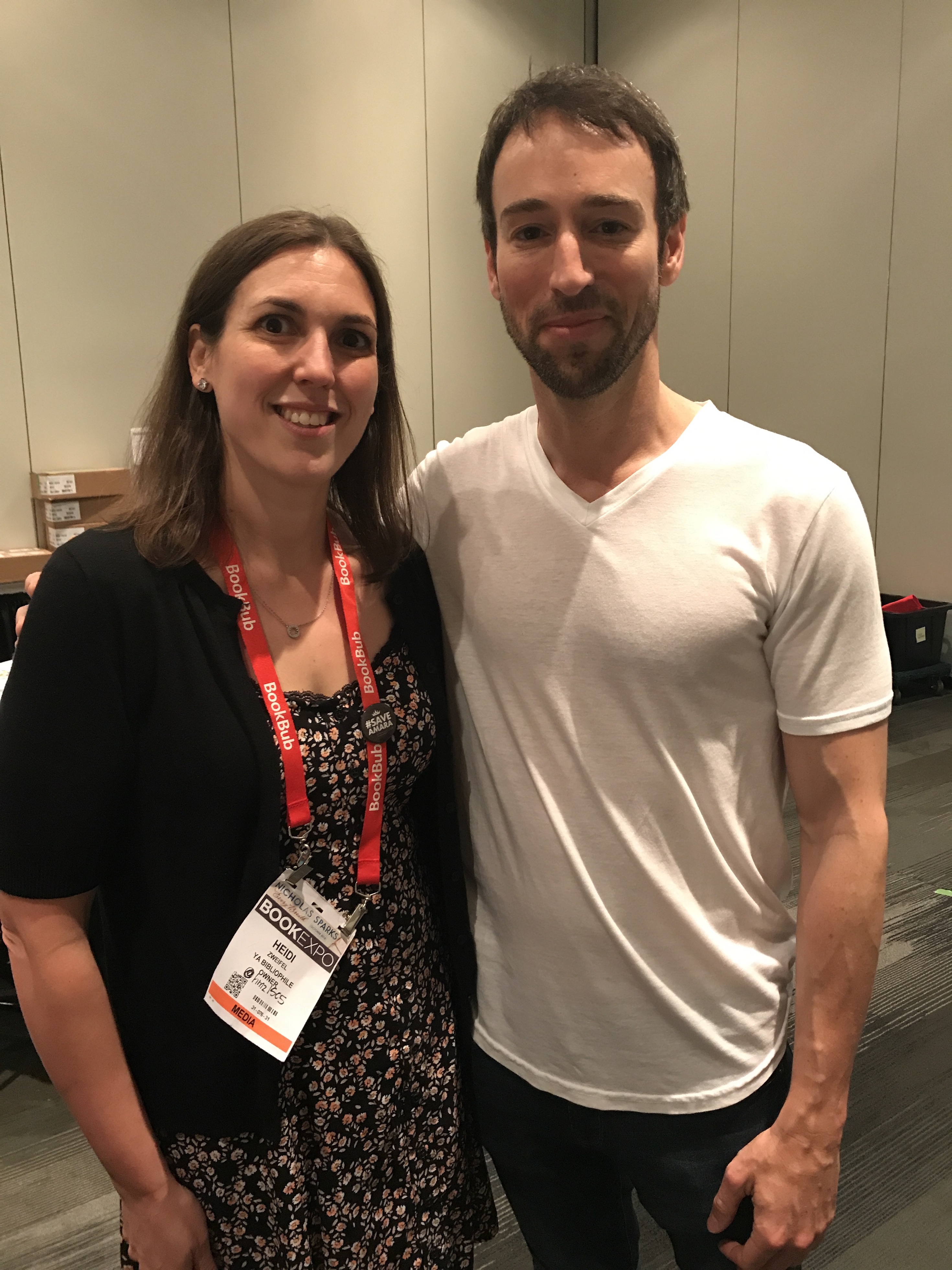 If we've ever talked about audiobooks I've probably gushed about how much I love his narration. If we've talked about audiobooks in person I've for sure played you an excerpt of him reading The Scorpio Races. Basically, I'm a total fangirl and had absolutely no chill. But he was delightful and kind and you really need to listen to Strange the Dreamer by Laini Taylor.
But the day wasn't done! Friday night I got to go to two events. First up was the Fierce Reads party with amazing authors Tomi Adeyemi, Leigh Bardugo, Marissa Meyer, Kami Garcia, Jen Doll, Alex London, April Genevieve Tucholke, Anna-Marie Mclemore, and Leila Sales. After that I headed over to the Big Honcho party. They had treats from Milk & Cream Cereal bar and Flour Shop. Plus a fun photo booth!
Here are a few more Friday photos:
Saturday was the first day of BookCon. So, chaos! IT IS SO CRAZY CROWDED. I basically just stood in line to take this one photo and get a Harry Potter poster: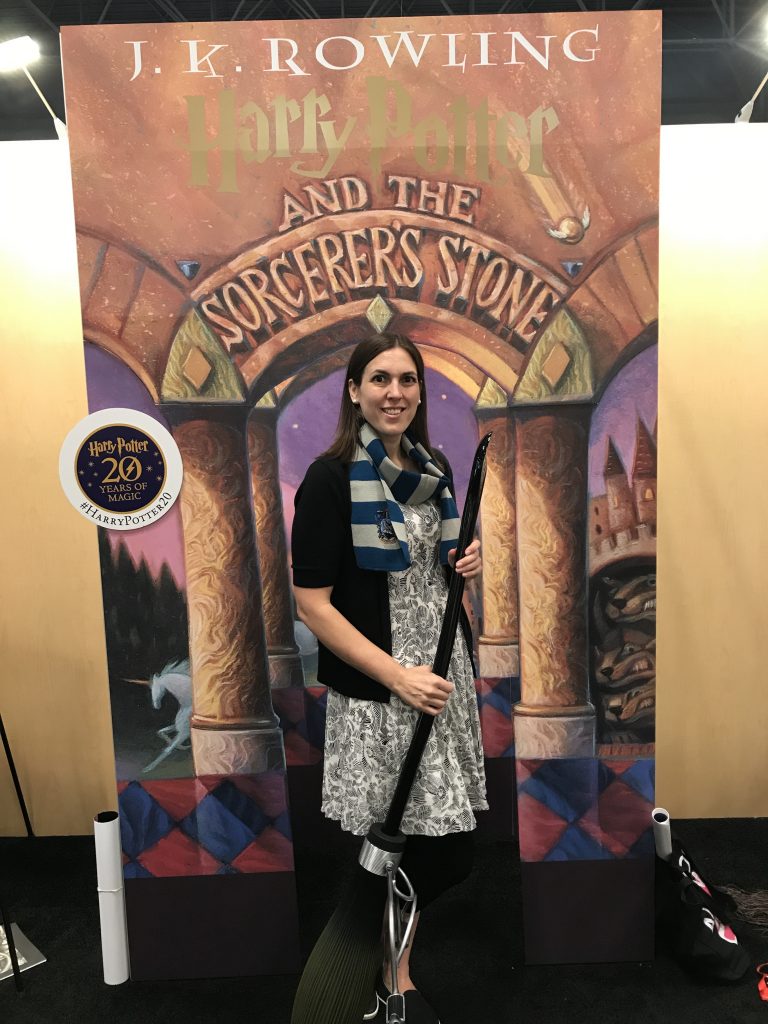 I looked at some of the shops that had booths there and then found a friend to hang out with. Sunday was more of the same! I stood in line to get Lizzy's book but that was about it! I flew home Sunday afternoon so I spent most of the day finding friends to say goodbye. Always sad to leave but so thrilled to head home.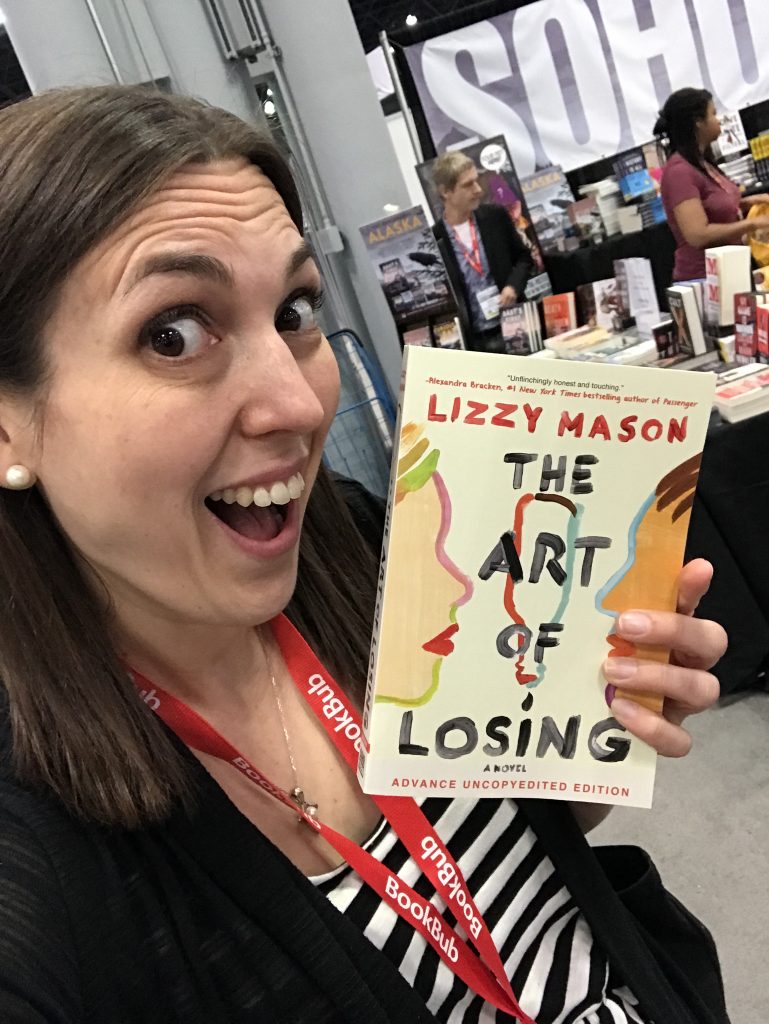 And now unto the good stuff… THE BOOKS! I told myself I wouldn't stand in line for a book unless I got to meet the author and get it signed. I didn't want to spend my whole weekend standing in lines. I still came home with more books than I anticipated! But I am so excited for each and every one. The photos are divided up by publisher (kind of!)
From the audiobook tea:
I Have Lost My Way by Gayle Forman
Star Wars: The Last Jedi by Jason Fry
Night of Cake & Puppets by Laini Taylor
Samplers:
Queen of Air and Darkness by Cassandra Clare (Margaret K. McElderry)
King of Scars by Leigh Bardugo (Imprint)
Slayer by Kiersten White (Simon Pulse)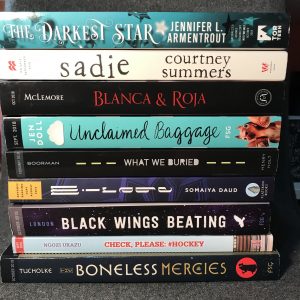 The Darkest Star by Jennifer L. Armentrout
Sadie by Courtney Summers
Blanca & Roja by Anna-Marie McLemore (from party)
Unclaimed Baggage by Jen Doll (from party)
What We Buried by Kate A. Boorman (from party)
Mirage by Somaiya Daud
Black Wings Beating by Alex London (from party)
Check, Please!: #Hockey by Ngozi Ukazu
Boneless Mercies by April Genevieve Tucholke (from party)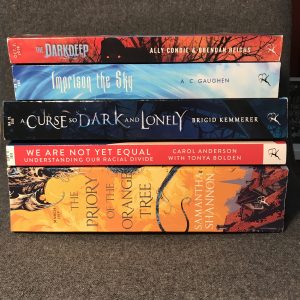 The Darkdeep by Ally Condie & Brenden Reichs
Imprison the Sky by A.C. Gaughen
A Curse so Dark and Lonely by Brigid Kemmerer
We Are Not Yet Equal by Carol Anderson with Tonya Bolden
The Priory of the Orange Tree by Samantha Shannon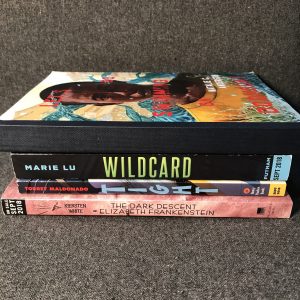 Let's Go Swimming on Doomsday by Natalie C. Anderson (from Editor Hour)
Wildcard by Marie Lu
Tight by Torrey Maldonado (from Editor Hour)
The Dark Descent of Elizabeth Frankenstein by Kiersten White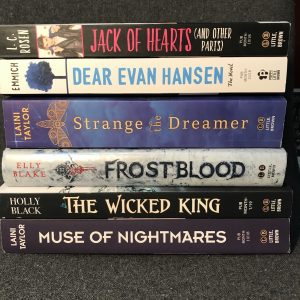 Jack of Hearts (and Other Parts) by L.C. Rosen (NOVL Box)
Dear Evan Hansen: The Novel by Val Emmich (NOVL Box)
Strange the Dreamer by Laini Taylor (Paperback) (NOVL Box)
Frostblood by Elly Blake (Hardcover) (From Tea Event)
The Wicked King by Holly Black (NOVL Box)
Muse of Nightmares by Laini Taylor (From Tea Event)
Various Publishers: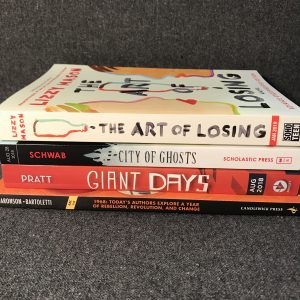 The Art of Losing by Lizzy Mason (Soho Teen)
City of Ghosts by Victoria Schwab (Scholastic)
Giant Days by Non Pratt (Amulet)
1968: Today's Authors Explore a Year of Rebellion, Revolution, and Change
edited by Marc Aronson and Susan Campbell Bartoletti (Candlewick Press)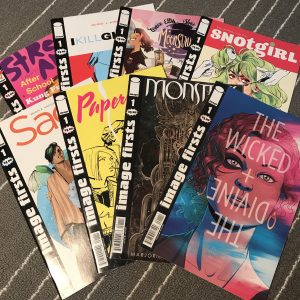 Image comics was giving out a bunch of different comics! I'm fairly new to reading comics so I told the woman working the book what I've liked so far and she handed me these:
Street Angel
I Kill Giants
Moonstruck
Snotgirl
Saga
Paper Girls
Monstress
The Wicked + The Divine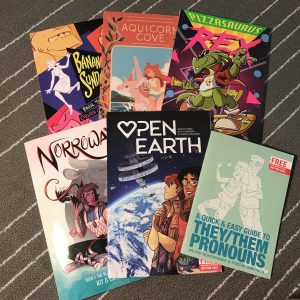 Banana Sunday by Paul Tobin & Colleen Coover
Aquicorn Cove by Katie O'Neill
Pizzasaurus Rex  by Justin Wagner & Warren Wucinich
Norroway, Book 1: The Black Bull of Norroway by Kit & Cat Seaton
Open Earth by Sarah Mirk, Eva Cabrera, & Claudia Aguirre
A Quick & Easy Guide to They/Them Pronouns
by Archie Bongiovanni & Tristan Jimerson
So there you have it! My BookExpo and BookCon experience in a nutshell. Per usual, my favorite part was getting to see friends and authors I adore. And of course I'm excited for some upcoming reading! So many amazing choices. Where would you start if you were me?
Related Posts