Hello! I'm back again with a blog tour post for another AMAZING DC Ink title, Harley Quinn: Breaking Glass (written by Mariko Tamaki, art by Steve Pugh.) This was my very first introduction to Harley Quinn and I loved her! Today I have a Q&A with the author and a giveaway!
About the Book: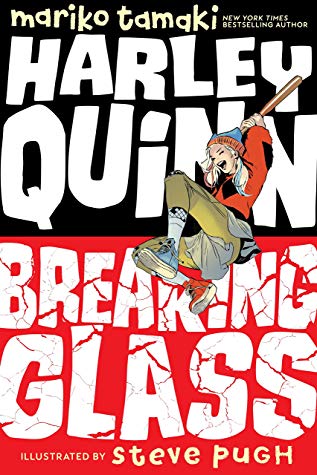 Harleen is a tough, outspoken, rebellious kid who lives in a ramshackle apartment above a karaoke cabaret owned by a drag queen named MAMA. Ever since Harleen's parents split, MAMA has been her only family. When the cabaret becomes the next victim in the wave of gentrification that's taking over the neighborhood, Harleen gets mad.
When Harleen decides to turn her anger into action, she is faced with two choices: join Ivy, who's campaigning to make the neighborhood a better place to live, or join The Joker, who plans to take down Gotham one corporation at a time.
Harley Quinn: Breaking Glass is at once a tale of the classic Harley readers know and love, and a heartfelt story about the choices teenagers make and how they can define—or destroy—their lives. This is the first title in DC's new line of original graphic novels for middle grade and young adult readers.
Author Interview:
Many thanks to Mariko Tamaki for answering my questions about Harley Quinn: Breaking Glass!
One of my favorite things about DC YA titles is how they make beloved characters accessible to readers who might not be familiar with them. What aspects of Harley Quinn's character were most important to you to include when introducing her to a new generation of readers? What is it you love about her?
Harley has a fabulously infectious personality.  She's got this incredible spark, you know? A neon-sunny, gleefully fierce approach the to world. I picture her go karting and immediately jumping off the track and peeling off down the highway, just because.  I wanted to put that front and center in this book.
From what I've read, Harley Quinn was first introduced in the '90s. While some things would certainly remain the same, the Gotham of the '90s is likely very different from what modern-day Gotham would be like. Were there any specific issues relevant to today you wanted to make sure to include or highlight in this story? Anything you are particularly glad you were able to add to the story? 
My image of Gotham, or the image that always pops into my head, is the Gotham of The Dark Knight film series, so I was definitely influenced by that.  At the same time, I wanted it to feel like an actual city populated with people who live and work in all its corners, you know? A city where people have to make a living and pay rent.  As a present-day story, it seemed pretty essential to address gentrification, not just to make the obstacles the characters were dealing with not just a matter of a person, but a state of things, but also because gentrification is something that affects the lives of… a LOT of people. Also, I wanted to add drag queens, because drag queens make everything better.
I imagine that, as the author, it's interesting to work with the artist and see the artwork that complements the text. Were there any things Steve Pugh included that you particularly loved? Any things that surprised you (in a delightful way?)
I wasn't surprised by how incredible the art in this book turned out, because I am a huge fan of Steve Pugh and his work and I knew it would be amazing, but I was thrilled to see how it all came together. Steve does this incredible job of bringing a level of depth to his characters, to the details in their face and their physique and their posture. All of it. The work he did on the characters in this comic is so compelling, it just adds a layer of "real" to this book that I love.
Harley Quinn has been seen as both a villain and a hero. Did you consider one more than the other when crafting her origin story? How did you balance them?
Harley Quinn is a Young Adult story. So it's a story about becoming the thing you will ultimately be, more than it is about being a hero or a villain.  Part of this is a story about HOW a person can be a hero. What it means to be a hero. I really wanted to make that point with a collection of characters in Breaking Glass. So you have Ivy, a community activist, wants Harley to think outside of herself, about the bigger picture, about the history involved in the conflicts she's facing.  And then you have the Joker, who wants Harley to ignore all that. The Joker wants Harley to be furious, to unleash chaos.  And Harley is kind of right up the middle. Mostly, she wants to protect her friends, and seeing people hurt her friends makes her want to smash a window. So really it's about navigating all those things, about making choices and the consequences of those choices.
What stories (novels, graphic novels, comics, movies, shows… whatever!) would you recommend to readers who love HARLEY QUINN: BREAKING GLASS?
I loved loved loved the movie Booksmart, directed by Olivia Wilde, so that is very high on my recommend list. If you want to read more about gentrification and housing in America I suggest the book "Evicted: Poverty and Profit in the American City" by Matthew Desmond. I just finished "Juliet Takes A Breath" by Gabby Rivera, which is both a primer on all things political and a great book.  And I was so completely charmed by DEAR JUSTICE LEAGUE by Michael Northrop and Gustavo Duarte. It's so lovely and you can give it to just about any super hero fan in your life if you're in the practice of giving gifts. Which is a great practice IMHO.
Giveaway:
Thanks to the lovely people at DC, I have THREE copies of Harley Quinn: Breaking Glass to giveaway! US only. Must be 13 or older to win. Use the rafflecopter below to enter.
Related Posts