Another BookExpo/BookCon in the books! I always love going to these events. I get to learn about new and upcoming titles AND see some of my very favorite bookish people from around the country (and some years, globe.) As I noted in last year's wrap-up post, the focus of the event seems to be changing. I'm still not really sure exactly where it's going, however, I was ready for it this year and so it wasn't as jarring as last year. For me, attending has really become more about seeing friends and talking to people working in publishing about what they're excited about. I still sent home a number of books I found interesting, either personally or professionally. However, I spent almost no time waiting in lines (unlike my first few years where it seems that's all I did!) Here is a photo-filled recap of my time in NYC! It's pretty long. If you're just interested in the books, scroll to towards the end!
Tuesday, May 28:
I flew in a day early to have some time to bum around New York. I also saw The Book of Mormon with Gaby that evening to kick things off.
Wednesday, May 29:
I liked starting Book Expo off with a half day! This day could also be called "Ninth House Day" since that was the big draw. I avoided the chaos that was the line to get tickets. (Sidenote/Soapbox: One of my least favorite things about any event like this is "Adults Behaving Badly" to get books/swag. I actually saw people ducking under the ropes and pushing past security when it was time to go in. They then proceeded to run to try and get Ninth House tickets. No book, no matter how badly I want it, is worth my integrity or treating another human being badly!) I mostly just spent this day wandering around and getting a feel for the layout of the show. I even snagged a couple books I was excited for!
Thursday, May 30:
First full day and I was already SO TIRED! Jamie, Gaby and I stayed up WAY TOO LATE the night before chatting and catching up. Totally worth it, but it made for a long day. I started the day at a press event for DC Zoom and DC Ink, the DC Comics imprints for middle grade and young adult titles. It was so interesting to hear the authors (and one illustrator!) talk about the process of creating their stories.  After that, I hit the show floor. One of the only lines I stood in was for When the Stars Lead to You by Ronni Davis. Ronni is a Chicago area writer. We've become friends over years of attending the same book events. I cannot wait to read her book! My highlight of the day is always seeing friends! I really failed at taking pictures so I'm glad other people remember! Loved seeing Jamie, Lili, Alexa, DJ, and Kristin.
Friday, May 31:
Final BookExpo day! Macmillan had some really great author signings so I actually stood in the most lines on this day. But they all went pretty quickly, which was nice. Of course I only remembered to take a photo once! As the show floor was closing the Fierce Reads event was starting. This year they had it in the Javits, which made it so easy to get to. There were author keynotes, publicist speed dating, and cupcakes! Later that evening Big Honcho Media put on an event filled with rainbows, unicorns, photo booths, cotton candy, and ice cream. Basically the perfect way to end BookExpo.
Saturday, June 1:
The first day of BookCon. And the only one I attended. There are just so many people! Still, there is A LOT to see and do. I was able to get a last minute ticket for Sarah Dessen's signing line, so of course I did that! I also found one of the Queen of Nothing scarves that NOVL hid around the show floor. Other than that, I wandered around and looked at all the amazing booths.
The Books:
Photos are organized by publishers. Except the first one 🙂
Signed:
These are the authors I stood in line to see. Also Rainbow Rowell. But her signing was a poster.
Riot Baby by Tochi Onyebuchi
The Burning Shadow by Jennifer L. Armentrout
No Judgements by Meg Cabot
The Rest of the Story by Sarah Dessen
Boom! Studios:

Just Beyond: The Scare School by R.L. Stine
Hotel Dare by Terry Blas and Claudia Aguirre
Pandora's Legacy by Kara Leopard and Kelly & Nichole Matthews
Lumberjanes: The Infernal Compass by Lilah Sturges and Polterink
The Avant-Guards by Carly Usdin and Noah Hayes
Bloomsbury and Little, Brown:
Some Places More Than Others by Renee Watson
The Beast by Ally Condie and Brendan Reichs
The Deep & Dark Blue by Niki Smith
When the Stars Lead to You by Ronni Davis
Macmillan:
These are from their MG and YA librarian events.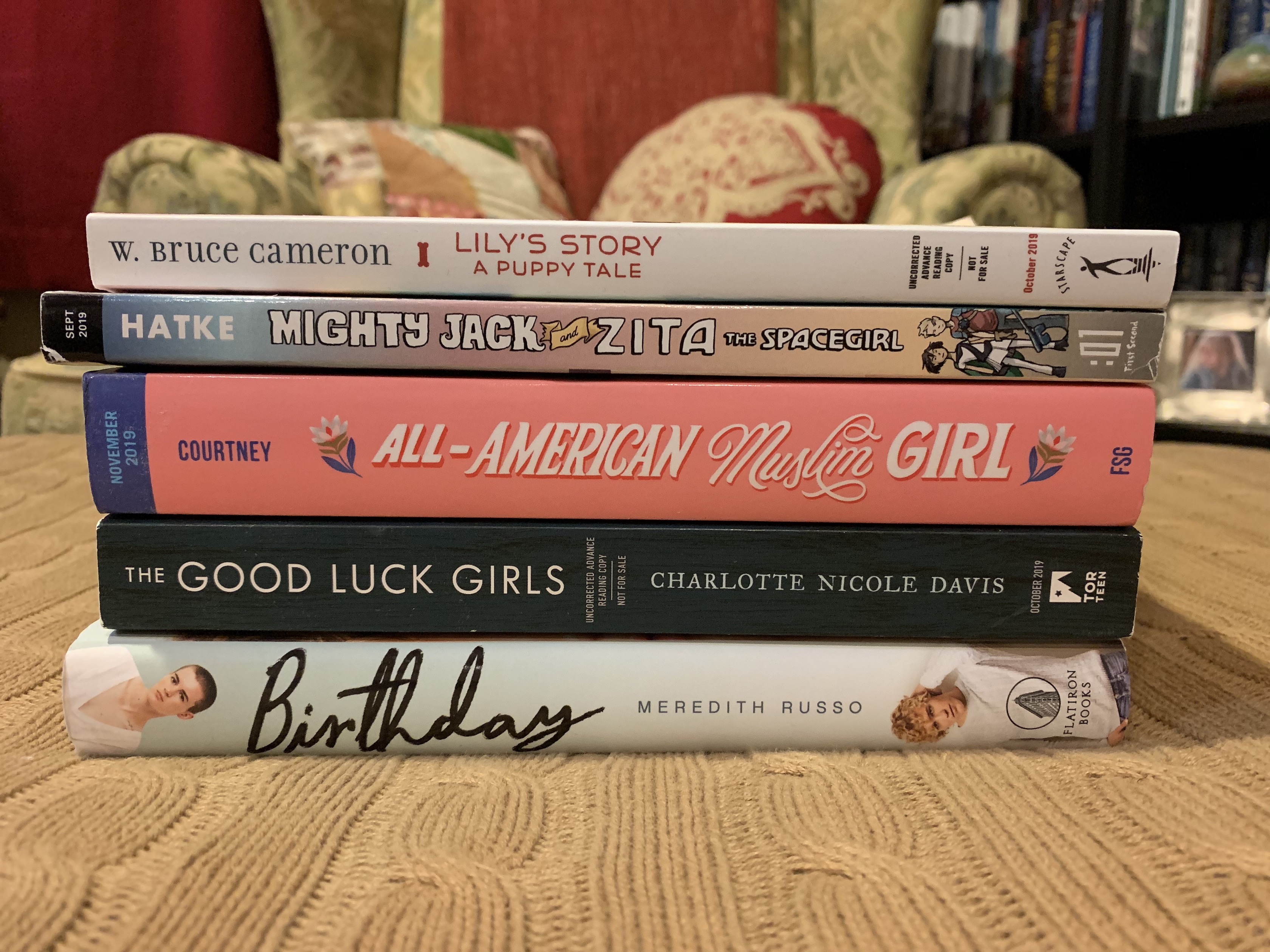 Lily's Story: A Puppy Tale by W. Bruce Cameron
Mighty Jack and Zita the Spacegirl by Ben Hatke
All-American Muslim Girl by Nadine Jolie Courtney
The Good Luck Girls by Charlotte Nicole Davis
Birthday by Meredith Russo
Macmillan:
These are from their Fierce Reads event.

The Midnight Lie by Marie Rutkoski (excerpt, not pictured)
Pumpkin Heads by Rainbow Rowell and Faith Erin Hicks (sampler)
Rebel by Marie Lu (sampler)
Red Skies Falling by Alex London
Light It Up by Kekla Magoon
Supernova by Marissa Meyer (sampler)
There Will Come A Darkness by Katy Rose Pool
The Tenth Girl by Sara Faring
Vow of Thieves by Mary E. Pearson
Oni Press:
A Quick & Easy Guide to They/Them Pronouns by Archie Bongiovanni and Tristan Jimerson
A Quick & Easy Guide to Queer & Trans Identities by Mady G and J.R. Zuckerberg
The Tea Dragon Festival by Katie O'Neill
Little Witches: Magic in Concord by Leigh Dragoon
DC Comics:
These are from their press event.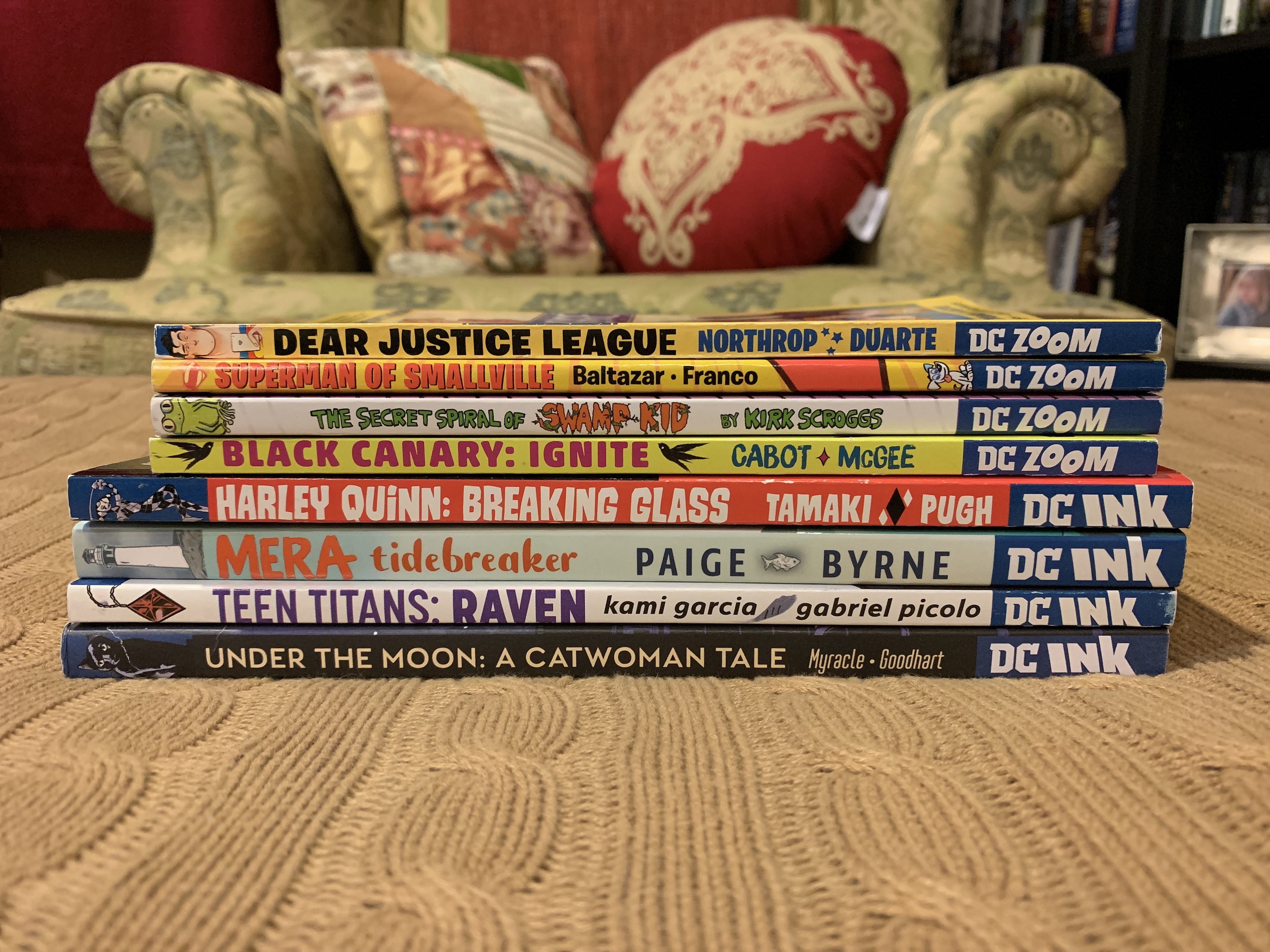 Dear Justice League by Michael Northrop and Gustavo Duarte
Superman of Smallville by Art Baltazar and Franco
The Secret Spiral of Swamp Kid by Kirk Scroggs
Black Canary: Ignite by Meg Cabot and Cara McGee
Harley Quinn: Breaking Glass by Mariko Tamaki and Steve Pugh
Mera: Tidebreaker by Danielle Paige and Stephen Byrne
Teen Titans: Raven by Kami Garcia and Gabriel Picolo
Under the Moon: A Catwoman Tale by Lauren Myracle and Isaac Goodhart
Candlewick Press and Disney Hyperion: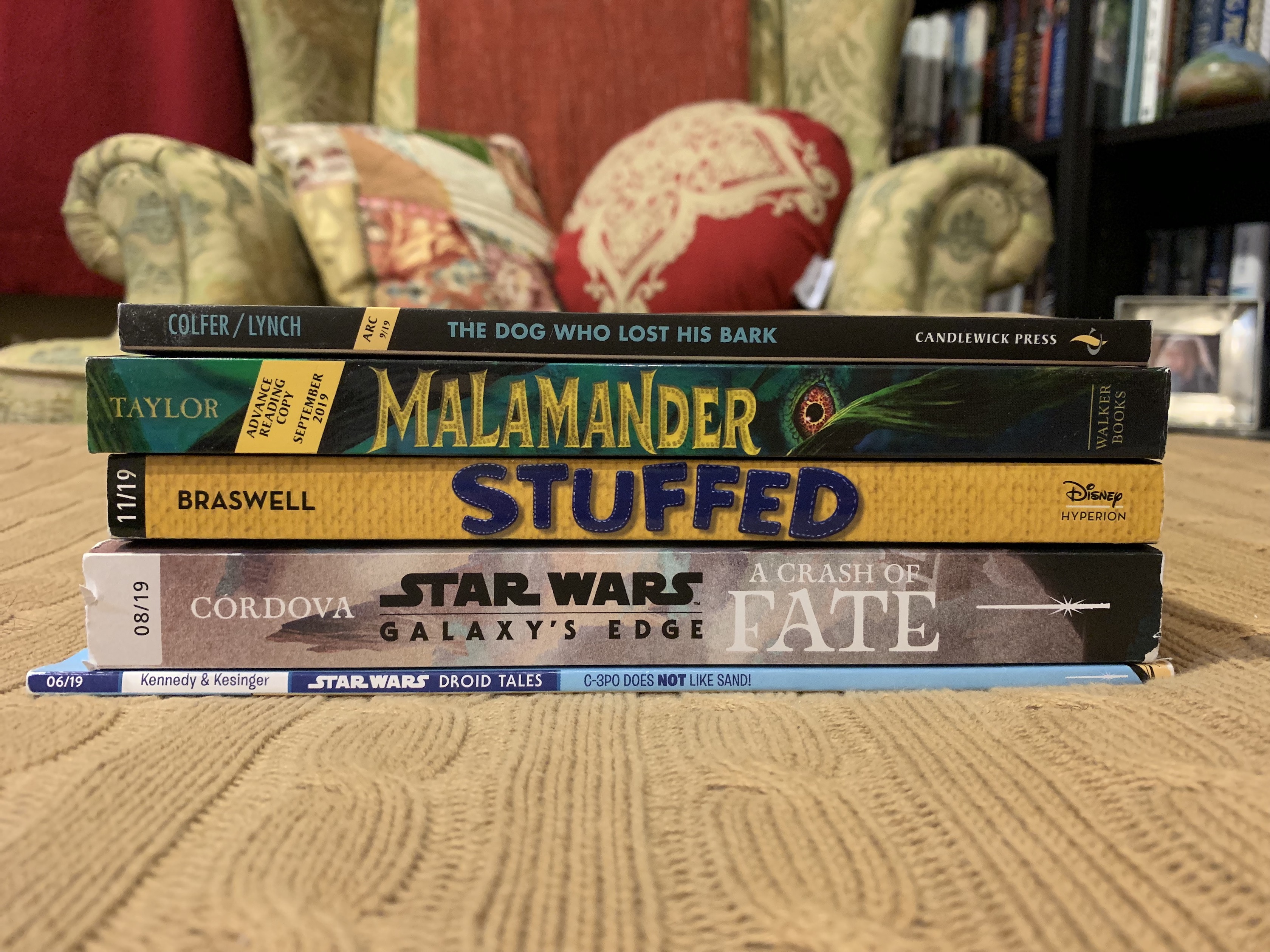 The Dog Who Lost His Bark by Eoin Colfer and P.J. Lynch
Malamander by Thomas Taylor
Stuffed by Liz Braswell
Star Wars, Galaxy's Edge: A Crash of Fate by Zoraida Cordova
Star Wars, Droid Tales: C-3Po Does Not Like Sand! by Caitlin Kennedy and Brian Kesinger
Scholastic:
Harry Potter and the Cursed Child: The Journey (sampler)
Take the Mic: Fictional Stories of Everyday Resistance edited by Bethany C. Morrow
The Chilling Adventures of Sabrina: Season of the Witch by Sarah Rees Brennan
Bendy and the Ink Machine: Dreams Come to Life by Adrienne Kress
Sunny Rolls the Dice by Jennifer L. Holm and Matthew Holm
Words on Fire by Jennifer A. Nielsen
Allies by Alan Gratz
The Year We Fell From Space by Amy Sarig King
Everything Awesome About Dinosaurs and other Prehistoric Beasts by Mike Lowery
Random House:
American Royals by Katherine McGee
Jackpot by Nic Stone
Who Put This Song On? by Morgan Parker
Pet by Akwaeke Emezi
White Bird: A Wonder Story by R.J. Palacio
Related Posts