A blog tour that focuses on graphic novels featuring girl power? Two things I love so very much. OF COURSE I AM IN! Check out all the other blogs that will also be featuring these titles here.
For my stop I'm going to highlight the different books/series on this tour and tell you why I think they sound amazing! In no particular order, here we go: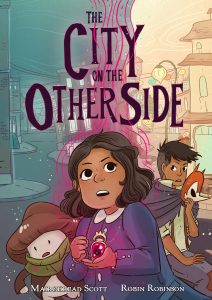 In The City on the Other Side, a young girl stumbles into a pitched war between two fairy kingdoms, and the fate of San Francisco itself hangs in the balance
Sheltered within her high-society world, Isabel plays the part of a perfectly proper little girl–she's quiet, well-behaved, and she keeps her dresses spotlessly clean. She's certainly not the kind of girl who goes on adventures.
But that all changes when Isabel breaches an invisible barrier and steps into another world. She discovers a city not unlike her own, but magical and dangerous. Here, war rages between the fairies of the Seelie and Unseelie Courts. Only Isabel, with the help of a magical necklace and a few new friends, stands a chance of ending the war before it destroys the fairy world, and her own.
From Mairghread Scott and Robin Robinson comes a colorful fantasy graphic novel set in early twentieth century San Francisco.
Ummm, warring fairy kingdoms? Historical? In San Francisco? HECK TO THE YES! I love, love, love that this is fairies and historical United States. Plus, I'm all about high bred ladies busting out of the cages society puts them in!
What happens when an evil queen gets her hands on an ancient force of destruction?
World domination, obviously.
The seven kingdoms of Dreamside need a legendary hero. Instead, they'll have to settle for Cucumber, a nerdy magician who just wants to go to school. As destiny would have it, he and his way more heroic sister, Almond, must now seek the Dream Sword, the only weapon powerful enough to defeat Queen Cordelia's Nightmare Knight.
Can these bunny siblings really save the world in its darkest hour?
Sure, why not?
Adapted from Gigi D.G.'s popular webcomic series, Cucumber Quest, The Doughnut Kingdom is the first graphic novel of a clever, adorable, and hilarious four-volume heroic adventure that is sure to make you hungry for sweets and action.
How cute is that cover? Adorable bunny siblings FTW! Plus, LOVE the nerdy magician with a way more adventurous sister aspect. Simply darling.
Giants Beware! series by Jorge Aguirre and Rafael Rosado
Make way for Claudette the giant slayer in this delightful, fantastical adventure
Claudette's fondest wish is to slay a giant. But her village is so safe and quiet What's a future giant slayer to do?
With her best friend Marie (an aspiring princess), and her brother Gaston (a pastry-chef-to-be), Claudette embarks on a super-secret quest to find a giant-without parental permission. Can they find and defeat the giant before their parents find them and drag them back home?
Giants Beware offers up a wondrous, self-contained world in the tradition of the very best of Pixar. Claudette and her friends will have you laughing out loud from page one.
I love this little misfit gang that goes in search of a giant to slay! Obviously it is inconvenient that their town is so safe! They need danger and adventure to fulfill their destinies! Such a fun start to the series.
Scarlett Hart, orphaned daughter of two legendary monster hunters, is determined to carry on in her parents' footsteps–even if the Royal Academy for the Pursuit and Eradication of Zoological Eccentricities says she's too young to fight perilous horrors. But whether it's creepy mummies or a horrid hound, Scarlett won't back down, and with the help of her loyal butler and a lot of monster-mashing gadgets, she's on the case.With her parent's archrival, Count Stankovic, ratting her out to T.R.A.P.E.Z.E. and taking all the monster-catching rewards for himself, it's getting hard for Scarlett to do what she was born to do. And when more monsters start mysteriously manifesting than ever before, Scarlett knows she has to get to the bottom of it and save the city . . . whatever the danger
In his first adventure for middle-grade readers, acclaimed YA author Marcus Sedgwick teams up with Thomas Taylor (illustrator of the original edition of Harry Potter and the Philosopher's Stone) to create a rip-roaring romp full of hairy horrors, villainous villains, and introducing the world's toughest monster hunter–Scarlett Hart
I really love Marcus Sedgwick's storytelling style. I was so very interested to see how it would translate to a graphic novel. Plus, monster hunter! And a young girl showing that she is capable! I am always here for that.
 Star Scouts series by Mike Lawrence
Avani is the new kid in town, and she's not happy about it. Everyone in school thinks she's weird, especially the girls in her Flower Scouts troop. Is it so weird to think scouting should be about fun and adventure, not about makeovers and boys, boys, boys?
But everything changes when Avani is "accidentally" abducted by a spunky alien named Mabel. Mabel is a scout too–a Star Scout. Collecting alien specimens (like Avani) goes with the territory, along with teleportation and jetpack racing. Avani might be weird, but in the Star Scouts she fits right in. If she can just survive Camp Andromeda, and keep her dad from discovering that she's left planet Earth, she's in for the adventure of a lifetime.
A story about a girl who feels alien in her surroundings and then is abducted by an actual alien and finally feels she fits in? Well that's something I need in my library! Can I be a Star Scout, too?
Be sure to add these graphic novels to your TBR (especially if you're doing the Reading Without Walls challenge!) and see what other bloggers have to say throughout the tour.
Related Posts