I received this ARC from Publisher for free in exchange for an honest review. This does not affect my opinion of the book or the content of my review.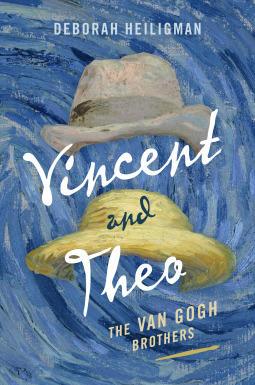 Vincent and Theo

by Deborah Heiligman
Published by Henry Holt and Company (BYR) on April 18th 2017
Pages: 256
Source: ARC from Publisher
Amazon-Indiebound
Goodreads

The deep and enduring friendship between Vincent and Theo Van Gogh shaped both brothers' lives. Confidant, champion, sympathizer, friend, Theo supported Vincent as he struggled to find his path in life. They shared everything, swapping stories of lovers and friends, successes and disappointments, dreams and ambitions. Meticulously researched, drawing on the 658 letters Vincent wrote to Theo during his lifetime, Deborah Heiligman weaves a tale of two lives intertwined and the love of the Van Gogh brothers.
My Thoughts:
I have been interested in learning more about Vincent and Theo Van Gogh's relationship as brothers for years. Early in college I had an art history professor who talked a little bit about it and I thought it was something I might want to know more about. However, this interest got lost in the chaos of reading and studying for classes. I was excited to see that Deborah Heiligman was telling their story. I loved her book Charles and Emma: The Darwins' Leap of Faith. I devoured this one as well.
Reading about Vincent and Theo individually and as brothers was so interesting. They both lead tumultuous lives. Much of this had to do with mental illness, which were very much misunderstood and lacking in effective treatments at the time. My heart just broke for both brothers as they went through life the best way they knew how.
I'm always interested in a story that focuses on the relationship between siblings. Theo supported Vincent so much, both financially and emotionally! It just blew my mind. Even when Vincent was driving him crazy, Theo helped him. And Vincent really valued Theo's friendship and his opinion on art. They were so similar yet so different.
Vincent and Theo: The Van Gogh Brothers is a fascinating look at one of the great artists and the brother who supported him throughout his life.  A great addition to any nonfiction collection.
Related Posts