I received this for free in exchange for an honest review. This does not affect my opinion of the book or the content of my review.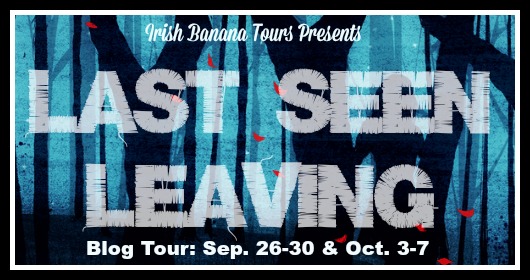 Welcome to the first stop on the blog tour for Last Seen Leaving by Caleb Roehrig. I met Caleb back in May when he was the special guest at a Fierce Reads tour stop at Anderson's Bookshop in Naperville, IL. I was immediately interested in Last Seen Leaving. Nearly five months later and it's finally time for the book release 🙂 I'm so thrilled to be kicking off this tour!
About the Book:
Flynn's girlfriend has disappeared. How can he uncover her secrets without revealing his own?

Flynn's girlfriend, January, is missing. The cops are asking questions he can't answer, and her friends are telling stories that don't add up. All eyes are on Flynn—as January's boyfriend, he must know something.

But Flynn has a secret of his own. And as he struggles to uncover the truth about January's disappearance, he must also face the truth about himself.
My Thoughts:
I have to start this review off with a confession: I am not much of a thriller/suspense reader. I don't mean that I don't like them. I just never seem to gravitate towards them. Last Seen Leaving was an exception! Between the gorgeous cover and the summary I was intrigued right away. And once I picked the book up? I couldn't put it down!
I really enjoyed the main character, Flynn. He's not perfect and he makes choices I would't make. But he's a teenaged boy. And he's dealing with more than I have ever had to deal with. I mean, his girlfriend is missing and he could possibly be a suspect. I couldn't handle that as an adult, much less a teen! And, as the summary mentions, Flynn has a secret of his own to keep. It was really interesting to see him trying so hard to unravel the secrets surrounding January's disappearance while, at the same time, trying so hard to keep his own secrets. I wanted everything to work out for him so much! I guess he just felt really authentic and my heart went out to him.
The mystery aspect kept me guessing. There were a few different conclusions that I could see working. It was interesting to try and fit the different information/clues Flynn uncovers into these conclusions. Once I finished, it was fun to think through the story again and see where all the pertinent clues were mentioned!
Caleb Roehrig is an author to watch! Whether you're a suspense reader or you just like a well paced story, I recommend Last Seen Leaving.
About the Author:
Caleb Roehrig is a writer and television producer originally from Ann Arbor, Michigan. Having also lived in Chicago, Los Angeles, and Helsinki, Finland, he has a chronic case of wanderlust, and can recommend the best sights to see on a shoestring budget in over thirty countries. A former actor, Roehrig has experience on both sides of the camera, with a résumé that includes appearances on film and TV—as well as seven years in the stranger-than-fiction salt mines of reality television. In the name of earning a paycheck, he has: hung around a frozen cornfield in his underwear, partied with an actual rock-star, chatted with a scandal-plagued politician, and been menaced by a disgruntled ostrich.
LINKS: Website | Twitter | Instagram
Tour Schedule:
Week 1:
Giveaway:
3 Finished Copies of LAST SEEN LEAVING (US Only)
Related Posts