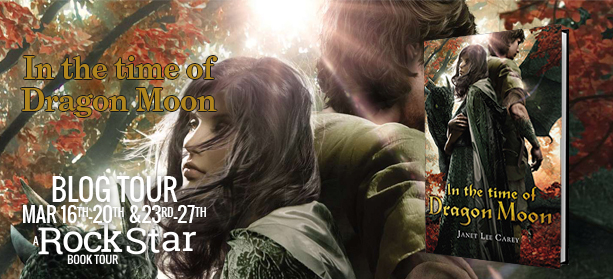 So pleased to be on the tour for Janet Lee Carey's In The Time of Dragon Moon. I loved Dragonswood so I was so excited to hear we'd be going back to Wilde Island! Check out the tour page for more info!
About the Book: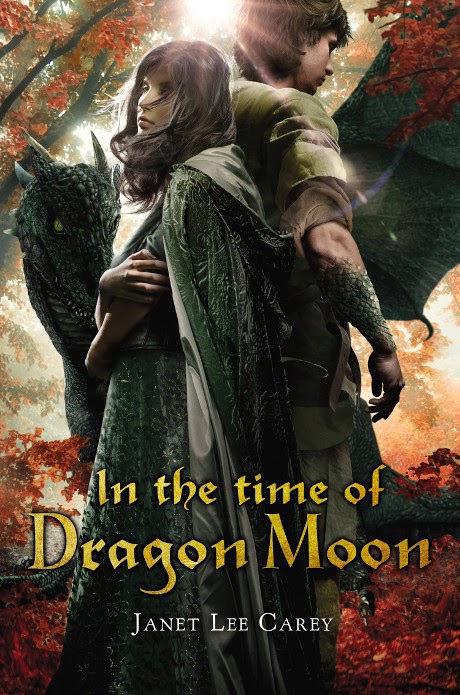 A perfectly crafted combination of medieval history, mythology, and fantasy, set on Wilde Island, featuring  Uma Quarteney – a half Euit and half English girl, who has never been fully accepted by her Euit tribe – and Jackrun Pendragon – a fiery dragonrider with dragon, fairy, and human blood.
Beware the dark moon time when love and murder intertwine
All Uma wants is to become a healer like her father and be accepted by her tribe. But when the mad queen abducts her and takes her north, Uma's told she must use her healing skills to cure the aging infertile queen by Dragon Moon, or be burned at the stake. Uma soon learns the queen isn't the only danger she's up against. A hidden killer out for royal blood slays the royal heir. The murder is made to look like an accident, but Uma, and the king's nephew Jackrun, sense the darker truth. Together, they must use their combined powers to outwit a secret plot to overthrow the Pendragon throne. But are they strong enough to overcome a murderer aided by prophecy and cloaked in magic?
In the Time of Dragon Moon — a tale of Love Magic and Murder
Find it: Amazon, Barnes & Noble, Goodreads
Praise:
"The author's world-building is detailed and fascinating, and Uma is a strong, admirable heroine. This is a must-purchase for libraries owning the earlier installments and a great choice for where teen fantasy is popular." –School Library Journal
"Humans, dragons and fey coexist on Wilde Island, but this uneasy peace masks a simmering, mutual distrust that surfaces after the English army abducts an Euit healer and his daughter to cure the aging queen's infertility—failure is not an option." – Kirkus Review
"In the Time of Dragon Moon is a story of courage and romance that readers will not soon forget. While Uma's struggle to help the queen and save her people is intriguing, the depth of her character reaches much further, exploring issues of race, gender, and identity. The politics of Pendragon Castle and Wilde Island offer gripping mystery and adventure, while Uma's relationship with Jackrun—and even her interactions with her father's dragon, Vazan—create a rich and insightful protagonist. The text will be a sure favorite of fans of high fantasy." —Meghann Meeusen. VOYA review
About the Author:
Janet Lee Carey grew up in the bay area under towering redwoods that whispered secrets in the wind. When she was a child she dreamed of becoming a mermaid (this never happened).She also dreamed of becoming a published writer (this did happen after many years of rejection). She is now an award-winning author of nine novels for children and teens. Her Wilde Island Chronicles are ALA Best Books for Young Adults. She won the 2005 Mark Twain Award and was finalist for the Washington State Book Award. Janet links each new book with a charitable organization empowering youth to read and reach out. She tours the U.S. and abroad presenting at schools, book festivals and conferences for writers, teachers, and librarians. Janet and her family live near Seattle by a lake where rising morning mist forms into the shape of dragons. She writes daily with her imperious cat, Uke, seated on her lap. Uke is jealous of the keyboard. If Janet truly understood her place in the world, she would reserve her fingers for the sole purpose of scratching behind Uke's ear, but humans are very hard to train.
Website | Blog | Twitter | Facebook |Goodreads
Guest Post:
Award-winning fantasy author, Janet Lee Carey has stopped by to explore Identity as she celebrates the launch of her newest book.  In the Time of Dragon Moon, Kathy Dawson Books © March 2015, is a tale of Love Magic and Murder. But underlying this grand adventure, the story also deals with Identity.
-Who am I when I am a mix of clashing races?
-Who am I when I am taken from my home and forced to live among strangers who know nothing of my culture?
Uma's Father is Euit. Her mother is English. Her father's people and her mother's people have warred with each other for hundreds of years. For Uma, this means she is at war with herself. Raised in the Euit tribe, the First People of Wilde Island who've been pushed out by the conquering English, Uma begins the story feeling ashamed of her English blood. She loves her mother, but cannot accept that she is part English. Her tribe treats her and her mother differently. Desperate to belong, Uma decides early to become a healer like her revered father. The only trouble is the Euit people do not believe a female can become a healer — so Uma dresses as a boy.
As a character she is split down the middle. She does not accept her English side or her feminine side. She buries both.
When the English queen abducts her, takes her far away from her tribe and forces her to live at the Pendragon castle, Uma feels completely alone. Lost in a new culture she doesn't like or care about, she's forced to use her skills to heal the queen who is her enemy. The brief excerpt below takes place mid-story as Uma stands before a cracked mirror on the wardrobe door in her room in the castle:
"The jagged crack running down the mirror cut me in two. The split image I saw startled me: Uma of Devil's Boot, Uma of the Pendragon court. I spread my feet apart, trying to span my two worlds. My heart felt wedged in the crack between them both."
Held captive by the queen, Uma makes a long journey toward self discovery. Moving from this: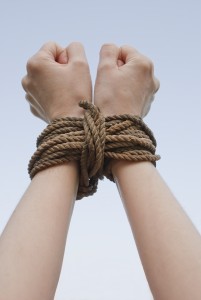 To this:
The one who changes everything for her is Jackrun.
Jackrun comes with his own Identity issues. He is the firstborn with dragon, human and fairy blood. Called the Son of the Prophecy, the one long awaited by the fey folk and the dragons, Jackrun harbors dangerous power in his body, he's driven by an internal dragon fire that he cannot control, by sudden bouts of rage, and by a shameful past he will not speak about with anyone, not even Uma.
But as one with mixed heritage himself, Jackrun accepts Uma as both a female and a healer (something her Euit culture does not do). Jackrun values her Euit and her English sides. Unlike the broken vision of herself in the cracked mirror, Uma begins to see herself as a whole person in Jackrun's eyes.
Jackrun's love awakens her. But for Uma, as for each of us, the journey of Identity is a long one and we are the ones who have to walk step by step toward freedom.
-Do you ever feel like there are parts of yourself that you can never accept? Or that you must hide parts of yourself so other people will like you?
-Do you ever feel like people don't understand you because you think differently than other people or because you come from another place or a different culture?
You might like to read about Uma and Jackrun and see how these two work out their mixed heritages, how they come to define themselves and find a way to accept all the elements—Euit, English, dragon, and fairy—that make them who they are.
Tour Schedule:
Check out the rest of the tour for more about In the Time of Dragon Moon!
Week One:
3/16/2015- Moonlight Gleam Reviews – Interview
3/17/2015- Seeing Double In Neverland – Review
3/18/2015- YA Bibliophile – Guest Post
3/19/2015- Owl Always Be Reading – Review
3/20/2015- Library of a Book Witch – Interview
Week Two:
3/23/2015- Gone with the Words – Review
3/24/2015- Bookhounds YA – Guest Post
3/25/2015- YA Series Insiders – Interview
3/26/2015- Please Feed the Bookworm – Review
3/27/2015- Two Chicks on Books – Guest Post
Giveaway:
2 winners! One will win a Signed copy of In The Time of Dragon Moon and Dragon Moon mug and one will win a Signed copy of In The Time of Dragon Moon and Dragon Moon mouse pad. US and Canada Only.
Related Posts