I'm pleased to share the final Morris Week post with you… a guest post from Jessie Ann Foley, author of The Carnival at Bray. I enjoyed all the Morris finalists but think this one might have been my favorite!  Thanks so much to Jessie Ann Foley for the guest post!
About the Book:
It's 1993, and Generation X pulses to the beat of Kurt Cobain and the grunge movement. Sixteen-year-old Maggie Lynch is uprooted from big-city Chicago to a windswept town on the Irish Sea. Surviving on care packages of Spin magazine and Twizzlers from her rocker uncle Kevin, she wonders if she'll ever find her place in this new world. When first love and sudden death simultaneously strike, a naive but determined Maggie embarks on a forbidden pilgrimage that will take her to a seedy part of Dublin and on to a life- altering night in Rome to fulfill a dying wish. Through it all, Maggie discovers an untapped inner strength to do the most difficult but rewarding thing of all, live.
The Carnival at Bray is an evocative ode to the Smells Like Teen Spirit Generation and a heartfelt exploration of tragedy, first love, and the transformative power of music. The book won the 2014 Helen Sheehan YA Book Prize.
Guest Post:
Why I set The Carnival at Bray in the 90's
by Jessie Ann Foley
Setting the novel in the 90's solved some very important plot problems, the obvious one being the absence of social media. In order for Maggie to grow in the way she needed to, I felt like she needed to be truly isolated in Bray—truly marooned in this new country. If she's following Selfish Fetus on Twitter, if she's Skyping with Nanny Ei, she's still got one leg immersed in Chicago, and the need to find her way in Ireland is not as urgent. With the lack of internet access, it's harder to go back. She's stuck, and she needs to show her mettle.
At the same time, I was a little nervous at my choice to set a YA book in the 90's. My fear was that kids today wouldn't recognize some of the bands Maggie and Uncle Kevin love, or that they couldn't connect with a world in which social media and cell phones don't exist. Two things changed my mind about this: the first was when we had an out-of-dresscode day at the high school where I teach English. I saw about twenty Nirvana t-shirts in the hall that day, which answered the question about whether 90's music is still relevant. The second was that I remembered my favorite books as a kid: the Little House books by Laura Ingalls Wilder. I've never churned butter or wrangled a cow, and yet I loved these novels about pioneer life on the prairie. Literature is about the universal human experience, regardless of whether the time and place of the characters' lives matches our own.
 About the Author: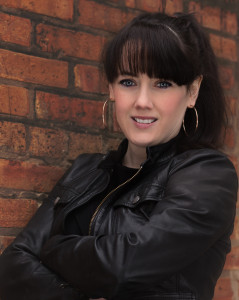 Jessie Ann Foley is a teacher and writer whose debut novel, The Carnival at Bray, was shortlisted for the American Library Association's 2015 William C. Morris Award and named a Best Teen Book of 2014 by Kirkus Reviews. Her fiction and essays have appeared in Salon.com, The Madison Review, Midwestern Gothic, McSweeney's, The Chicago Reader, Writer's Digest, Hypertext, xoJane.com, Sixfold, Great Lakes Cultural Review and other magazines. She lives with her husband and daughter in her native Chicago, where she is at work on a second novel.
Website
Twitter
Goodreads
Facebook
Check out all stops on the Cinco Puntos Press Morris Finalist blog here!
Related Posts