I am so freaking excited to be on this blog tour! I absolutely adored The Winner's Curse. It was one of the first books I read in 2014 and it remains one of my favorites of the year (and just in general!) I was so please to find that The Winner's Crime is just as amazing. The only problem? How am I supposed to wait for The Winner's Kiss?!?!?
You can check out my review of The Winner's Curse here. Also, I was on the blog tour for The Winner's Curse and got a totally fabulous guest post from Marie Rutkoski about Bite and Sting, a game featured in the book. The coolest part? You can actually play the game online! Check out The Winner's Trilogy website for more info.
For this tour each blogger was asked to respond to the following:
The 'Winner's Curse' is an economics term that means you've gotten what you wanted – but at too high a price.  What would you pay too much for?
When thinking about this question some obvious "big" things came to mind: world peace, long and happy lives for my nieces and nephew, an end to hunger, etc… There are so many "big ticket" items I could talk about. However, I decided to think about things in a smaller way.
The first three things I thought of are things I would spend all my money on but they don't actually exist:
A magic bookshelf: This would be a bookshelf that would expand to fit my ever-growing collection of books. Like, every time I bought a new book there would be a space to put it on the right shelf without having to shift or remove any other books. I suppose my office would also have to be magic to accommodate such a shelf 🙂
Teleportation: I would never miss a book event if I could only teleport.I could even hangout with all my bookish friends from across the country! How amazing would this be?!?
Matching Covers: What if there were a way to get all books in a series to having matching covers after a cover change? For example, I adore Holly Black's Curse Workers series. They changed the cover for each book. They're all nice but I would pay big bucks to get books two and three with covers that match book one!
Finally I thought of something I would spend bookoo bucks on that actually exists in this world. Oddly, it's not book related! One of my goals this year (and every year!) is to be healthier. What I wouldn't give to have a personal chef and a personal trainer! I would eat so much healthier if someone else made my food for me! Also, if I have someone I'm paying to hold me accountable, I'd go to the gym regularly! Since it's not possible to buy willpower, a chef and trainer are the next best thing!
Check out the rest of the tour stops here!
About the Book: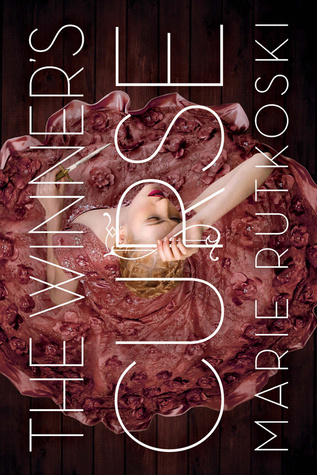 Winning what you want may cost you everything you love
As a general's daughter in a vast empire that revels in war and enslaves those it conquers, seventeen-year-old Kestrel has two choices: she can join the military or get married. But Kestrel has other intentions.
One day, she is startled to find a kindred spirit in a young slave up for auction. Arin's eyes seem to defy everything and everyone. Following her instinct, Kestrel buys him—with unexpected consequences. It's not long before she has to hide her growing love for Arin.
But he, too, has a secret, and Kestrel quickly learns that the price she paid for a fellow human is much higher than she ever could have imagined.
Set in a richly imagined new world, The Winner's Curse by Marie Rutkoski is a story of deadly games where everything is at stake, and the gamble is whether you will keep your head or lose your heart.
 Giveaway:
Thanks to Macmillan, I have a finished copy of The Winner's Crime for one lucky winner! US only. Must be 13 or older. Prize will be sent out after release day. Use the rafflecopter to enter.
Related Posts