Quirk Books is celebrating the five-year anniversary of Miss Peregrine's Home for Peculiar Children by Ransom Riggs.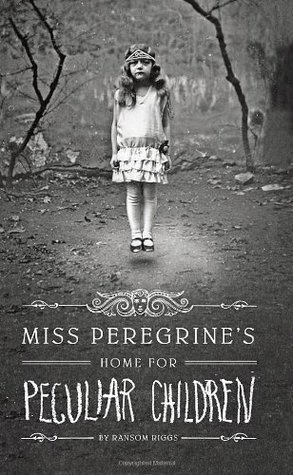 A mysterious island. An abandoned orphanage. A strange collection of curious photographs.

A horrific family tragedy sets sixteen-year-old Jacob journeying to a remote island off the coast of Wales, where he discovers the crumbling ruins of Miss Peregrine's Home for Peculiar Children. As Jacob explores its abandoned bedrooms and hallways, it becomes clear that the children were more than just peculiar. They may have been dangerous. They may have been quarantined on a deserted island for good reason. And somehow—impossible though it seems—they may still be alive.

A spine-tingling fantasy illustrated with haunting vintage photography, Miss Peregrine's Home for Peculiar Children will delight adults, teens, and anyone who relishes an adventure in the shadows.
I didn't get around to starting this series until last summer and it creeped me out most delightfully! I can see why it's so very popular in my library. I even had to buy extra copies of the books to loan to my co-workers so that the library copies could be reserved for students. Everyone wants to read them!!
As part of the celebration, Quirk Books has a pretty cool initiative going on right now. Check it out here.  Basically, they're asking fans to submit fan art and fan-made photos using the hashtag #5PeculiarYears. Here's my photo:
They're going to use select submissions to create a poster! Everyone who submits something will get one of these posters.
That's not all! There are weekly giveaways of Miss Peregrine's Home for Peculiar Children related goodies throughout June as well!! Check the Quirk Books page for details.
But wait, there's more! Thanks to Quirk Books, I have a My Peculiarity tote (like the one pictured above) to giveaway to one lucky winner! I'll throw in a metallic sharpie as well so you can fill it out 🙂 US only. Must be 13 or older to enter.
Related Posts