I received this Finished Copy from Publisher for free in exchange for an honest review. This does not affect my opinion of the book or the content of my review.

Source: Finished Copy from Publisher

I am so pleased to be talking about We are the Wildcats by Siobhan Vivian today! This is one of the only new books I've been able to read since being at home everyday! I've been re-reading a ton of old favorites and have had a hard time getting into anything different. I knew this one would capture my attention. I was not wrong!
About the Book: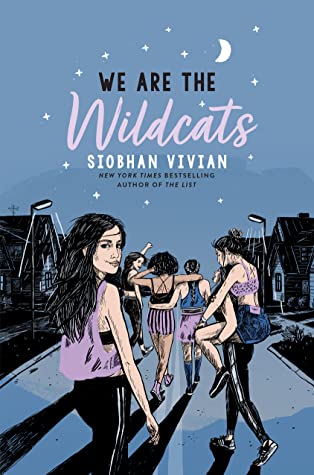 A toxic coach finds himself outplayed by the high school girls on his team in this deeply suspenseful novel, which unspools over twenty-four hours through six diverse perspectives.

Tomorrow, the Wildcat varsity field hockey squad will play the first game of their new season. But at tonight's team sleepover, the girls are all about forging the bonds of trust, loyalty, and friendship necessary to win.

Everything hinges on the midnight initiation ceremony—a beloved tradition and the only facet of being a Wildcat that the girls control. Until now.

Coach—a handsome former college player revered and feared in equal measure—changes the plan and spins his team on a new adventure. One where they take a rival team's mascot for a joyride, crash a party in their pajamas, break into the high school for the perfect picture.

But as the girls slip out of their comfort zone, so do some long-held secrets. And just how far they're willing to go for their team takes them all—especially Coach—by surprise.

A testament to the strength and resilience of modern teenage girls, We Are the Wildcats will have readers cheering.
My Thoughts:
I was looking forward to reading this book for a number of reasons. First, any new book by Siobhan Vivian is automatically added to my TBR pile! I was also sold when I heard that it was from multiple perspectives. I absolutely adore multiple narrators!  Plus, it takes place over about twenty-four hours. Very limited time frame… another thing I love! And then there's that last line from the summary:
A testament to the strength and resilience of modern teenage girls, We Are the Wildcats will have readers cheering.
Yup. Done deal. Any book that highlights the strength and resilience of teenage girls is something I want to read! And I devoured this one.
So, I mentioned that I love stories with multiple narrators and limited time frames. This book is exactly why. These two aspects compliment one another so well and were used to perfection. Because we see the story through the lenses of six different girls on the team, we get to know so much about the characters, as well as the events leading up to and occurring during the twenty-fours of the story. We see so much history and the reader gets to piece together different threads through all of the perspectives. It also made the pacing and intensity build exactly right. Little by little, the reader's perspective of events/characters changes, as do the perspectives of the girls. Ugh. I know I am not even doing this justice! It was just so expertly woven together!
I can't end this without talking about how much I adored each of the girls on the team and the focus on their friendships in general. I was so here for all of it. I loved seeing how the girls start to trust one another (again for some, for the first time for others) and how they value their friendships and seek to support each other. As you know, I love a book that honestly portrays and respects teenage girls!
I just loved everything about this book. The characters, the format, the suspense, and the focus on female friendships. I am so glad that I have it available for my students to read!
Related Posts