I received this ARC from Publisher for free in exchange for an honest review. This does not affect my opinion of the book or the content of my review.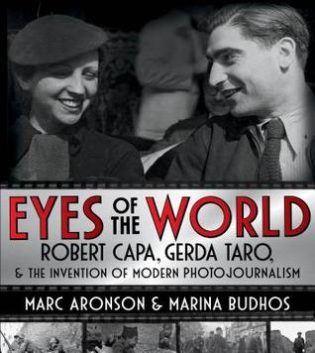 Eyes of the World

by Marc Aronson, Marina Budhos
Published by Henry Holt and Company (BYR) on March 28th 2017
Pages: 304
Source: ARC from Publisher
Goodreads

"If your pictures aren't good enough, you aren't close enough." –Robert Capa
Robert Capa and Gerda Taro were young Jewish refugees, idealistic and in love. As photographers in the 1930s, they set off to capture their generation's most important struggle—the fight against fascism. Among the first to depict modern warfare, Capa, Taro, and their friend Chim took powerful photographs of the Spanish Civil War that went straight from the action to news magazines. They brought a human face to war with their iconic shots of a loving couple resting, a wary orphan, and, always, more and more refugees—people driven from their homes by bombs, guns, and planes.
Today, our screens are flooded with images from around the world. But Capa and Taro were pioneers, bringing home the crises and dramas of their time—and helping give birth to the idea of bearing witness through technology.
With a cast of characters ranging from Langston Hughes and George Orwell to Pablo Picasso and Ernest Hemingway, and packed with dramatic photos, posters, and cinematic magazine layouts, here is Capa and Taro's riveting, tragic, and ultimately inspiring story.
My Thoughts:
Over the past couple years I've been making an effort to read more nonfiction. When I saw that Eyes of the World: Robert Capa, Gerda Taro, and the Invention of Modern Photojournalism was available for request, I snapped it up. I had heard the names "Robert Capa" and "Gerda Taro" but could not have told you who they were. I also knew next to nothing about the other two main topics: photojournalism and the Spanish Civil War. This made the reading experience so interesting for me. I honestly had no clue what was going to happen in their lives.
I learned so much from this book. The lives of Capa and Taro were fascinating to me. Learning more about who they were and the events that shaped them kept me engaged. These two had such an impact on photojournalism. I just soaked up all the information.
I was especially interested in learning more about the Spanish Civil War and how it connects to WWII. I remember learning a bit about the bombing of Guernica while studying Picasso's Guernica mural in high school Spanish class. However, reading about it in this book, in the context of the greater war, was just so powerful. That's how I would describe this entire book… powerful.
Eyes of the World: Robert Capa, Gerda Taro, and the Invention of Modern Photojournalism by Marc Aronson and Marina Budhos would make a great addition to any nonfiction collection.
Related Posts